Tata Steel unveils India's first organised steel retail store 'steeljunction' for consumers
By Retail4Growth Team | August 16, 2019
This 6,000-sqft unique outlet will provide a 'one stop destination' for consumers intending to go 'steel shopping'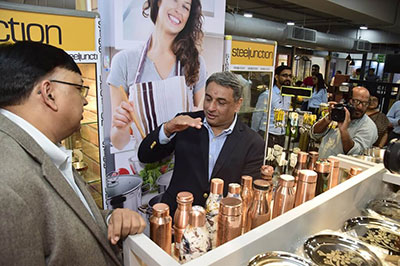 Tata Steel, India's largest steel manufacturer has recently launched its steel retail store 'steeljunction' in a new avatar with an aim to create new paradigms in steel retailing for the 'B2C' consumers. This unique outlet will provide a 'one stop destination' for consumers intending to go 'steel shopping'.
Located in a premium Kolkata area, this 6,000-sqft store will showcase steel products catering to four consumer segments - Home Décor & Gifting, Home Building, Home Making and Tools & Implements.
steeljunction will feature premium branded products of Tata Steel including Tata Tiscon, Tata Pravesh, Tata Wiron, Tata Colour, Tata Agrico and Durashine. Apart from showcasing its own branded products, Tata Steel has also collaborated with its vendor partners to feature their premium branded products in the home making space at this store.
T. V. Narendran, CEO & MD, Tata Steel, said in a statement, "steeljunction is integral to our strategic focus on the retail segment. It is aimed at providing a differentiated steel purchase experience to discerning customers. Steel is the most sustainable metal with diverse applications. This initiative will give a fillip to consumption of steel as products will be made available from more accessible locations."
The Company has a large retail business that leverages an extensive network of over 200 distributors and 12,000+ dealers and a strong portfolio of brands to sell branded steel across the country. This segment is relatively insulated from the international cycles and provides strong cash flows.
"The core purpose of steeljunction has remained the same since 2005. It is to provide a touch-and-feel experience to its consumers, including consultation on the right choice of product for their home building and home making needs. With Tata Steel's foray into digital via www.aashiyana.tatasteel.com, steeljunction offers a physical store support in deliveries and order management", said Peeyush Gupta, Vice President - Steel (Marketing & Sales), Tata Steel.
It merits mention that steeljunction has the distinction of being India's first organised steel retail store that was set up way back in 2005. Over the last few years, the 'Company-owned, Company-operated' store has clocked an average turnover of Rs 40 crore per annum, besides providing retail customers with a unique steel shopping experience.
For more updates, subscribe to retail4growth newsletter - Click here