The man who changed the game at Marico
By Dinesh Jain | Vjmedia Works | April 11, 2014
The man behind one of the handful of homegrown FMCG majors, Harsh Mariwala, makes way for professionals to take the company up the value chain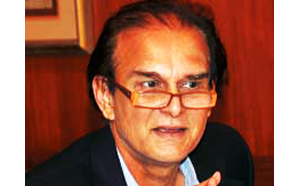 It is business as usual when you walk into Marico's office in Kalina, Mumbai. Executives can be found hard at work at their desks and everything appears to be in order. The credit for this peace, in spite of the high-profile change at the top, goes to Marico's 63-year-old chairman, Harsh Mariwala. Amongst the handful of Indian FMCG (fast-moving consumer goods) makers who have dared to take on multinational corporations, Mariwala stepped down last month as the managing director of the company he built from scratch to make way for a new leader, Saugata Gupta. Of course, Gupta is no stranger to Marico - he has worked 10 years in the company in various leadership positions. In hindsight, it is clear that Mariwala was grooming him as his successor.

Mariwala is nonchalant about it. "Gupta was running the company's operations for a few years and this was a natural progression for him. I don't think there is any surprise with his elevation," says he. "I will be associated with the company as executive director. Managing stakeholders' interest will be my responsibility, but day-to-day operations will be looked after by Gupta."

At a time when Indian promoters do not hesitate to induct their children straight into the corner office and even the boardroom, Mariwala's clear succession plan for Marico, in which his children Rajvi and Rishabh do not feature (at least for the time being), is noteworthy. Rajvi and Rishabh were involved with Marico a few years ago, but opted to move on to do their own things.

From edible oil to hair oil

Unlike his kids, Mariwala was inducted into the family business - Bombay Oil Company, which makes edible oils - straightaway after graduating in commerce from Bombay University in 1971. But it took him little time to realise that the future was in brands, not commodities. Thus, in 1975, he started the branded products division of the company. Marico happened as recently as 1990. In earlier interviews, Mariwala has said that he set up a new company because a serious thrust in FMCG required a whole new team and a whole new culture, not burdened by the legacy of the commodity business.

In 1998, Mariwala engaged the services of Shombit Sengupta's Shining Strategic Design Company to give Marico a new brand identity. Sengupta continued his association with Marico for many more years to come, helping it, among other things, design convenient packages for its various products. Along the way, Mariwala built brands like Parachute, Saffola and Hair & Care and acquired some like Nihar, Setwet, Zatak and Livon. Of these, Saffola, with its strong wellness equity, has proved to be the most extendable: from edible oil, it has stretched into salt, wheat flour additive, rice, snack food and oatmeal. When he had joined Bombay Oil Company, it clocked Rs 75 lakh in turnover. Today, the scale is vastly different. Marico is expected to close 2013-14 with a turnover in excess of Rs 4,700-crore.

Now, as the chairman of the Marico board Mariwala will be involved with the long-term strategy and vision of the company. He is clear about his expectations from Gupta. "Driving growth is the key agenda for him. In the last few years, we have stepped into the hair colour, body lotions and savoury oats. His task will be to drive growth in these areas. About 10-15 per cent of our revenues come from value-added products. I would like this number to go up substantially," he says. Persons in the know say that Mariwala expects revenues from value-added products to double in the next few years.

For this, Marico is putting in place specialised teams across geographies (the company has operations in over 25 countries) which the management can turn to for learning and expertise. These "centres of excellence" will act as a focal point for transferring technology, product knowhow et cetera to other markets. Gupta elaborates a little more. "We are largely into hair nourishment and grooming internationally, which allows us to cross-pollinate and align our portfolios across geographies."

This will be critical as Marico, known all these years as a hair oil and edible oil company, moves into its next phase of growth led by personal care products such as Livon, Setwet and Zatak, brands acquired from British consumer goods maker Reckitt Benckiser in a Rs 500-crore-deal. Hair serum Livon, thus, was recently extended into hair colour. Gupta says that there are a number of other areas where Livon can be taken, given the growth the hair grooming market is seeing in India. The same goes for Setwet, a male grooming product, where the possibilities of brand extensions are enormous, say experts. Marico has already taken Setwet to markets such as Bangladesh, where it has positioned the product as a youth-based franchise.

Going won't be easy

However, some sector experts say the going won't be easy for Marico. In hair care, Marico's biggest success has been hair oil (Parachute and Hair & Care). One reason is that multinationals have chosen to stay away from this segment because it's not a part of their global product plan - hair oil is a largely south-Asian phenomenon. But with new grooming products, Marico has walked into multinational territory. The challenges ahead will be serious. Also, not all brand extensions have worked, including those of its core brands, Saffola and Parachute, which cumulatively give the company about 60 per cent of its revenues: Saffola snacks and Parachute hot oils bombed. However, products such as body lotions under Parachute have done well for the company.

Marico has no choice but to move up the value chain. With rising disposable incomes, consumers want new products. If it doesn't do these products, it runs the danger of getting an old fuddy-duddy image. Value-added hair oils already give Marico about 17-18 per cent of its revenues, analysts say. Marico may want to increase this number as it attempts to reduce its dependence on the basic coconut oil, prone to commodity price fluctuations and intense competition. While the pace of new launches has come down in the last few years, the company on an average does come out with at least two or three key products which are launched after careful test-marketing.

The same is true in the foods segment also. Thus, Saffola is being positioned as a breakfast product after its foray into oats. Again the strategy is to do away with the brand's excessive dependence on edible oil, which has in the last few years seen intense competition from both local and international majors such as Adani Wilmar, Ruchi Soya and Cargill. Abneesh Roy, associate director (research), institutional equities, Edelweiss, explains: "The first phase of Marico saw it creating successful brands in categories such as hair oils and edible oils, which were commodity-led businesses. The next phase is really about how it can take this conversion or value-addition to the next level. That's why it is identifying newer areas where it can step into with its existing portfolio of brands."

Will that mean that Marico may not consider acquisitions for some time now? While both Mariwala and Gupta say that these are not completely out of their consideration, experts say that Marico will keep in mind the need to add value while making acquisitions in the days to come. "We are always looking at new growth avenues. Categories are determined based on potential and whether it fits with our brand philosophy," says Mariwala. Kaya, the services business of Marico, has already been demerged, and if company observers are to be believed, Mariwala may even consider inducting a strategic investor into the business to galvanise operations.

The social cause

In the last couple of years, Mariwala has been busy incubating businesses in his personal capacity, working with an expert team that helps identify opportunities where he can invest. He had last year told Business Standard that his nonprofit venture called Ascent (Accelerating Scaling up of Enterprises) would create pools of small businesses who could gain from each other's experiences. Experts, some of them drawn from Marico, talk to each group and help them sort out their problems. Once a quarter, all the enterprises come together and listen to a leading guest speaker. His target is to help no fewer than 10,000 enterprises this way. Mariwala's Marico Innovation Foundation, another initiative that he champions, annually rewards business and social ventures whose ideas have made a difference. The Marico Innovation Awards have now become a must-attend event every year.

He may no longer be the chief executive of his company, but don't expect Mariwala to sit idle.