Truefitt & Hill opens its doors to South Delhi
By Retail4Growth Team | October 23, 2019
Spread across an area of 1,200 sq. ft., the ambiance of its GK 2 outlet is royal, and of the highest standards.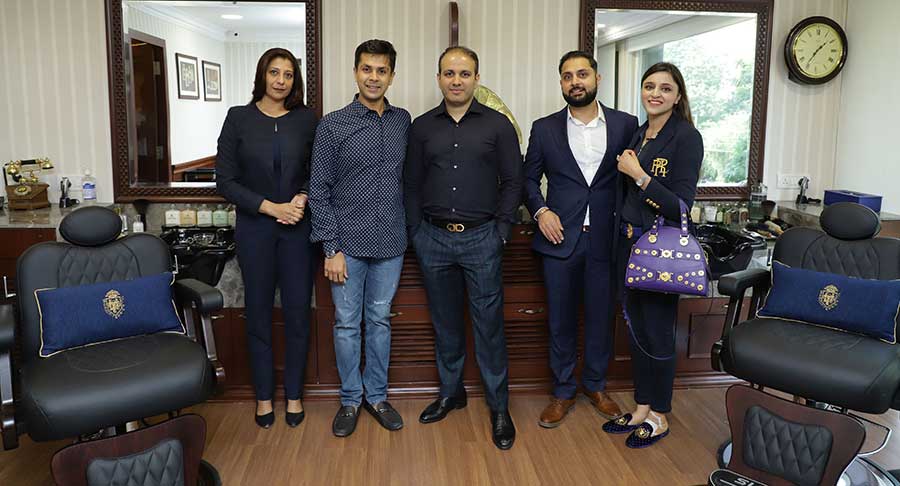 Truefitt & Hill, globally renowned as one of the pioneer brands offering premium grooming services for men, opens a new salon at GK2 in Delhi.
Taking the tradition forward, the ambiance of its GK 2 outlet is royal, and of the highest standards. The classy interiors, done up with mahogany wood and chic blue wallpaper, provides a relaxing environment to the brand's discerning patrons. The salon is spread across an area of 1,200 sq. ft. (5 barber chairs, 1 manicure pedicure chair and 2 foot-spa chairs). It offers services for men only, which include Royal or Classic Shaves, Haircuts, Manicure, Pedicure, Head massage, hand and foot massage, facial, hair grooming, hair colouring and many more.
On speaking at the launch of the 22nd store Istayak Ansari Co-Founder & Director, Lloyds Luxuries and Krishna Gupta, MD, Lloyds Luxuries share, "The surge in beauty blogs and social media influencers has inculcated the importance of Grooming as a daily necessity, and we at Truefitt & Hill provide men with the most luxurious atmosphere and highly skilled barbers and staff to turn this grooming exercise into a luxurious experience. Finding greater resonance with young men who are choosing to align themselves with brands alike TF&H, we currently have 22 open and operating stores across 9+ cities in India and 1 in Dhaka, Bangladesh. Standing at the cusp of the market growth rate of about 25%, we look forward to growing and opening new stores."
"The increased exposure brought on by the age of social media plays a significant role in consumers putting more stock in looking good at all times. Men are becoming more aware of self-grooming, body image and hygiene. The aspirations and requirements of today's young Indian men are rapidly evolving. With a surge in disposable income, men are becoming more discerning and indulgent. In an evolving trend in India, men are beginning to look at innovative grooming services carved specifically for them. What's better than Truefitt & Hill, who's committed to serve the modern men with unparalleled level of luxury service in the world! GK2 witnesses a heavy foot fall of well-heeled young ubersexual men, confident and conscious of what they wear and how they look creating an attractive market for the brand", highlights Angad Pasricha & Neoma Pasricha, Franchisee Truefitt & Hill Delhi GK2.
For more updates, subscribe to retail4growth newsletter - Click here