Villeroy & Boch enters India
By Susmita Das | Vjmedia Works | August 19, 2013
The premium lifestyle retail brand debuts in India with the opening of its first store in Mumbai modelled around flagship stores in Europe.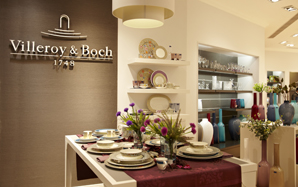 V&B Lifestyle India Pvt. Ltd., a Joint Venture between Villeroy & Boch and Genesis Luxury, has unveiled its first store at the Palladium Mall in Mumbai. The Villeroy & Boch store located on the Ground Floor at the Palladium Annexe of High Street Phoenix is based on the latest generation of premium flagship stores in Europe. Spread across, 100 square meters, the store showcases the premium world of Villeroy and Boch Tableware products along with home accessories while the display, table settings and promotional materials, all depict a tale.
"The Palladium Mall is exactly the right place to start with our retail operations in India. The brand of Villeroy & Boch fits perfectly into the upscale brand environment at this luxury shopping centre in the heart of Mumbai," said Nicolas Luc Villeroy, Director and Tableware Business Unit Manager of Villeroy & Boch AG.
Sanjay Kapoor, Managing Director Genesis Luxury shared, "We are very excited about the opening of our first store at the Palladium since our recent Joint Venture with Villeroy & Boch. This space will be for discerning shoppers to fully appreciate the brand's most coveted designs and craftsmanship. With the belief that luxury should be an experience rather than a price tag, Villeroy & Boch brings together 265 years of heritage, innovation and superb design quality. "
With the new Villeroy & Boch stores in India the brand brings into play a European ambience while creating lifestyle, variety and inspiration. Additionally, within the next few months, Villeroy & Boch has also planned to introduce stores in Bengaluru and Kolkata, followed by a total of 16 outlets in the next five years.