Vodafone plays the retail tune
By Kalyan Annam | October 20, 2015
The company is banking on its vast network of stores and people-to-people interactions to build its brand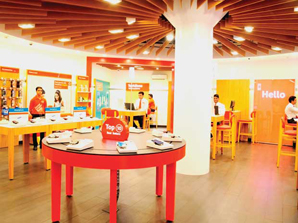 With 1.5 million square feet of retail space and 115 million walk-in customers annually, Vodafone India counts itself among the leading retailers in the country. In comparison, Titan, on of India's largest jewellery/ watch retailers occupies a retail space of 0.8 million square feet. In an increasingly digital world, the company is using its growing family of brick-and-mortar stores to connect and engage with subscribers.
Over the last year, the company has added 1,200 branded retail stores taking the total store count to 9,800, the highest for any telecom operator. The country's largest telecom player Bharti Airtel has 2,350 branded stores. The stores, which Vodafone calls 'temples of the brand', reach out to customers in over 300 towns and over 5,000 villages across the country.
Connections on the ground

The stores are organised in a three-tiered format, depending on their location. In metros, the company follows a hub-and-spoke model with the larger units, about 700 of them, being Vodafone Stores--of this about 200 are Global Design stores, which apart from offering the slew of regular services familiarises customers with the range of apps smart phones offer. In addition there are 3,300 Vodafone mini stores, similar in functionality but closer to the consumer's location. Finally, in small towns and villages the company has 5,800 rural stores or lal dukaans as it calls them.
The multi-tiered format has helped the company build an enviable retail presence. But given the increasing use of the digital medium, are physical stores relevant? Kavita Nair, executive vice president, retail and online, Vodafone India, says that both the retail and digital mediums will co-exist as there are certain things the company's 187 million customers can do online but they have to come to the stores for other issues.
The top reason for store visits is a new connection, which the company says is still the fastest way to get a post-paid connection. Among other reasons customers prefer to trek to the nearest store are enquiries, requests and complaints. Queries according to the company are largely centred on internet plans and usage and smartphone applications. The fact that customers prefer to meet an executive rather than resolve these issues online is evident from the long waiting queues at the stores. Ironically, Mumbai, which has a substantive number of online users, has the longest queues and waiting times.
An analyst at a local brokerage says that migrant workers and a large percentage of pre-paid users prefer to have a face to face interaction, which explains Vodafone's focus on retail. Also given the 20-year long association that the company has with Indian customers, it has extensive knowledge about their needs and preferences which can be leveraged by setting up its own retail stores. The strategy seems to be working: with an increase in store count, footfalls have increased 64 per cent from 70 million in FY12 to 115 million now. The subscriber base too has increased by 24 per cent during this period to 187 million.
Centres of service

Across the world telecom operators play with a combination of owned and branded stores, multi-brand outlets as well as pure distribution points. Company owned stores have an edge when it comes to the quality of service.
Says Rachna Nath, partner and head of digital consulting at KPMG, 'Companies go in for their own stores as they want control over the quality of service. A number of consumer companies who have retail footprint are buying the stores back from their franchisees. This is because the franchisee is not able to give the same experience as a company owned/operated store.'
While this has been Vodafone's strategy as it believes that a larger retail footprint is a source of competitive advantage, other players are catching up including the new entrant on the block Reliance Jio. Analysts at Credit Suisse say that Reliance Jio plans to start with 1,000 Jio Centres (exclusive retail stores), which when combined with Reliance Retail's Digital Express stores (a group company), would put its store reach on par with leading operators.
To combat this, Vodafone is relying on its vast retail network and the 200 Global Design Stores that it has in the metros. Says G V Giri, vice president, IIFL Institutional Equities, 'Vodafone has spent a lot of time setting setting up a retail and distribution presence and has some advantage as it can import good ideas from its international presence especially Europe.'
While the battle for cities is crucial and Vodafone has a good presence (25 per cent of revenues come from metros versus Bharti and Idea's 16 and 10 per cent), it is also focussing on the rural space. The rural stores or lal dukaans act as a relationship hub with an associate distributor and local community members managing the store. Says Nath of KPMG, "In rural areas, the transactions are more relationship based and the brand becomes even more important." They want a personal interaction. With its growing store base, Vodafone hopes to keep them talking.