Volvo Auto India launches its first showroom in Bangalore
By Susmita Das | Vjmedia Works | 3 | April 29, 2013
The luxury car maker plans to open three showrooms this quarter, to touch a total of 12 dealerships across India.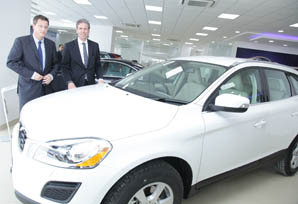 Swedish luxury car maker Volvo Auto India (VAI) which has entered the Indian souk in 2007 has launched a new showroom for the first time in Bangalore. Occupying a space of 7000 sq ft the showroom generates a true Scandinavian luxury experience. On the opening of this new showroom, Tomas Ernberg, Managing Director, Volvo Auto India shared, "The year 2013 has been very promising for us.
In January, we began the year with record sales of year-on-year (YoY) growth of 188% and recently closed the first quarter ending March with sale of 276 cars. This is yet another indication of Volvo Cars increasing strength in the Indian auto market as well as the continuing acceptability of our products amongst the patrons. March was a successful month for us, despite a challenging market and circumstances."
He further adds, "This is our first dealership in Bangalore. In line with its growth, Volvo Cars will continue with its expansion plan in India by adding to its existing network of dealerships across the country. We will touch a count of 12 dealerships with three showrooms opening in this quarter. With continuously increasing demand, Volvo Cars aims to bring its quality services closer to the customer. We aim to serve our customers better through greater accessibility."
Martial Motors Private Limited owned by Saket Talwar and Ritesh Reddy is fully equipped with state-of-the-art tools, equipment and necessary spare parts and will offer an enhanced purchase experience. Saket Talwar is also the dealer principal of Volvo's dealership in Hyderabad.The Volvo Car Showroom delivers the brand promise of'Designed Around you' which denotes the brands translation of going an extra mile to understand customers better. This outlet will be retailing the four luxury models by the brand which includes Volvo XC90 - A 7-seater luxury SUV which is sturdy and apt for Indians, Volvo XC60 - A technologically advanced compact luxury SUV, Volvo S80 - An exquisitely elegant sedan and the Volvo S60 - A sporty sedan. Volvo Cars currently markets products through its dealerships in New Delhi, Gurgaon, Ahmedabad, Mumbai, Chandigarh, Ludhiana, Coimbatore, Hyderabad, Chennai, Bangalore, Kochi and Pune.