YNew opens flagship store in Hyderabad
By VJ Media Bureau | Vjmedia Works | July 23, 2013
The brand for organized re-commerce(recovery of products over electronic systems, or through physical distribution channels) of Lifestyle Gadgets opens its first brick-and-mortar store to offer service warranty for used & refurbished products.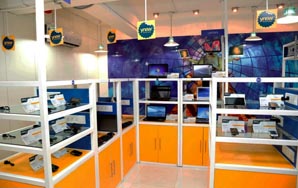 YNew, a first of its kind re-commerce store for lifestyle gadgets in India, has announced the formal launch of its flagship store in Hyderabad city. "YNew has taken the initiative to create an organized re-commerce marketplace by consolidating the seller-buyer efforts by promising peace of mind, unparallel trust and immense value for all involved. Being a country with vast income disparities lead by inspirational middle class, India is likely to witness a big re-commerce trend in the years to come and YNew is eyeing to grab the tiger share of the this market," said Dashradh Ram Nutakki, Founder, YNew. He further added, "The fundamental idea behind the venture is also the'optimum utilization of available resources', to reduce e-waste and to provide more opportunities for re-use of electronic products." According to the company, YNew is an answer for local retailers or distributors who are struggling to liquidate their distressed inventory.
YNew aims to address the critical challenges faced by local sellers and buyers while adding the value for "transaction" in secondary market. It essentially facilitates the sale and buy of used and refurbished lifestyle gadgets (Smart Phones, Tablets, Laptops, Desktops and Televisions) through the marketplace model in the physical world and allows sellers to sell their gadgets at best prices with a hassle-free experience for buyers to purchase branded and certified products with 30 days free service warranty.
According to the company statement, all the products sold at YNew Store are tested and certified by its team of engineers to validate the working condition and an'Extended Service Warranty' on used & refurbished products has been introduced for the value conscious buyers. YNew expects their platform to be leveraged by both individual and institutional sellers.
The brand says it aims to be the number 1 Re-Commerce "brand" for value and quality conscious buyers, who are aspirational in terms of brands that they own despite it being a used or refurbished gadget. Currently, YNew's flagship store is located in Hyderabad and it is planning to kick-start expansion to other cities by end of 2013 through franchising.