Glow Tech launches I-Linea series
By Elke Moebius | Vjmedia Works | July 16, 2015
Playing an important role from back stage, lighting enhances design features and sets the mood in any space. But here's a lighting series that takes center stage as one of the main design elements.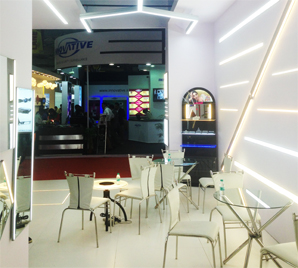 Glow Tech, a Vasai-based lighting manufacturing company, recently launched its I-Linea series - a linear light spanning upto 12 mts. The flexibility in its use is what makes it special. The new light series can take on various angular shapes and seamless look from the floor to wall and ceiling. It comes with options of concealing, recessed mounting (surface) and suspending.
I-Linea's added advantage is the length it offers. Based on the project's requirement, the light can span anywhere till 12 mts and offers immense architectural possibilities for designers.
Till now, Glow Tech has developed its own moulds and extrusions for more than 11 models in its I-Linea series. Few of their prestigious projects include work for Times of India, Moserbaer , Nesco Building, IVF (Head office in Grand Hyatt), Bombay International Airport, Delhi Airport, Siyarams and Icon Projects Kolkata, with more in the pipe line.