Somany Ceramics unveils display centre in Kolkata
By Dipanjan Mukherjee | Vjmedia Works | May 02, 2014
The space aims to provide an experiential experience to all the customers by offering a great range of premier tiles for home and workplace decor along with a collection of sanitary ware and bath fittings
Somany Ceramics Ltd, one of the reputed names in the Indian ceramic industry, inaugurated the company owned display centre for tiles, sanitary ware and bath fittings in Kolkata . The display centre is located at 935, Naskar Hat, Tagore Park, E M Bypass. Spread across an area of about 15,000 sq. ft. the showroom has on offer a wide product range and also exhibits the choice in product placements through state-of-the-art mock-up displays, allowing customers to visualize how the ambience will feel and appear with the products.
The showroom has been designed by the in-house team and is very much segmented according to the products offered and one may get every solution related to the tiles all under one roof.
Speaking on the launch, Abhishek Somany, Joint Managing Director, Somany Ceramics Ltd.said, "We are delighted to expand our presence in Kolkata, which has not only been a cultural hub but also a business hub. Kolkata is growing rapidly, and Somany is endeavouring to keep pace with this growth which is accompanied with demand for tiles, sanitary ware and bath fittings that are a blend of tradition and modernity. East is a potential market and we get our 15-16% market share from this zone. Somany is committed to providing the finest in product designs and applications that ably reflect evolving lifestyles and workspaces. Our latest offerings in digital and large format tiles are being very well received by households and business consumers across India. As a company, we are focused on providing complete customer satisfaction. This latest addition to Somany display centres will allow us to be within easy access of the consumers, offering them a wide range of technology enabled designs and multiplicity in use of tiles. With the industry adopting the latest technology, Somany is at the forefront of providing the best in class internationally available tiles, sanitary ware and bath fittings to its patrons."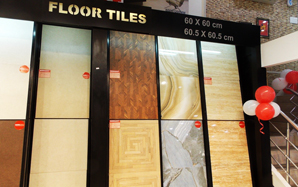 Somany has company owned 20 showrooms located across the country, in 33states including all key cities like Delhi, Gurgaon, Mumbai, Bangalore, Chennai, Patna, Ranchi, Lucknow, Varanasi, Guwahati & Gangtok, and more Somany showrooms are about to be opened in leading centres. These showrooms offer exclusive tiles, sanitary ware and bath fittings, and cater to the discerning customer. With its range of offerings, Somany as a brand is focused on delivering products in accordance with the latest designs, technology and concept so as to suit a variety of customer needs. "We have covered all the metros and recently opened another showroom in Dehradun. In terms of company owned showroom and franchise model in both we are growing aggressively. In franchisee we have three models called Somany Grand, Somany Exclusive and Somani Studio depending on size of space available and we have 220 franchisee at present. We are growing at a rate of 20% since the last 7-8 years and we hope to continue that. In this FY we plan to open 3-4 more company owned flagship showrooms as well as near about 40 franchise outlets and we have a wide distribution network with 1500 dealers and 9000 sub dealers. Somany has a well-built international presence in Europe, Middle East, Asia and Africa," signs off Abhishek Somany.