Metro shoes creates in-store buzz with Summer Sneaker festival
By Nabamita Chatterjee | April 29, 2018
The Metro Summer Sneaker festival 2018 is being launched at Metro shoes stores across India and is a month long activity for the customers.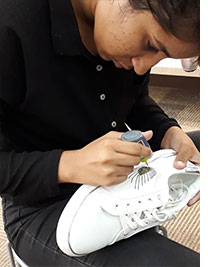 Hosted by leading Metro stores in the cities, The Sneaker Festival showcases a variety of sneakers for Men, Women and Kids. Every customer would receive a free Sneaker kit on purchase of a sneaker online or at a Metro shoes store. Professional doodle artists are being deputed at selected Metro stores in Mumbai, Hyderabad, Bangalore and Pune every Friday-Sunday from 12pm-8pm during this month long festival. The customers can get their pair of Sneakers customised as per their ideas or choose from a wide range of designs suggested by the artist. Customers can share a picture of their sneaker on their respective social media platforms using #sosneakincool to win a chance to feature on Metro's official social media page.
The stores offer a wide range of sneakers in leather, Suede and synthetic materials, with various styles like the casual derby, moccasin, boots, etc. for the customers to choose from. The festival will continue till 15th May 2018.