Monster High goes freaky & fabulous at retail
By Fairy Dharawat | June 13, 2013
Mattel along with DMS Retail Solutions, the agency recently launched attractive and larger than life experience zones for the fashion doll series'Monster High' at retail.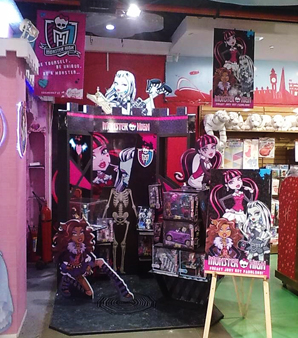 Leading toy brand, Mattel recently launched a new range of Monster High dolls targeting sixteen year old teenagers. With a mega launch in Mumbai attended by the brand ambassador actor Shazahn Padamseethe, the new range of dolls Monster High were introduced amid much fun and fare. The brand wanted to project the Monster High dolls collection which encourages the young target shopper to accept their flaws and to be unique. Their positioning in the retail market was to be freaky and fabulous, in other words unique but appealing to the target audience. Translating the slogan of being unique and to be a Monster, DMS Retail Solutions Pvt Ltd fabricated the experience zone by being cautious of keeping it black and pink which appeals to the target group with an edge.
The new range of dolls are inspired by monster movies, sci-fi horror, and thriller fiction therefore distinguishing them from most fashion dolls. And the dolls include Frankie Stein, Clawdeen Wolf, Draculaura, Cleo de Nile, Lagoona Blue and Ghoulia Yelps. The aim for the DMS Pvt ltd team was to attract the target group of teenagers and have them indulge and engage with the brand at the retail space provided. The budget shared was an all inclusive including implementation at various Hamley's and Landmark stores across India. The stores were spread across west , north and south zone with a total of 11 units deployed with 6 in Hamleys and 5 in landmark. The intent was to provide emphasis on display and experience zone so that the shopper can hang out in the area.
The experience zone consisted of two pillars canopy, photo op, coffin, diorama ( show case units) and bat lamp. The units are primarily made in, sunboard and graphics with acrylic diorama and lamp. The company faced challenges to fit such a huge set up with an experience touch in the given budget and to implement the experience zone across all the stores in three days flat.
Mahesh Shinde, DMS Retail Solutions Pvt Ltd, Director says, "This concept has been one of the best concepts created by DMS. Though some cues were taken from international references, the sheer product range itself pushed us to do more on the ideation and design front. Though a few innovative ideas were dropped owing to the budget, the output nevertheless garnered a lot of attention at retail."