PUMA launches its"œForever Faster"store design in Delhi
Vjmedia Works | April 11, 2016
Sportswear brand PUMA launches its biggest flagship store as well as the the first store in India under new retail design concept in New Delhi. The 4800 sq ft store follows a design concept titled,"œForever Faster".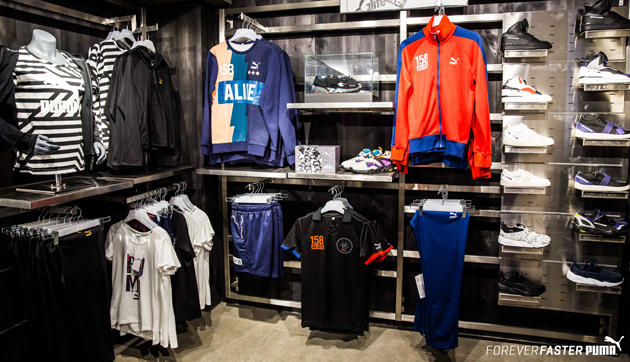 Activewear major PUMA unveiled the biggest flagship store in New Delhi's premium South Extension-I market. The store, spread over three floors covering an area of 4,800 sq. ft., is also the brand's first store under the new retail design concept, "Forever Faster".
The store houses the widest range of PUMA's latest performance and sports style products, with a variety of products exclusive to the new store in Delhi only. PUMA also selects a special range of products in collaboration with international designers- Alexander McQueen and Chris Stamp etc., which is made accessible at the store. The products are divided into different categories and displayed at the store. PUMA's strong heritage is underlined by a visible footwear wall, a hot spot in the stores. Talking about the new store Abhishek Ganguly, MD, PUMA India, said, "We are thrilled to introduce The Forever Faster store concept in Delhi, which is first of its kind and PUMA's biggest flagship store in India. The store's layout and bold visual displays allows us to strongly engage with consumers in a very unique manner. In fact, the store is so exclusive that there are a number of products that are available solely at the Delhi store."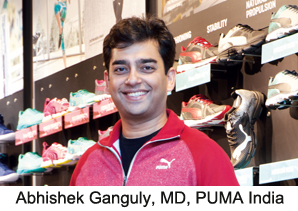 The store design uses clean lines, modern look and innovative use of lights and mannequins. Noida-based Shark Shopfits have executed their walls and fixtures. Avenish Jain, Director, Shark Designs, mentioned, "We followed the instructions of the global design concept of the brand. Walls have been made of exposed plies to give a sporty chic look." The layout and design is simple to give focus on the products to ensure they demand attention, stand out and resonate with the consumer. The in-store product communication claims to be planned in a strategic manner to aid customer understanding of the products.
Talking on future retail expansion plan Ganguly mentioned, "We don't believe in numbers of stores but yes, we are looking at opening more stores under this new design concept. We have our eyes on cities like Bangalore and Mumbai as of now."
Watch this space for detailed feature on the store.