PVR ECX amplifies the movie experience
By Satarupa Chakraborty | December 28, 2017
Spread across 21,673 sq. ft. with a seating capacity of 1001 seats, PVR ECX is the multiplex major's latest take on amplified movie experience. Designed by Madrid-based Studio Gronda, the space boasts an unmatched combination of the latest design aesthetics as well as technology that re-defines the theatre experience in the country.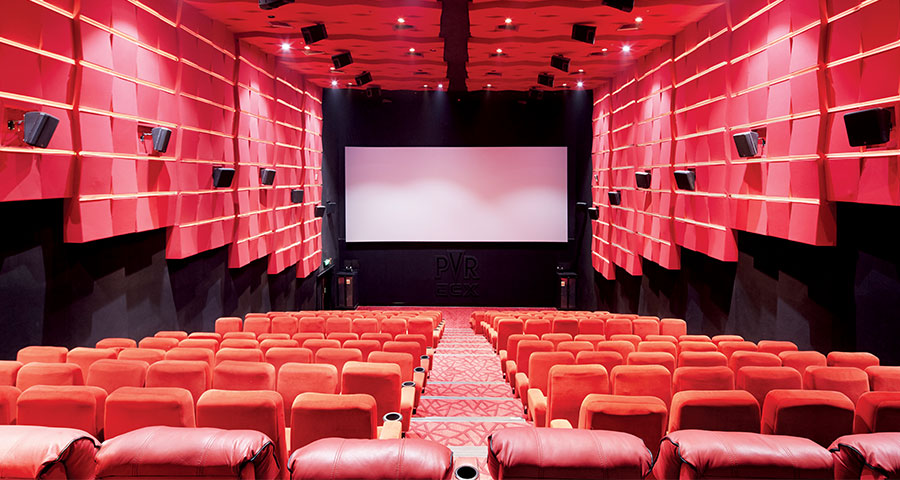 Experience first
Tucked in city's latest swanky address for luxury brands, The Chanakya, ECX, the latest format by multiplex leader and India's largest film distributing company PVR, actively aided the transformation of iconic Chanakya Cinema. Symbolizing a new turning point in the concept of experiential design, the space combines movie entertainment, world-class F&B services and attention with immersive technologies and streamlined luxurious design.
Conceived as a boutique cinema with three auditoriums, they fit way over an impressive 300 guests, the design intent, taking cues from high-end retail, has created a slick yet impacting welcome façade. Studio Gronda has created an experiential theatre whereby the constrictive nature of the built area (rooftop) was solved with rich, reflective surfaces, panels, Italian marbles and artful lighting, together making the compressed layout of the various spaces (auditoriums, corridors, F&B and ticket concessions) appear spacious and larger than reality.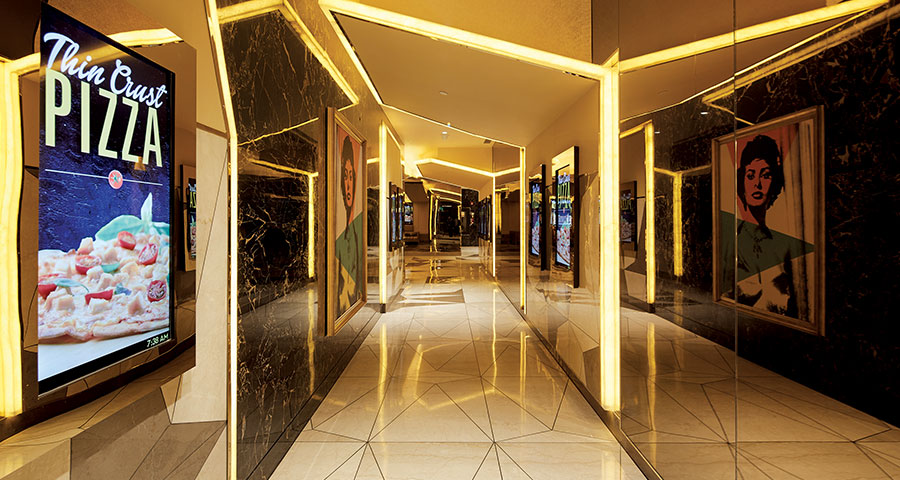 Defining digital
In its new incarnation, PVR ECX Chanakya unveils the most opulent cinema format in India with its 4K projection system, next-generation 3D-enabled screens with ultra HD picture quality and Dolby ATMOS surround-sound system in all auditoriums. The new cinema also offers Quick Tix, PVR's digital ticketing solution to promote cashless transactions and reduce ticket-wait times. The cinema also offers an automated F&B kiosk, Quick Bites, wherein visitors can either pick up their order from the counter or get it serve on their seat.
The plush and pomp
A triangular motif inspired by PVR's logo, is a repetitive element present on floor and wall pattern reinforcing the corporate image of the company. Once guests step through the striking portal at the ground floor, they have a sense of entering another realm.
The complex plan distribution, in this particular project, was a challenge due to its long continuous corridors. A wide use of mirror walls and edge-lit diagonally inclined panels, combined with darkened ceilings, give special amplitude and an impression of levitating plains that mesmerize and entertain the passage through these corridors. The same principals have been used to give an unprecedented and unique look to the washrooms.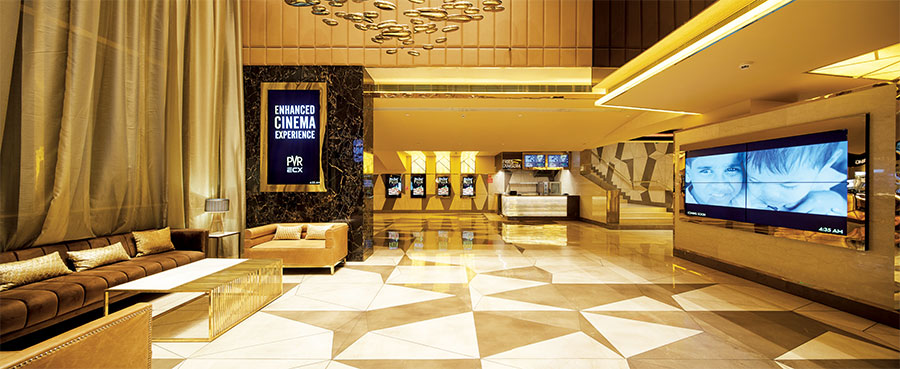 Light and action
As it is befitting the world of cinema, lighting plays a strong part in the experience. Levitating light pieces fill double height spaces, a grand chandelier provides mesmerizing reflections, while inside the auditoriums, various lighting effects pulse with the arrival and departure of the guests. Backlit alabaster counter fronts and tops lend an uncommon appeal the F&B concessions, so often an eyesore in the modern multiplex.
On stepping into the auditoriums it is immediately apparent one has entered a different realm. The warm reds of the panel walls flash in sequence with horizontal light stripes that shine in short periods making the polygonal faces of the cubed surfaces light up. During the arrival and departure of guests, before and after the movie, the different lighting effects enhance the guest preparation for, as well as letting them go gently back to reality.
This unprecedented lighting phenomenon together with the journey from the lit façade and levitating planes, grand chandelier and mesmerizing reflections, combine into a singular immersive event, for a truly unique movie experience.
Ajay Bijli, Chairman and Managing Director, PVR Pvt Ltd
With this launch, we have also reached a milestone of 600-screens bringing us closer to the 1,000 screen mark. With 3 screens and various latest cinema technologies, the enhanced cinema experience is expected to aid the transformation of this nostalgic space of Chanakya Cinema.
Diego Gronda - Founder of Studio Gronda
We aimed to embody India's respect for cinematic art through experiential design and good play of lights. We overcame the challenge of long corridors through wide use of mirror walls and edge-lit diagonally inclined panels.
Design: Studio Gronda
Walls: VESCOM
Chandelier: Conotraluz
Lighting: Lutron
Lighting Design: BMLD
Visualization: Factoría5
Digital panels : Samsung