Toonz Retail launches"œBe a Santa, for a Cause"campaign
By Nabamita Chatterjee | Vjmedia Works | December 29, 2015
At the point-of-sale the brand communicated the idea of donating more than 1000 pieces of new apparel to the underprivileged kids of various Indian charitable institutions and victims of Chennai floods.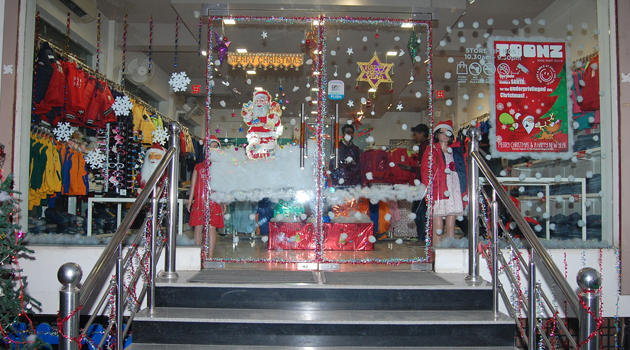 Toonz Retail, the homegrown retail chain for kids, has launched a noble campaign - "Be a Santa, for a Cause". As a CSR initiative, Toonz has set up a special "Toonz Happiness Box" starting December 1, 2015 across all its 70 stores, inviting consumers to buy new clothes at half the price, for donation. The accumulated clothes will be given to under-privileged kids from different charitable institutions and the victims of Chennai flood during Christmas, making this festival special for them.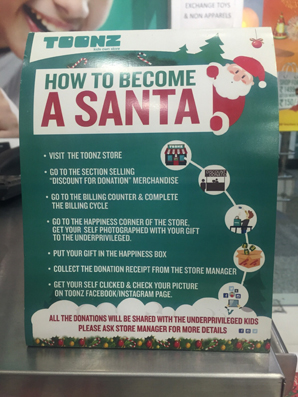 To attract the customers and to connect with them on the initiative the brand has created tent cards which are placed on the cash counters with every detail on how one can participate in this great cause. Also the'happiness boxes' in a very decorative manner has been placed in the retail outlets to drop the clothes.
Toonz Retail has associated with notable charity organisations and has a commitment of donating more than 1000 new apparels to the underprivileged kids ranging from 3 months - 12 years. Each donor will receive a special gift voucher from Toonz of its flagship brands WOWMOM and SuperYoung as an appreciation for their kindness.
"Every child grows up with the story of a Santa Clause giving gifts on Christmas. This is one festival that every child waits for. This year we wanted to make Christmas special for those kids who are genuinely needy and do not have the privilege of enjoying new clothes. We feel that this initiative will bring a smile on the faces of all these kids. Hence we request all our consumers to be an active part of this campaign and be a Santa for this noble cause", said Sharad Venkta, Managing Director & CEO - Toonz Retail.