Wishing for the Whimsical
By Elke Moebius | Vjmedia Works | September 15, 2015
Home décor stores offer a plethora of options today that suit an assortment of tastes. Amidst all the seriousness of innovative curated designer home décor, The Wishing Chair in Gurgaon pops out with its quirky style to deliver a signature brand experience.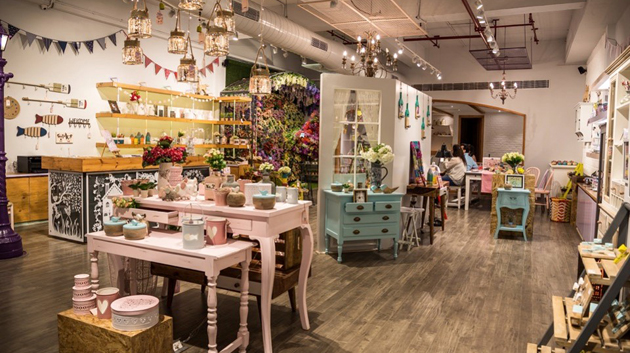 Delving into the details of what the brand stands for, The Wishing Chair offers product concepts inspired from whims and fancies of childhood and evoking nostalgic emotions among customers when experiencing the brand. Every product offered is designed to put a smile on the customer's face and helps the brand's whimsical story come true.
The store environment was conceptualized to deliver the brand's values and'whimsical' positioning through store design and visual merchandising. Designed by Rishu Anand led Design Radiance, the store interiors design helps create a very eclectic English setting for presenting their different innovative curated designer home décor product lines and collections.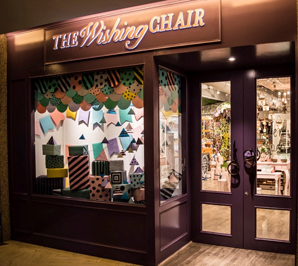 The storefront is inspired from a typical'Enid Blyton era' English façade with a recessed door, wooden cornices and molding in a distinctive sunset purple, as its brand signature. Windows are the first point of contact with the customer and have been given due attention in the store design. A raised closed back window dominates the façade and helps showcase a preview of what it holds within.
The interiors design palette is a clean and soft blend of materials, colours and textures of with subtle impressions of the English style of the brand ethos. Soft pastels dictate the colour palette with powdery coral, sea-washed mint and muted lilac.
A sense of discovery flows through the store aided by the choice of layout where customers tend to walk around clusters of product concepts created. A very distinct English touch is given to the store environment with little installations like the Victorian style chandelier, mock-up versions of English windows and doors, curtains, furniture, adding credibility to the whimsical drama in the environment.
Through the journey within the store, one encounters different sections created exclusively for the product line on display. For e.g.: A large canopied wrought iron bed, alongside a house-built shelf was designed to create a warm, soft ambience - in line with displaying soft fabrics, from cushion covers to quilts. As a part of its collection, The Wishing Chair has a wide collection of lovely artificial flowers displayed on a feature power wall that steals the show!
The boutique lighting concept designed with a combination of recessed and track mounted accent lighting help draw attention to the special products settings and design features in the store.
The quaint'English Café' complements the store experience quite significantly with its wooden raftered ceiling, furniture and wall installations clearly segregated from the store in a patio like setting.
Visual Merchandising plays a very important role in the store to present its quirky product design concepts. Various focal points with'English lifestyle inspired' props are used to draw attention to and dramatize groups of coordinated products across the store. Unlike in a conventional store, the products are presented in a balanced combination of shelving, wall and flooring installations creating a great shopping environment of magical engagement and discovery. Speaking on techniques for maximized sales, Avneet Mann, one of the owners at The Wishing Chair says, "One of the techniques we use to maximize sales is to feature an installation of products that we would like to showcase for the season, in the front, suspended from the ceiling. Lots of the same product displayed along running shelves is another. Usually, using a product and displaying it in various ways works for sale maximization."