Classmate: Scoring high at retail
By Fairy Dharawat | March 14, 2014
Chand Das, Chief Executive, Education and Stationery Products Business --ITC, shares with Point Of Purchase, how the company approaches retail and connects with shoppers for its brand'Classmate'.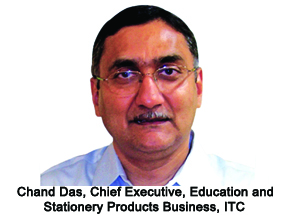 Approach to Retail
We segment retail channels on the basis of formats namely Modern Trade (ABRL, Spencers, Metro's) and General Trade. This is necessary as the construct (Space, Store layout, Opportunity for branding, diversity of categories handled, Consumer point of purchase experience etc.) for MT & GT is xtremely varied. Visibility opportunities are vastly different as Modern trade offers higher avenues for branding and product visibility. Traditional Mom & Pop stores classified as General trade have limited opportunities for branding and product visibility.
We have a separate team servicing each of the channels along with a customized service pack for GT & MT covering sales and visibility. The product mix also varies between the channels.
Visibility at Retail
The geographical spread of stores poses a challenge in ensuring consistent execution for in-store / on-store visibility as there is a dearth of vendors with a Pan India presence. The ITC ecosystem with multiple FMCG businesses provides us with internal references of quality vendors across the country who are then, in turn commissioned for various merchandizing jobs.
Engagement
Brand Classmate believes that each child is unique. Inspired by this belief, Classmate joined hands with Spell Bee in 2014. The theme for this season of Classmate Spell Bee is "Every child is unique, so is every word". The program provides an appropriate platform for students to identify their strengths and achieve recognition for their unique spelling skills. The program covers 750 schools in 27 cities and has reached out to more than 250,000 students between Classes 5 to 9.
The theme for 2014 was customized around the brand's core belief of "Celebrating Uniqueness". Classmate Spell Bee is a multi-layered engagement program, where the brand has been integrated across consumer touch points from School Contact to Radio and Television, Digital and Social media to drive engagement and participation. There is pioneering work happening in the digital space with the launch of the Classmate Spell Bee mobile / tablet application to build year round connect with the consumers.
Collaborating with Retailers
We believe that the retailer is an essential and excellent brand ambassador / advocate for our brands. Educating the retailers about our brands, products and their USP's forms an integral part of the selling process. We have dedicated resources in Head Office who look at the "Last mile sales effort" and continuously work on improving the efficiency and efficacy of the front line sales team. As part of our "Brand Advocacy Program" we have invested in developing Training modules covering Product Knowledge, Selling and merchandizing skills, which are imparted to the sales team. An informed sales team ensures that the relevant knowledge is passed on to the retailers and onwards to the consumers.
Spends on retail, form a critical component of the overall Sales and marketing budget. The spends vary as per the overall brand charter for the year.
Focus on Shopper Study

An understanding of "where and how the consumer shops" is essential for success of any marketing effort. We conduct regular researches to understand how consumers engage with the categories in which we are present, including how they ask for a product / brand, how they arrive at the final purchase decisions etc. We also cover retailer responses across operating categories and brands. This information is fed back into the system to improve our brand advocacy program, sales team training. The inputs from the researches are also incorporated into product & packaging design and development of new and existing products.
Translating Shopper Study at Retail
Classmate operates across multiple categories of Notebook, Pen, Pencil, Geometry box and Art stationery range. The research provides multiple insights across categories which are then fed back into the design and development cycle. E.g. Product visibility is a major concern in the traditional channel of Mom & Pop stores. We have developed a range of packaging units which double up as product stacking and dispensing solutions.
Trial is essential for a consumer to experience our product superiority and switch over to our brands. We have utilized trial opportunities through our flagship consumer engagement program of Classmate Spell Bee. The students have to appear for the spelling test using OMR sheets. This provided an excellent opportunity to expose consumers to our Pencils range. We sampled Classmate pencils to all participants across the country ensuring that each one used our pencils to write the tests. We continuously look out for such opportunities to seed our products and generate consumer awareness and trials.
Maintaining USP amongst competition
As leaders in the Stationery Industry, our constant endeavour is to strengthen each brand and product offering. Continuous Innovation and deeper consumer insights are the two key cornerstones on which our product development process is based. We have a dedicated product design and development team whose task is to ensure that every Classmate product exceeds the consumer usage expectations against Indian and foreign competition products. We strive to introduce products which are new to the Indian market and deliver better consumer usage experience thereby raising the bar for competition.
We have an elaborate and stringent quality evaluation process across manufacturing locations ensuring each product adheres to the highest exacting standards of performance, quality and safety. We also have a continuous internal evaluation mechanism to competitively benchmark our products which are already present in the market.