Combining design with functionality
By Nabamita Chatterjee | May 27, 2013
With an experience of more than 25 years, Vinoo Chadha, is a well known name in the field of retail design in Kolkata. In a chat with VM&RD, Vinoo shares his passion for creating signature architectural projects having international standard but fused with Indian ethnic aesthetics.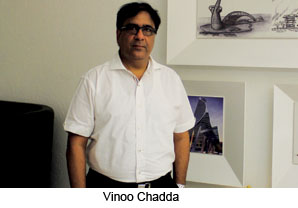 The Design Cell, founded by Vinoo Chadha has been involved in various types of ventures, be it retail, commercial, residential or hospitality providing complete solution to the clients. These range from architecture and interior designing to landscaping. As an architect he aims to create the retail space first and then, as an interior designer, adds on the cosmetic touch to his theme. He believes designers would have to understand the psychology of the end-users to some extent before finalising on any retail design project.

Give us a brief background about your journey as a retail designer?
My first retail showroom was of Mahal Lampshades done in 1986, which became a landmark in the area of A.J.C. Bose Road junction in Kolkata and the design theme has remained unchanged till date. The store is still considered as the most renowned outlet in Kolkata having the best collection of lamps and chandeliers. Thus I tried to establish from the very beginning that every design of mine should have a shelf life which is preserved in this case by my client Mr. Bilani even after the store has completed 26 years. Gradually we designed many retail spaces in the Park Street area, mainly garments showrooms followed by home furnishing outlets for brands like Skipper, Stellar, high-end jewellery showrooms for brands like H.M. Diwan, Kanak Jewellers, Chirag, P.C. Chandra, Diwanson Jewellers and so on. Recently we completed Park Plaza Kolkata, the first Carlson Rezidor hotel in eastern India including a Specialty Lounge Bar-Nirvana with a 20ft tall Buddha statue which is an attraction, a Pan Asian Specialty Restaurant and Smoke Shack, a rooftop restaurant with dance floor to mention a few.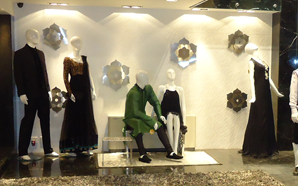 What is your take on Visual Merchandise as an Architect and Interior Designer?
When it comes to visual merchandising, naturally the product plays the pivotal role. For example, in the designer saree boutique Straavi where I have played with the colour white in the overall store plan, the merchandise ultimately dominates the whole place. As a designer one should have a clear knowledge regarding three basic things: the design, the product and the way of executing that design. A perfect combination of these three things helps us to convert any theme into reality.

Do you have any role models in your design and creative philosophies?
I am inspired by the works of famous Indian architect Charles Coorea. His designs are simple and he creates spaces around social network which I admire a lot.

What is the unique skill or competence that you would attribute your success to?
I guess my unique skill or competence lies in the detailing of any project handled by me. Starting from visualising the design of any project, discussing it with my team for getting their suggestions to procuring the right material and executing it with perfection is perhaps my strength. I practice that even if there is any mistake, redo it and finish it properly so that justice is made and the client is happy with my work.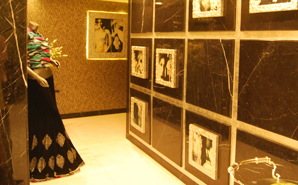 Any favourite aspects of VM (Window displays, graphics, merchandise, presentation) that you have in terms of retail design?
It varies from project to project because the visual merchandise is always product driven. If it is a vibrant product or a high-end one, the VM should be adapted in a subtle manner throughout the store, so that everyone is attracted towards the merchandise. In my opinion the designers should design keeping in mind that it is for the product, so getting in the shoes of your client who wants to sell it at the end of the day is very important. Thus the store design should be a complete package having the accurate proportion of all the above elements.

Any project that you would call as your biggest achievement or a milestone in your career?
I feel that it is yet to come because I am never completely satisfied with any of my projects. When I start any venture I am excited but after it gets finished I am depressed even after it receives accolades. I want to be a perfectionist, but probably there is no limit to perfection. I try to treat every project with equal importance and take up each one if I feel that I can do justice to that through my designing.

What do you think are the advantages and challenges in the scope of VM in the Indian retail scenario?

Today with international retailers coming to the Indian market, visual merchandisers will have to upgrade themselves. Thus the scope of work will increase for sure and even today Indian retailers are well travelled with knowledge of global scenario. I feel as a designer if product information from the client comes well the designer may overcome the challenge easily.

What has been your experience in finding, training and retaining talent in VM in India? What do you recommend to soften the challenge?
Initially it was very difficult, but now the youth of our country loves to learn new concepts and try to innovate as well. In our agency we have a great team of dynamic professionals in each department like architects, engineers, interior designers, supervisors etc. who work together by exchanging suggestions with one another. My job is to mould them to the best of their abilities by taking their opinion in the projects we are involved in.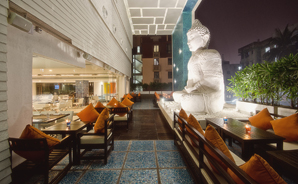 From the point of view of an Architect what difference do you see between the VM industry in India and that overseas? What do you think are the reasons for the same?
Today I feel that the Indian market has bridged the gap which existed may be 15-10 years ago. Global trends have impacted us and Indian showrooms which are coming up these days are trying to maintain an international approach for their brands to get established in this market.
Where do you see the Indian VM industry in the next 5-10 years?
With better and better brands coming to India it is going to grow a lot in the near future. As the buying capacity of the Indians are growing, there will be great demand for good retail spaces, shopping malls with spic and span interiors and it is surely going to have a positive impact on the VM industry as well.

What is the dream that you would like to live?
Every project that comes to me should get translated into a dream venture that one would want to live up to. I strongly believe that in any design, aesthetics and functionality go hand in hand and this weaves in the tale for any product. In each of my venture, I first try to create creative functional space which is followed by proper form. Having the perfect combination of this two transforms every design of mine into reality.
Related Viewpoints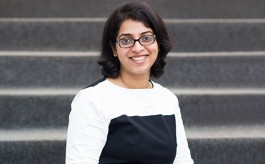 Founder and CEO, FableStreet
'Business model innovation is core to our USP'