Corporate Collars: Dressmaking on the move
By Elke Moebius | May 18, 2015
Power dressing for work just got simpler, where fabrics and a personal stylist arrive at your doorstep to create the right garment for you. As a simple concept, Corporate Collars on Wheels goes to where the customers are, instead of waiting for them to come.
Incepted in 2013, Corporate Collars was launched Mumbai in to serve the bespoke needs of today's suited up professionals. Combining the needs of customised garments with the convenience of service at the doorstep, Corporate Collars on Wheels was launched in April 2015 to take the brand's innovative business model to a new level.
From the start
Harssh Chedda founded Corporate Collars in 2013 with an aim to bring to his customers bespoke garments customised to the finest details. The brand's two stores in Mumbai stand as vaults that house a variety of fabrics. A simple idea but a unique concept, Corporate Collars is a one stop shop for fabric and tailoring requirements for formal work wear. The brand promises the perfect fit, precise tailoring, and prompt service to all its customers. With over 1400 fabrics to choose from, Corporate Collars offers men and women, the chance to customize suits, jackets, sleeveless jackets, shirts and trousers with ease and comfort.

Power dressing
The stores function on a step-by-step module, where the customer first gets to choose his fabric from a wide selection. Following this, the stores' in-house stylists assist the customer to customize his garment to the utmost detail including the style, fit, collar, cuff, placket, buttons and so much more. According to the brand, the whole idea is to have the customer leave the store having designed a garment that suits his body and personal style perfectly.
With working professional strapped for time and repulsed by traffic snarls, the brand's recent initiative of Corporate Collars on Wheels is definitely a service that would be much appreciated by prospective clientele.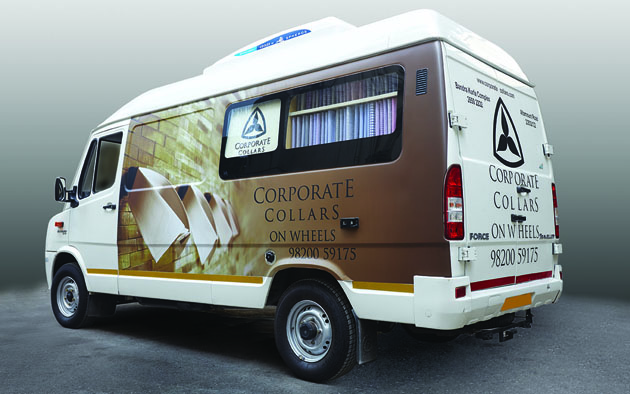 Tailoring on Wheels
A simple explanation of this concept would be - A mobile store of the brand Corporate Collars. "We have a lot of high-ranking executives and extremely busy people as our clients. It is not always possible for them to take out the time and go to our store for their clothing needs. So we decided to take the store to them. Hence the idea of tailoring on wheels was started. But it needed to be a lot more. So Corporate Collars on Wheels was started and it is equipped with everything that the customer might expect in a store," says Harssh.
With the seriousness in the concept and considering the customer profile, this venture leaves no stone unturned. It is a Dilip Chabbaria designed van, which instills confidence in the aesthetics and comfort of the van. The sleek and modern looking van with a novel approach is facilitated with a wide array of fabric display and a fitting room as well.
To be logistically viable, the Corporate Collars van has chosen particular areas of Mumbai for particular days of the week so that it can service clients efficiently. This concept is an appointment only one. As of now, they're taking appointments only from existing clients and will expand pertaining to infrastructure growth. As per the client's appointment, the van comes to the preferred location and the entire experience that follows is similar to the one at any Corporate Collars store. The van also comes with a stylist on board. "It is meant to be a wholesome package and a wholesome package is what it delivers," Harssh says.
Corporate Collars is soon to open its third store in Mumbai. But the brand's future plan for Corporate Collars on Wheels is still under wraps. But with this innovative concept, the plan sure seems to be bright.
Related Viewpoints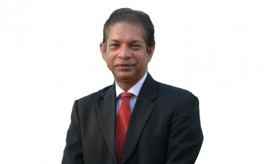 Chief Growth Officer, Lastmile Solutions India Pvt Ltd
'Need to come out of shadows of protectionism to become Atmanirbhar' : Pankaj Goswami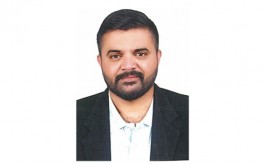 Sewak, LPFLEX Sign System India Pvt. Ltd
Atmanirbhar : Limit, Leverage, and Evolve to become self-reliant : Amit P. Kapani, Sewak, LPFLEX Sign System India