"Cremica is known for product innovations & customised food products"
By Nabamita Chatterjee | October 13, 2014
Cremica, is a diversified food products brand from the house of Mrs. Bector's Food Specialities Limited. The brand is a front runner in both food retailing and food services industry. Nabamita Chatterjee caught up with Akshay Bector, Managing Director of the group to understand the company's future plans and the potentials of the Indian condiment industry. Edited excerpts: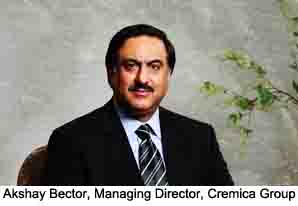 Food retailing and food services industries are seeing significant growth in India. How difficult it is to create a niche in this category? How big is the condiment's industry in India?
The condiments market in India is estimated to be about Rs 1,000 crore today. Goldman Sachs invested in our business in year 2006 when the sales of the business was at Rs 20 crore at that time and since then we have seen a 12X growth in the business.
Changing lifestyles and rising income levels are definitely leading to a big increase in consumption of condiments and at the same time growth of the food services sector helps in familiarising customers about new types of products. This is helping innovative companies like us to introduce new products in the market. In keeping with this, only 30 per cent of products are going to large food service companies.
Cremica has become a widely distributed brand and a serious player in the retail market.
What differentiates your brand from competing brands in the market? How are you going to market your product in this clutter, both in the GT and MT spaces?
Cremica has always stood for quality compared to any other brand available in the market. Cremica is known for product Innovation and over the years we have been introducing new categories year on year.
We undertake customer outreach programmes even while our Cremica brand campaign is on. Intensive product demos are being conducted across stores and malls to let customers taste, experience and understand the products.
How would you define your USP? How many sub-brands do you have under Cremica?
Our company is known to create products with leading quality and with "Taste that India loves".
Cremica is known for product innovations and offering customised and localised food products to the consumers. We are trying to offer as many natural products as possible to our customers.
We offer a wide variety of consumer products:
Mayonnaise
Tomato Ketchup
Sauces
Opera Kettle Chips
Salad Dressings
Sandwich Mayo
Chataka Indian Sauces
Fruit Crushes
Cremica launched India's first Vegetarian Mayonnaise, Pizza Pasta spread and Indian Chutney range. Similarly, our recent launch of Indian flavoured sandwich Mayo's is proving to be a huge hit in the market. Opera kettle chips have been highly successful and are already available in premium outlets in most Metro cities in the country. The product is likely to penetrate at a rapid pace and address the needs of the highly differentiated customer.
Today Cremica is a leading food products conglomerate, leading the food processing business through its range of products, internationally certified production facilities, consistency of its quality and unmatched expertise in the industry.
Throw some light on your endeavour to improve the quality of products, adoption of new raw material suppliers and additions to your existing product range.
Cremica's quality processes and policies are very well defined. We believe in constantly reviewing the product quality and we follow zero tolerance in case of any deviation.
Unlike other brands, Cremica has a comprehensive annual quality review programme.
You have entered into JVs with two companies - Quaker Oats Company (USA) for manufacturing of ketchup, mayonnaise and other liquid condiments, EBI Foods (UK) for manufacturing battering and beading pre-mixtures. Going further, what are your plans in terms of expansion?
There is an expansion programme in the pipeline. We will be setting up a Rs 100 crore Integrated Food Park in Himachal Pradesh.
Joint ventures with various companies are in discussion and we hope to get benefits out of our distribution system and enter new categories in the future.
What are your thoughts on new entrants in this industry?
The food industry in India is growing day by day. There is an increasing consumption of high value food products which is the result of a rapid expansion of the Indian economy and that is resulting in changing lifestyles and aspirations. We expect this trend to continue in a very major way moving forward and this will lead to exponential growth in the market.
International chains need to localise products to meet the requirements of the local customers. Cremica has been helping the industry in this for the last many years and there are a slew of products that have been developed by various chains with our help.