Eveready: Creating buzz at GT
By Nabamita Chatterjee | May 17, 2018
Eveready Industries India Limited (EIIL) has been an industry leader in the portable energy (dry battery and flashlight) segment. The company also markets LED, CFL, GLS and other lighting products, rechargeable lanterns and devices, packet tea and small home appliances under its portfolio. Anil Bajaj, Senior Vice President, Sales & Marketing, Eveready Industries India Ltd., chats up with Nabamita Chatterjee of Retail4Growth to share more about their retail marketing strategy. Edited excerpts…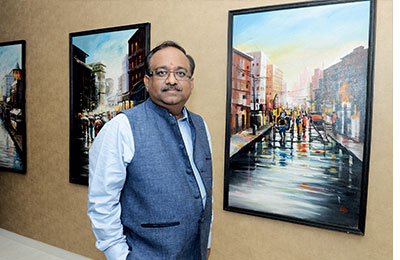 Being a mass brand and with such product portfolio, how do you position your brands and products effectively in General Trade store which is very cluttered?
When it comes to our batteries, as a product it is being purchased by anyone for different purposes. Be it remote controls, wall-clocks, for torchlights, and toys. Thus, for Eveready to be present at the mass level is the key. In India we are available in 3.5million retail outlets directly or indirectly. Among this, direct reach is around with 0.8 million outlets where our sales representatives go on a fortnight basis to place the products. If we look at the buying population of India, in this case my 80% TG still stays in villages or small towns with less than 5000 people. Our rest 35-40% sales comes from the metros and modern trade hardly accounts for 6-7% of our sales,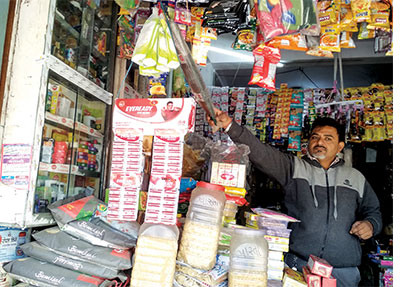 rest is the GT business. The brand recall for Eveready Industries with our tagline 'Give Me Red' is very high among our TG and we cover 50% of market share in the battery segment. Thus we need to ensure that our products are aptly placed in the General Trade outlets.
Can you share any case study related to any innovative POP branding campaign for Eveready Industries?
It is indeed a challenge for a mass brand like us who needs to reach around 800,000 outlets in GT and we cannot select that among that 100,000 is more important and rest are not. For GT our packaging boxes itself are our innovative display units with the prominent image of our brand ambassador Akshay Kumar. Though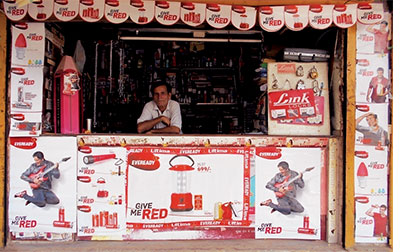 MT contributes a very negligible amount of sales as compared to traditional trade but with our LED lights we have done few innovative floor stacking units which really stood out at the store.
What are your key expectations from Retail Solution Providers who partners with you in the design development and deployment?
The most important expectation that we have from the solution providers is that the brand and the product should not get lost while doing any pop item. Whenever we are doing any unit we consider the points like where is the eyeball going, what is attracting me the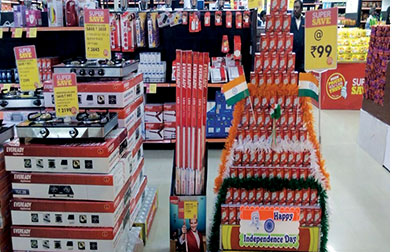 most, so there should not be any clutter.
Any key activation deployed in GT for better affectivity and market penetration in your segment?
In the GT scenario keeping in mind the brand recall value we already have, and the ROI which could be driven by using our different set of pop items like danglers, posters, wobblers etc., what we look at giving is a synergy or uniformity in our communication at the store level. In recent times we took a campaign 'paint a million red', under this activity we reached our 1 million direct outlets and gave them uniform number of posters, danglers, etc. and if a customer walks in, will have the entire branding in front of him and it gives a great recall value. We also do take part in large fairs or Melas like Kumbh Mela, Gangasagar etc. where we put up stalls and lot of branding activities takes place as we organize lot of competitions and reach such huge congregations. For all these activations we partner with our retail solution providers as well as our agencies and try to create an additional recall proposition for Eveready.
Please throw some light on the diversification of the group in terms of other mass products like confectionery category.
As we have entered into fruit chew segment with Jollies we will use our robust GT network to reach the TG. It is a part of our first phase and gradually we will launch new products in confectionery section.
What is your message to the shopper marketing agencies working in India?
The agencies are really creative and even coming with lot of innovations but they are missing volume business because they have not been able to look at GT where the real Indian retail business lies.
Related Viewpoints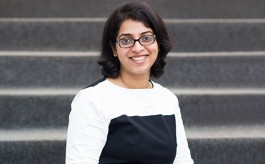 Founder and CEO, FableStreet
'Business model innovation is core to our USP'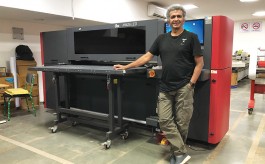 Founder and Director, Jayna Packaging
'Sustainable communication is about a well-designed concept with intelligent choice of printing materials & process'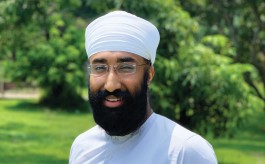 CEO, Simpli Namdharis
'We need to view sustainability from business & value chain angles'