For the love of diamonds
November 02, 2015
Every woman dreams of owning a diamond. And turning this dream into reality, the newly launched ilovediamonds.com offers an interesting range of diamond jewellery at affordable prices that is changing the old perception that diamonds are only for the affluent. The brand delivers it game changing preposition online and offline.
With many jewellery portals mushrooming in the online shopping world, ilovediamonds.com has successfully made its mark in no time. The USP being, to offer the most affluent of all: diamond jewellery at the most reasonable prices; so much so that every Indian woman should now be able to be a proud owner of a diamond set!
The concept behind this business entity is to manufacture light weight diamond jewellery. The aim is to be able to come up with new and classic themed jewellery with interesting gemstones and contemporary designs for the modern, young-at-heart, independent woman. The conceptual framework of this business entity is also to make a phenomenal shift in the whole idea of the purchase decision of women, with regards to diamonds.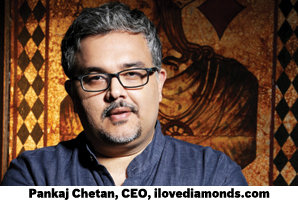 Talking with VM&RD, Pankaj Chetan, CEO, ilovediamonds.com rightly asserts that diamond purchase is either occasion based or it is for the wealthy class in the society. He seeks to change this very notion with ilovediamonds.com. "Our dream at ilovediamonds.com.com is to make sure every Indian woman owns a piece of diamond jewellery," says Pankaj, who is an internationally certified gemmologist with 20 years of rich experience in manufacturing and retailing of jewellery internationally and in India.
Working towards the company's vision, Pankaj and his team at ilovediamonds.com spent close to two years to club the innovative designs with the affordable prices. "Our attempt is to create a paradigm shift in the consumers mind to associate diamonds as an everyday lifestyle product, and not something that is beyond their reach," Pankaj says.
The company believes that the single point sale incorporated in a brick and mortar format cannot entice a relatively larger audience in comparison with the ecommerce platform; and therefore keeping this in mind, the most rational thing to do would be a part of this upcoming virtual world.
Ilovediamonds.com.com seeks to maintain a "go to market" approach to keep their customer count from falling. Maintaining a threefold strategy to enrich their customer count, they seek to focus on Product, Presentation and Distribution.
Housing premium class products, ilovediamonds.com.com had majorly focussed on the outlook of their online portal. The visual presentation of the website is simply magnificent and supplements the experience of the customer of otherwise having walked into a store for the touch and feel of the product. Pankaj says, "To take it a notch further, we are in the process of developing video presentation of our jewellery set against live models to add to the comfort in the consumer's shopping experience."
To ensure widespread distribution, ilovediamonds.com has also opened up offline stores in Bangalore, Chennai and Coimbatore, with many more stores in the pipeline. Pankaj says, "Offline retailers have the edge of established consumer base and reach in a particular city / area. Ilovediamonds.com will leave no stone unturned to provide convenience to the consumers in their shopping experience and thereby expand our consumer base."
The offline experience center and store design concept is designed by AVS Architects from Chennai along with the brand owners. Abhishek Singiri of AVS explains, "The main motive of ILD's interiors was to break the long fascist notion and image; and convey a young, confident, classy image, appealing more to the youth and not intimidating on experience, unlike most diamond retailers." The store design palette was made of a combination of new age interior elements and materials like steel, coloured glass, leather and wood to rendered in a youthful environment which breaks away from the monotony and intimidation associated with traditional diamond jewellery stores. He adds, "The online store access is a new example of how this is more of a digital store and helps people familiarize themselves with the store's presence on the internet. The digital screens on the wall of the store are a fantastic way to experience the products and variety offered by ILD. Based on the personality of the brand and all of these aspects, the CEO of the company has designed the Bangalore Retail store."
To take the shopping experience to the next level, ilovediamonds.com.com will also launch their own app in some time for customers who are more comfortable with m-commerce. Believing in a differentiated product line, Pankaj believes that only sky is the limit for him and his team. Therefore, they aren't targeting a city or a state but the whole country to be their customer base.
Related Viewpoints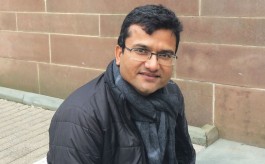 Head VM & Projects, Arrow, Arvind Fashions Limited
'Prefer vendors with capability for end to end completion'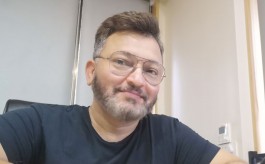 Owner, NEGI SIGN SYSTEMS & SUPPLIES CO .
'Operating costs are growing, but margins are shrinking'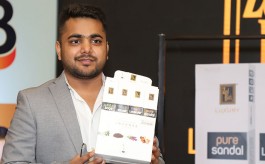 Director, Zed Black - MDPH
How this Indore brand follows the scent of success