Getting imaginative with sustainable
By Dipanjan Mukherjee | May 27, 2013
Sustainable retail practices are just a matter of using common sense and some imagination with used and discarded materials. Linsey A. Burritt, Co-founder of INDO, Chicago, tells you how.
Sustainable design practices are making their way into the retail design industry with companies like Starbucks who recently designed a drive-through out of old shipping containers and Patagonia who has a recycling program where they take back old clothing to recycle them anew. Another leader in bringing those same sensibilities into visual merchandising and window display is Anthropologie where they craft some of their beautiful intricate displays out of various recycled materials such as old tires, wine corks, newspaper and hangers from the dry cleaners. And all over the world artists and designers are finding inspiration in the movement towards sustainability — and it is definitely more than a trend, it is a movement.
Value in discarded materials
There is a massive abundance of perfectly good materials being thrown away every day. There have been recycling companies around for decades trying to ensure that valuable commodities such as plastic, architectural components, paper and oddities are recycled, repurposed or disposed of responsibly. We are finally starting to see these materials being utilized in stores around the world from reclaimed floorboards to shipping palettes. Integrating the idea of repurposing is easy. My company, INDO, specializes in creating window displays out of materials that have been diverted from waste or recycling streams. But there isn't anything particularly unique about these materials. In fact, they are quite ordinary. Paper, wood, cardboard — they are the raw materials that you are probably already using in your displays, but they can be found used. It is even possible to find material that hasn't even been used yet, but has been discarded or sent to a plant for recycling due to being an overrun, slightly defected or just not needed any longer.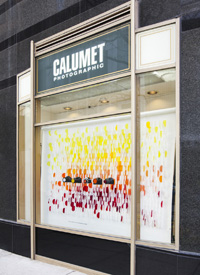 In one of our latest window displays for Calumet Photographic, we found in their warehouse a box of old gels (a material that was used before photography went digital) and created a colorful, textural backdrop. When we uncovered the gels, they were not in the best condition, but with a little imagination and the right tools, we were able to breathe new life into them. For another recent display for Optimo Hat Company, we created a display out of the hatmaker's felt cast-offs.
People are generally surprised and intrigued to find out where the materials we use come from,which creates depth and a compelling story. Although, it won't always be possible to source the materials you need right from your own recycling bins. In which case, you can scour what recycling companies have to offer as well as eBay, Etsy, trash cans, dumpsters, alleys, Craiglist, your home, work, friends or even neighbours. It may seem daunting when you first get started, but if you are patient you will start to find materials everywhere.
Another type of discarded material to keep an eye out for is anything that is labelled ʻdead stock'. You see dead stock items in the fashion industry often and it ranges anywhere from: thread, string, fabric, accessories or clothing items. There are also materials out there that are defected and therefore cannot be sold and get donated, sent to a recycling company or even thrown away.
Enhancing your eco message
Integrating discarded materials into your window displays and store designs is a great way to positively contribute to the environment by spreading the power of re-use. It is also a great way to enhance your messaging through store displays, especially when put together with care. These materials tell a story of thoughtfulness and ingenuity. The story doesn't end there. If you plan for an afterlife for these materials whether it be recycling the display after, saving it to re-use again or donating it to a non-for-profit, you can strengthen the relationships in your community through the power of re-use.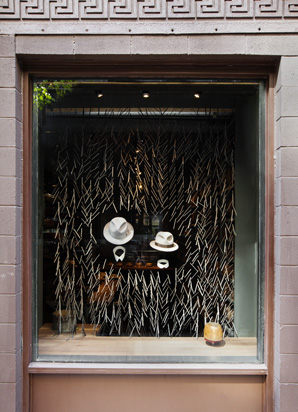 Tips on integrating discarded materials:
Start small: Starbucks started offering discounts on coffee when customers brought reusable cups before they started to use salvaged materials in their store designs. A little action goes a long way.
Tell a story: Make a connection between the material you are saving and how it's being reimagined. People will talk about it.
Be patient: Sourcing discarded materials can take time, but if you stick it out the outcome is rewarding.
Support a good cause: Window displays can be a source for dialogue and support for your community.
Find inspiration: Start a Pinterest, or collect images of good ideas so you never get stumped.
Linsey is the co-founder of INDO in Chicago, Illinois USA. She grew up in Michigan's fruit belt in a tiny village called Stevensville and received her BFA in Graphic Design from Columbia College Chicago in 2006.
Projects images by Julia Stotz
Related Viewpoints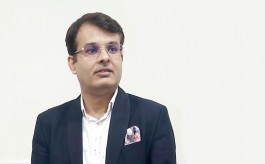 Centre Director – Phoenix Palassio
"We are working with retail tenants to help them navigate through crisis" : Sanjeev Sarin, Centre Director – Phoenix Palassio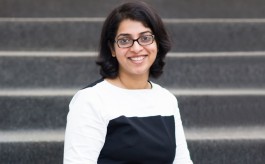 Founder, FableStreet
Make in India : 'Need to build stronger technical capabilities to outgrow competitors' : Ayushi Gudwani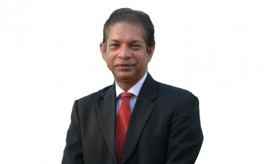 Chief Growth Officer, Lastmile Solutions India Pvt Ltd
'Need to come out of shadows of protectionism to become Atmanirbhar' : Pankaj Goswami