HyperCITY vows to make each visit special for shoppers
By Nabamita Chatterjee | August 07, 2015
HyperCITY believes that in-store activations are the key for brands to connect with customers. And for this, the hypermarket always innovates with different mediums to meet brands' requirements.
Since its launch, HyperCITY Retail (India) Ltd. has been experimenting with various novel ideas to shape up customer experience in a new avatar at the hypermarkets. Darshana Shah, Senior Vice President - Marketing & Visual Merchandising - HyperCITY Retail talks to Point-Of- Purchase on how the store provides a perfect platform to the brands to promote an exclusive shopper marketing experience through in-store communications. Edited excerpts.
How would you define HyperCITY's journey in terms of establishing a popularity among the hypermarkets?
HyperCITY was first launched in 2006 in Mumbai at Malad, which is still the largest hypermarket in India. It was launched with the clear vision of being the largest hypermarket in India, with the best assortment and world class service. We have seen an exciting and challenging journey in terms of growth and profitability. Also we clearly have an edge amongst other hypermarkets due to the store design, assortment, service and overall experience. We currently have 16 hypermarkets in 9 cities and also are at the juncture of being the profitable hypermarket brand in India. We clearly believe to give the best in class to our customers and shoppers who are not just affluent but also the aspiring shoppers who are young and strong influencers.
How challenging it is to carve out a niche especially in such a competitive market?
HyperCITY as a brand was clearly launched with a positioning of'something more to discover" and not in the space of "cheapest price or lowest everyday". So from inception we were clear in our positioning and our value preposition to the customer was "overall experience". This is why consumers still strongly connect with our brand and is in the DNA of the business. Whatever we sell, will be best in terms of quality and price. Our assortment will always be authoritative in every category we sell. We also focus on international, gourmet, organic and other new age categories which aspires the young consumers. We do see competition in the core FMCG lines and staples, where we are also equally competitively priced. Fresh meat and fish has also been our strength where quality and range of products is what differentiates us.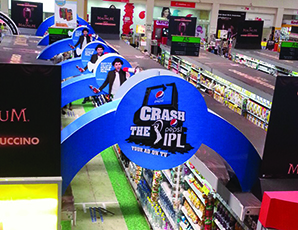 We have observed that HyperCITY comes out with engaging in-store marketing initiatives. As a brand, how would you define its significance?
We have always focused on customer in-store engagements in all our marketing activities. We have a 52 weeks engagement and activation calendar along with our marketing calendar. All our stores are very catchment focused and we do lots of society and school activation and tie ups, participating in their sports day, fun & fair and all community activities. In-store also we have weekend activities for kids and adults which could be from games, to cookery shows and also contest. We also have brand alliance with'FOOD FOOD' channel, where their chefs do live cooking shows in our stores. We also partner with most of our FMCG brands for in-store activations and samplings. We truly want our customers to "discover something new" everytime they come for shopping and be delighted.
How much of your budget is reserved for shopper marketing initiatives?
Approximately 20% of marketing budget is utilized for shopping marketing campaigns and analytics.
As a retailer how HyperCITY is providing a prominent platform to the brands, especially the FMCG sector for creating larger than life in-store activations?
At HyperCITY we truly believe that in-store activations are the key for brands to connect with customers. And hence we always keep innovating with different mediums to meet brand's requirements. Some of the key ideas that we have used in our stores for this :
Creating larger than life (as long as 45ft ) mock structures of brands' products thus accentuating their packaging and having drool factor attached with it. We have explored this especially at brand launches of Magnum, Close Up Diamond Attraction, Axe Signature, Pond's Men's Face Wash etc.
Another medium that very much helps in providing brand awareness is primary aisle dressing. And dressing includes mediums like - arch gates at entrance of aisle, covering entire floor with one long vinyl sticker, bay breakers, headers. As soon as customer enters in the aisle, entire aisle is dressed up with brand's communication and there is an instant connect with the customer. Same has been very beautifully executed by Pepsi for their IPL campaign in our store, showcasing a cricket pitch in the aisle.
In our stores, end caps are one such medium that helps tremendously in highlighting brands products and thus leading to impulse purchases. End caps are gondola ends at the end of the aisles which are dressed up with translite box at the top. This aids in providing adequate stacking space and dedicated space for the brand's communication.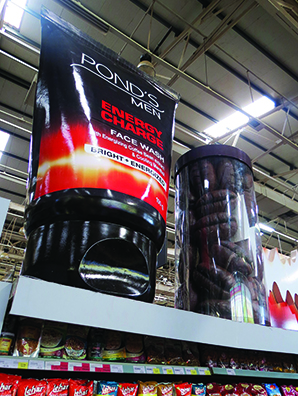 As a retailer what is your suggestion to the P-O-P producers or to the agencies who are tying up with the brands in order to provide these in-store activations in a better way?
One of the very important things is to ensure that the recee and execution of the entire concept is done correctly. Since retail stores have every inch covered with shelves and products, these executions mostly land up in damaging something and hence it's important that planning and execution is done with trained personnel to avoid such concerns. Also, it helps a lot if all the stakeholders are involved in the entire work. If the initiator (brand), concept and execution agencies along with the retail partner work on it together the outcome will definitely be as required.

What is your expansion plan across India in the near future?
We are looking at 3-4 stores every year and this year we will be looking at entering Delhi NCR also. We just launched our second Pune store at Inorbit Mall, Viman Nagar. Also we do see tier 2 responding well to hypermarkets.

Is there any new retail formats or innovation HyperCITYis looking at and why?
We are experimenting with HyperCITY express as a model in Inorbit Mall, Malad which is a top-up store led by food, FMCG, grocery and impulse general merchandise product lines for all mall walking customers.
Related Viewpoints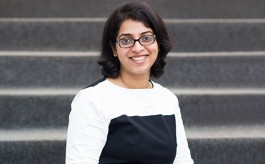 Founder and CEO, FableStreet
'Business model innovation is core to our USP'