Nerolac connects with new impression
By Fairy Dharawat | June 14, 2013
Nerolac Impression Store opened an exclusive Impression Shoppe, a shop-in-shop retail model targeted at family shoppers with a touch and feel concept in Mumbai. Point of Purchase speaks to Sukhpreet Singh - VP of Marketing & Sales, Decorative - Kansai Nerolac on how they are involving shoppers in choosing colors at the store which traditionally was done by contractors.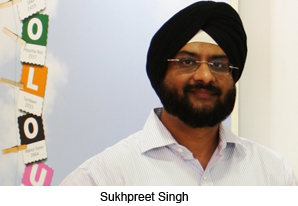 Q) Can you tell us about the brand's business objective of the Impression Shoppe?
The brand and business objective does not change the design concept hence our objective is to be the most preferred paint brand for consumers. We are the second largest paint company in India and we are focusing on gaining the market share to reaching out directly to the consumers.

Q) Which design agency was roped in for the design and execution of the store?
Our partner and agency Mudra has designed and executed the stores.

Q) Can you tell us about the store design concept and the physical configuration of the outlets?
Most of our franchisee stores are 350 -400 sq ft. Our basic concept is the store should be in the background and there should be more white. Our basic background panel will be white so that the colors and panel would stand out. At the store, we segregate and explain the painting process to customers while following the painting process.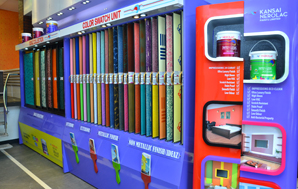 Q) What were the specifications requested in terms of physical element - like colors, materials, etc?
We decided that the overall design language should remain the same. As far as the design element is concerned, there must be consistency and uniformity. All these were evaluated in the start followed up with a decision to go with one particular concept. We kept revising this concept around three or four years. As of now we have had three or four different versions where we upgrade the design every year.

Q) Can you tell us about how Nerolac's objective to change the way consumer buys the paint?
Traditionally consumers don't prefer buying paint as the paint industry is not'try yourself' market. Contractors buy paint for their customers and we want to change this notion by increasing consumer involvement while shopping for paints. For this you should have lot of panels and tools so that the consumer can visualize the walls in different colors, textures, finish and designs and there has to be actual touch and feel panels. Along with this there should be virtual preview software where shoppers can upload photographs and play with colors and go through a virtual experience and design before they actually implement it in their homes.

Q) What is the aapx budget allotted for this retail concept?
We work in a franchisee model, and the major investment is in setting up the business while investing in branding the store and packing. In franchisee model, we help in terms of getting the overall branding of the store together and packing - packing is also related to the service which we provide. When the customer walks in its not just a comfortable store where the shopper picks up a product and goes; the experience also counts hence, the house has to be painted, following up on the leads, fulfilling the criteria and sending people for required jobs. In most of the locations - we provide brand support, service and backhand job.
Q) What sort of challenges do you face in this retail venture?
There were many challenges which we came across with experimentation. We have franchisee and partners who have elite businesses, where they may or may not become paint business expert. Finding a right partner is a challenge and we are interested in people who have the right attitude for this service and good network with architects and designers. We need to have these softer aspects in our business partners which are always a challenge to find.
Q) What is the learning that Nerolac has derived from this concept?
In our category people are used to painters coming to their homes and providing service rather than going to the store. Getting footfalls and managing footfalls for the store is the real challenge, but announcing a store without creating awareness does not provide any result. It's not only about awareness, but also about offering a compelling reason and offering real solution for a shopper to visit a store. You have to invest in technology and offer them with experience tools, software so that the people benefit coming to the store. And word of mouth starts when they experience this whole new approach.
The entire gamut of service has to be in one roof, similarly attracting the contractors and networking with them is also important so that you can provide the service to the stand alone store. These are not brand or image stores but they are hub for providing service.
Q) What is the retail expansion strategy for Impression Shoppee?
We have 30 stores in Hyderabad, Chennai and Bangalore and we have 300 shop in shops across India and now we are further looking at expanding our presence at metros like in Mumbai and Delhi.
Related Viewpoints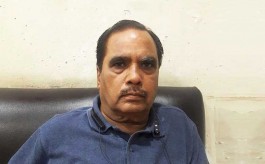 Director, Sunrise Media & Effects
'Clients prefer 100% green technology'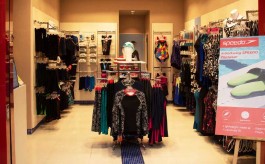 Business Head, Speedo India
'Omni-channel will be a way of life in future'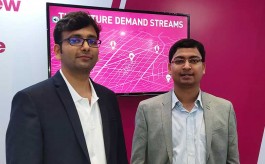 Co-founders, SprintAI
'Any tech solution has to be linked to the business objectives'