Nesta Modular Kitchen: Scripting a different recipe for growth
By Nabamita Chatterjee | August 11, 2014
Century Ply, the largest sellers of multi-use plywood and decorative veneers in India, has recently taken their Nesta Modular Kitchen range to the eastern and southern markets. The range boasts of unique features like water proof plywood, heat resistant plywood, termite and borer proof plywood and options of more than 400 shades of Century Laminates, etc. Where utility features are concerned, all kitchens are designed by experienced designers keeping in mind the functional and ergonomic needs of the end-users. The kitchen is fully equipped with inbuilt appliances. Sumit Dutta, CEO, Nesta Modular Kitchen, Century Ply, talks about the company's offering in an interview with Point-of-Purchase. Edited excerpts: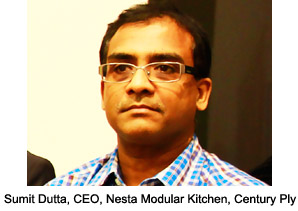 The modular kitchen segment is rapidly growing in the country with several brands entering the market. What are the USPs of Century Ply's Nesta range?
If we observe the market for modular kitchen in totality we will see that when a customer pays a particular price quoted by the brands they are not talking about the material used for manufacturing the set-up which actually is the back bone of it -- the wood. Nesta being from the house of Century Ply enjoys a strong brand equity among the buyers. One of the best ply manufacturing companies in India is producing Nesta modular kitchens.

Kitchen is perhaps one of the most important areas in the house. How do you go about designing the range?
We have a great team of in-house designers who give us suggestions; a strong research team tracks the market trends pertaining to modular set-ups as per the global trends.
When a customer invests in a modular kitchen, aspects like size of the kitchen area and the design which will totally be functional with 100% utilisation of the space are of utmost importance. These days if we observe the average size of any kitchen it is becoming smaller, so at Nesta we provide design which will appeal to a person having 1BHK or 4BHK and above.
The USPs of the kitchen may be described as:
Great Utility: Layout that allows cooking, cooling and cleaning to be done most efficiently.
Contemporary Comfort: Overall design is sleek, soft and minimalistic giving it a contemporary and elegant look.
Spacious: A wall-to-wall open kitchen creating a sense of serenity within the room and at the same time an illusion of more space.
Tough and Traditional: The warmth of the hard wood and the beauty of the lacquer emphasises the quality of the design whereas the solid wood's durability, strength and beauty makes it a perfect kitchen.
Safety: Easy to use and maintain, provides additional space, saves on time and energy, life time warranty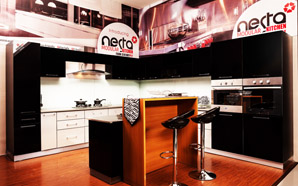 What kind of in-store promotional activities do you initiate for such a segment?
Through various interesting visuals we talk about Nesta's concept of'Kitchen' that we want to promote among the customers having a focus on the traditional yet contemporary designs and services for them.
Who is your TG and what does it take to influence that specific group when it comes to buying such products or what kind of shopper connective measures do Nesta take up?
Nesta Modular Kitchen's TG is mainly in the 35-40 age group who may be of first or primarily second time home buyers or a homogeneous mix of the two.
In terms of economic class it is primarily Sec A and Sec B who are educated and can be reached through various forms of media mix and direct marketing agents. Our customers are successful professionals or business men who face paucity of time. So, we provide complete turnkey solutions. Our modular kitchens are affordable and the minimum price range starts at 2.0-2.5 lakh, though it primarily depends on the area or size of the kitchen.
Nesta being from the reputed house of "Century Ply', do you feel that it is an advantage in creating a niche in this competition?
Definitely, yes. For a utility like modular kitchen people will not spend money frequently, Century Ply is a trusted brand and Nesta is a part of it.

What are you expansion plans? Will you be opening standalone Modular Kitchen stores for Nesta or will it be an assortment of home decor like the Kolkata flagship outlet?
As of now we have standalone stores in Kolkata, Bengaluru, Hyderabad and Ranchi. The Nesta Modular Kitchen range will be reaching other milestones this year by launching one store each in Guwahati, Patna, Jamshedpur, Siliguri, Bhubaneswar and six stores in Hyderabad by end of Q3 of 2014. By the end of this FY we will have 25-26 stores, primarily covering the entire East and two cities of South namely Bengaluru and Hyderabad where we are expanding more as well. Alongside, other cities, Century Ply plans to launch one more Nesta Furniture Store and one Nesta Modular Kitchen in the city of Kolkata. In the next Financial Year we plan to expand our footprints in North and West zone with an aim to have 100 stores covering the whole country very soon.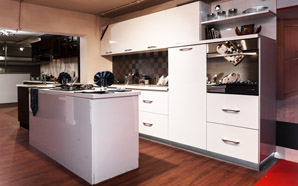 When was Nest Modular Kitchen launched and how do you see the growth of this segment in the coming years?
We launched Nesta Modular Kitchen in November 2013 at Kolkata and in February 2014 at Bangalore and more recently in Ranchi. Since then we have expanded our portfolio with various new elements and gifted innovations to our clients.
In the coming FY we are targeting a business of Rs 17 crore from our East and Southern stores.
Many of the international brands are entering India. Do you see more competition in this segment?
International brands cater to a very niche clientele. The TG Nesta is focusing on has a large base and we feel that 80-90% will go for Indian brands.