NFC technology enables cash-less, card-less transactions
November 26, 2015
This effort-free technology gives the consumer the liberty to purchase products without having to carry bulks of cash or multiple credit or debit cards.
With the modern retail and payment technologies unleashing new opportunities, these are exciting times for both consumers and marketers. While the Gen-Y consumer is spoilt for choice with easy access to shopping on their fingertips, marketers too are continuously leveraging their impulsive streak to lure them into offers and varied services. Given this scenario, the consumers' wallets have become bulky with excessive cash and numerous credit cards and retail outlets have installed multiple transaction machines and softwares, which makes it tedious to manage the day's sales. But here's a technology that gives both the consumer and the retailer the liberty to use smart phones and adopt streamlined cash-less, card-less payments system. Near Field Communication (NFC) - is the gateway to the future of smoother transactions.
NFC is the next generation short-range high frequency wireless communication technology, which enables the exchange of data between devices built with this technology. Today most smartphones come enabled with the NFC technology chip, enabling users to make contactless financial transactions like monetary payments, ticket purchase or even top up. The technology can also serve as an ID card, help in authentication access, transferring data, music or even pictures. Concerned about security? Don't be! NFC provides a very safe and secure storage for confidential personal data for its users.
Today, the avid Indian shopper has traversed ahead of the traditional retail therapy and has started embracing online and mobile shopping tools. According to Gartner, India has more than 16 crore internet users of which 8.6 crore access internet using their mobile devices and nearly 10% of internet page views in India come from mobile devices. While m-commerce is still in a nascent stage in India, it is catching up like wildfire due to factors like affordable devices and mobile internet rates. Moreover, high-speed internet and Wi-Fi has also added impetus to shopping through mobile devices. With 4G coming, the trend is bound to pick up in the near future.
Looking at this trend, retailers across the country have started adapting innovative technologies to add value to their business and interact with their customers to build stronger relationships - NFC being one of them, especially for offering streamlined payment solutions for those who believe in cashless transactions.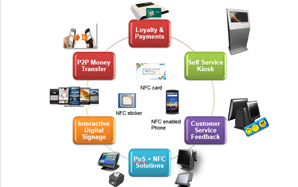 NFC technology operates on a special chip and application on smartphones. Consumers who have NFC enabled smartphones can use it as a credit/ debit card, by just tapping their phones against NFC enabled payment system. And voila! The payment is made. Not only that, the system also captures the consumer's details and shopping history for generating loyalty points and data for better customer relationship management for retailers. Retailers across the globe are now leveraging the use of NFC to not only integrate their online and mobile businesses , but also using its power to connect with consumers by sharing information on sales and exciting offers that could be relevant for them, basis the data that the technology collects for them.
On the other hand, this effort-free technology gives the consumer the liberty to purchase products without having to carry bulks of cash or multiple credit or debit cards. Its highly secure, robust & scalable transacting platform also ensures safe transfer of information. The technology further plays a crucial role in educating customers about new products and services through just a tap.
It has been estimated that mobile payment users are expected to reach 375 million wherein NFC chip shipments are expected to surpass 1.2 billion by 2015. Moreover, NFC will have the global penetration of 30 per cent by 2015 with one billion NFC handsets expected to be shipped by 2017. At the same time, the number of NFC ready point-of-sales terminals is set to reach 44.6 million by 2017.
As this never ending relationship between users and their smartphones grows, NFC technology will pave way to become the next big thing in the retail industry. It not only provides the retailer with a the opportunity for digital marketing, but also helps the consumer in making informed decisions about their purchase by providing detailed information about the product's price, discounts and warranty.
With smartphone makers, Internet providers and credit card companies collaborating to offer NFC services to consumers, very soon we will see making our payments, redeeming loyalty points, purchasing tickets and providing identity proof through our smartphones. With NFC, we are soon approaching the time where we will bid goodbye to bulky wallets and the phase of remembering numerous banking passwords. So tap away, to the future purchasing power of NFC.
Related Viewpoints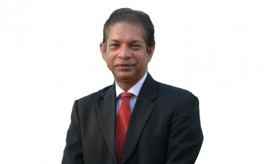 Chief Growth Officer, Lastmile Solutions India Pvt Ltd
'Need to come out of shadows of protectionism to become Atmanirbhar' : Pankaj Goswami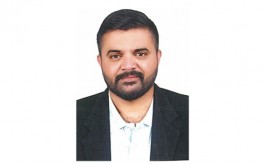 Sewak, LPFLEX Sign System India Pvt. Ltd
Atmanirbhar : Limit, Leverage, and Evolve to become self-reliant : Amit P. Kapani, Sewak, LPFLEX Sign System India