'Omnichannel is the key to success in the new age'
By Retail4Growth Team | October 03, 2019
Ceriz, a French accessory brand for women, runs around 175+ MBOs and has four standalone stores across airports. In an exclusive interaction with Retail4Growth, Tanushree Biyani, Founder, Ceriz, shares the plans forward.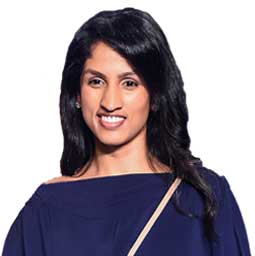 How is the footwear market evolving in India? Which factors are driving the growth?
Not only the footwear market, but the entire fashion space in India is in a dynamic mode. As more and more women are getting better acquainted with the fashion trends across the globe, we are left with a growing demand to cater to. Be it the easy access to online fashion platforms or the emerging affluence among people in India, everything has contributed towards making 'fashion' a daily need or medium of self-expression rather than a luxury.A brand like Ceriz fits in beautifully in a dynamic space like that, as it caters to these needs.
Give us an overview of the brand's product portfolio?
Right from its chic brand name that's derived from the French word 'Cerise' to its range of shoes and handbags that beautifully blend in aesthetics with utility, brand 'Ceriz' is fast establishing itself as the hallmark of global fashion for the modern-day women. Broadly catering to two main categories like footwear and handbags, Ceriz delves deeper into each of these segments by giving women a lot to choose from. Under footwear, the brand offers a wide collection of sandals, peep-toes, pumps, sneakers, boots, loafers, and ballerinas. Under handbags, it offers everything from handbags, clutches, slings, tote bags to backpacks, wallets and even laptop bags. These products effortlessly blend in the fast-evolving fashion trends with comfort.
What are the latest trends shaping in the market?
The fashion landscape itself has undergone a major refashioning, over the years. With easy access to the internet and to the evolving fashion trends across the globe, people in India are much better acquainted on what's hot and what's not. Not just this, women today regard fashion as an extension of their personalities and an expression for their moods! The market in India comprises people who are willing to try out news styles and trends. Today's millennials and modern-day women seek elegance and style without compromising on their comfort. In an evolving market like this, Ceriz has factored in these trends and the needs of the young and modern-day women, in its range of shoes and handbags.
What's your retail strategy to attract customers in store, in today's e-commerce era? What's your omni-channel strategy?
Today's consumers are more aware, tech-savvy, and quick to hold retailers accountable should they fail to deliver quality products, regardless of the price points. Considering that the average lifetime value of an omni-channel shopper is 30% higher than shoppers who use a single channel, the key to success in the new age will lie in the retailers' ability to seamlessly serve its consumers through multiple channels; one that adds up to a superior customer experience every single time!We too are set to achieve a completely seamless customer experience across multiple channels. Having said that, no strategy is complete without understanding ones customers' aspirations and then blending it with the evolving global trends that influence these needs…sometimes even before your customer knows it herself!
What are the highest selling products at your stores?
Ceriz handbags are slowly and steadily establishing itself as an aspirational bag that epitomizes style. In the footwear segment, we have our athleisure Sneakers section which is coming out to be a high growth category along with our Sandals, Ballerinas and Loafers that have remained key drivers in sales.
What retail and promotional strategy have you adopted to consolidate the brands presence in India?
In a time and age where a brand is set out to connect with a diverse group of audience, its choice of medium too need to be cherry-picked to ensure maximum impact and communication. Ceriz connects to people across India through a mix of platforms. While newspapers, fashion magazines, radios, OOH, SOH, and digital media are all tested-and-tried platforms, we also organize on-ground customer engagement and activation events to ensure an even more personal connect with our customers.
What are the major challenges that you often face in the segment?
While the rising fashion consciousness among today's women has been our driving force in building a brand like Ceriz, there are also some challenges that come along with it. It's a constant test to stay ahead of the times and understand or even preempt what our customers will want next. To concurrently build a mindset among women that values chic and stylish bags and footwear is another challenge. We are also working better on handpicking the right locations to cater to our specific target audience.
What's your current retail presence? What are the expansion plans?
Being a relatively nascent brand, this four-year-old label has already shown an exponential growth in its presence in the market as fashionable brand. The brand is available in top shopping destinations like Central, INC5, Shoppers Stop, Pantaloons, Rocia, among others. The brand runs around 175+ MBOs and has four standalone stores across airports. Next month we will be opening an exclusive outlet in Mumbai at Atria Mall too. But this is just the start, as the brand is all set to cover greater ground across the country.
For more updates, subscribe to retail4growth newsletter - Click here