Riot: Accessorising today's youth
By Nabamita Chatterjee | July 11, 2014
Riot, a retail venture by Suditi Industries Ltd, is a contemporary apparel and accessories brand with fresh and inspiring retail formats. The DNA of the brand promises inspirational fashion -- be it with funky denims, bottoms, jackets and shirts for men or skirts, dresses, cardigans or tunics for women. Riot is also a one-stop shop for all kinds of apparels and fashion accessories like belts, bags and flip flops. Riot recently bagged the official apparel licensing rights of 2014 FIFA World Cup for India. Animesh Maheshwari, Vice President, RIOT retail venture of Suditi Industries Ltd, talks about the brand's retail strategy and expansion moves in an interview to Point-of-Purchase. Edited excerpts: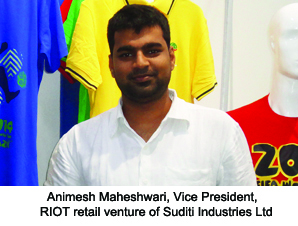 You bagged the apparel licensing rights of FIFA for India and have launched a collection of clothes and garments on the theme of FIFA World Cup. What does this mean to your brand?

As a company, associating with FIFA has added great value to our growing brand -- Riot. This deal has helped the brand to strengthen its recognition, market reach, and presence and positioning which are also vital key points for any brand. With the introduction of FIFA apparels in the market, we aim to reach out to the youth and sports lovers across the country.
What are your plans to distribute these types of merchandise in MBOs?
Riot has already distributed the merchandise to numerous MBOs across India. In fact, recently we got connected to more MBOs at large who also wanted to have the FIFA fan merchandise at their stores. Hence, we can say that the demand for FIFA apparels has been increasing in the market.
Do you have plans to initiate some interesting in-store promotions for the brand?
We are planning to distribute discount vouchers which the customer can avail, especially on FIFA merchandise. We also have a tie-up with a radio channel and other brand promotion partners to run contests and distribute vouchers to customers that are further redeemable at Riot stores. Riot also plans to enhance the look of the stores for the big event FIFA world cup 2014, in order to attract the customers by executing FIFA window and merchandise displays.
Who are your typical shoppers for these goods? How are the products priced at?
Targeting the pulse of the nation, Riot provides casual and funky designer clothing and accessories for men and women. Riot aims to target all the football fans & largely youth across the country. Riot merchandise is being sold in exclusive brand outlets in various cities, leading departmental stores and is also available on major leading online portals.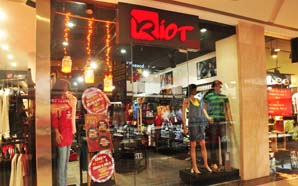 With various foreign brands entering the Indian market, how challenging it is for you as a brand to sustain and maintain a balance in this growth trajectory?
Riot aims to provide high quality products at affordable prices to all the customers. With the emergence of e-commerce, the customer is now habitual to shopping 24x7. In such a situation we shall provide that requirement in order to sustain the shopper engagement. One is definitely going to miss out on a great deal if they don't have an online presence. With mushrooming brand labels, the customer is now spoilt for choice. So, as a brand we need to provide good quality and in-demand products at the right time and price. With many foreign brands entering India, the challenge for us is to match them in terms of quality and style. If Indian brands also provide similar or high quality and style range, it can reach out to a larger audience. However, great force and strategies are required to enforce the two competitive points mentioned for every brand.

When was RIOT apparel launched? How many exclusive stores do you have now?
Identifying the need gap for high quality fashion wear at economical prices led to the birth of Riot on May 10, 2010. Riot was launched with three stores in Mumbai located at Kandivali, Borivali and Kharghar and has established seven stores by the end of the year, expanding to Nashik and Goa.
What is your turn-over the last FY and what is your expectation for the currently year?
In 2013-14, Suditi Industries Limited recorded Rs 62 crore turnover, and Riot Rs 15 crore. In the current year, we expect Suditi Industries to reach Rs 90 crore, and Riot Rs 20 crore.
What are your expansion plans?
At present we are focusing on increasing our online presence as we find e-commerce as an expanding and successful market. Apart from an association with all the major e-commerce portals, we are coming up with our own exclusive online store, riotjeans.com. We also look forward to being a licensee of major global football clubs and further foray into sports and sports fan merchandise at large.
We are definitely looking at strengthening Riot women's category in terms of style range and quality. Innovation in fabric, technique and texture has led to creation of amazing fashion style that customer desires. Suditi Industries is also a fabric manufacturing unit, so we also see a great expansion in knitted fabric and its evolving categories.
Related Viewpoints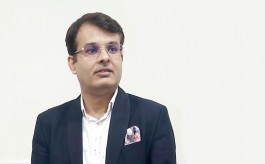 Centre Director – Phoenix Palassio
"We are working with retail tenants to help them navigate through crisis" : Sanjeev Sarin, Centre Director – Phoenix Palassio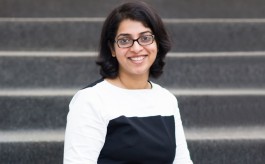 Founder, FableStreet
Make in India : 'Need to build stronger technical capabilities to outgrow competitors' : Ayushi Gudwani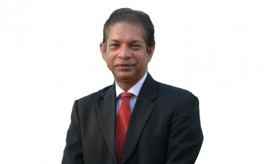 Chief Growth Officer, Lastmile Solutions India Pvt Ltd
'Need to come out of shadows of protectionism to become Atmanirbhar' : Pankaj Goswami