Rover: Scent of a socially intelligent male
By Nabamita Chatterjee | July 17, 2014
Punit Agarwal, MD, VEMB Retail India, discusses Rover's brand positioning in the Indian fragrances market in an interview to Point-of-Purchase. Edited Excerpts: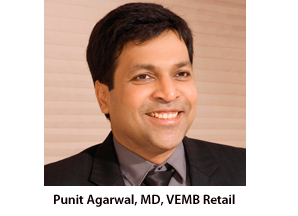 Considering that the men's grooming market is rapidly growing and constitutes 60% of the overall sales in the fragrance category, how difficult it is to carve a niche in this category?
The men's grooming market is undergoing an exponential growth and owing to this growth, there are many players who are spending monies to create a dent in this personal care and grooming space. Of late, there have been entrants like Emami's'HE' deodorant which has hit the market with a big bang. Similarly, Wild Stone, the leading male grooming brand by McNROE Consumer Products Pvt. Ltd, kickstarted this year with the launch of Wild Stone Thunder which created quite a rage amongst the masses.
Although there is intense competition, we believe that with the right strategy and distribution along with right marketing activities, we shall be able to cut through this cluttered market. With so many deodorant brands jostling to take a share of this pie, it is utterly important to create a niche and establish a brand positioning as that will determine the brand's success in the long run. Also, a strong marketing campaign which entails innovative ideas along with the right visual display and point of sales in retail stores helps the consumer to purchase the product.
As there are so many other brands like Axe, Fogg, Setwet, Zatak, etc., which have been doing so well, what is your brand proposition and how is it different from the rest of the players? How are you going to market your product in this clutter?
Since Rover is a new entrant in the men's deodorant category, we wanted to create a different brand proposition that sets us apart from the rest of the existing players. With the men's deodorant market being a highly cluttered one, we planned a well thought out strategy which could prove beneficial to the brand in the long run.
Indian males predominantly have a typical male chauvinist mindset. We wanted to take a new brand pitch and move away from the stereotypical chic magnet route that most deodorants are striding on currently. Hence, the new image driven tribe is where we feel Rover's playground lies. With this, an intense market survey was conducted with our marketing teams which analysed the various brands that are already prevalent in the market, what is their brand offering and how have they marketed the brand to their TG. With the metrosexual male phasing out today, a more versatile male has arrived.
Today, we have seen a well-balanced new male order emerge who does not want to fit into a stereotype, a man who is ready to take on new challenges in life, a man who has become the master of all and more importantly, someone who can straddle between multiple roles and not only adapt but excel at each one of these and yet emerge as a winner.
We wanted to identify with a man who is internally driven, socially intelligent, someone who believes grooming is a necessity and someone who can desire his own path. This was the core thought where we felt that, for these varied battles that he picks, his appearance and persona becomes his secret weapon. Hence, it was the ability to be many persons in one, thus the brand idea for'For the Men inside the Man' was christened. We played with the inner moods of a man that no other deodorant brand had touched upon and this we believe was the real success in our brand positioning.
We are looking at innovative marketing strategies to stand out from the clutter. Some of them will be to look at promos during the ICC Cricket World Cup (February-March 2015), in-film advertising and on-ground events across colleges. Besides this, radio, print and running contests on social media have been the primary medium that we have used so far and this will continue as we believe we can capture a large chunk of the population at one go. This has proved to be very successful for us and we will continue to use social media in a big way.
As you have tied up with McCann Erickson for the creative duties and the agency will help in conceptualising the route Rover should be taking to stand out from the cluttered marketplace, can you share any interesting in-store promotion plans that you would like to take to connect more with your shoppers?
In the first phase of our communication, we had concentrated on ATL where we utilised print and radio to the maximum for creating brand awareness for Rover which was initiated by "Khula Dhakkan Nikala Hero Contest". We received a great response to the communication on this front. Going forward, we are looking at placement of our products in the General Trade and Modern Trade simultaneously.
For general trade we are pushing schemes to incentivise them with display schemes which will enhance them to sell our product. For communications posters (Horizontal and Vertical) + dispensers with testers are supplied to the general trade. In Modern Trade, we are currently tied up with Star Bazaar and Auchan. We are placing our Branded FSUs (Free Standing Units) in the modern trade. FSUs generally give a high visibility to the consumer and attracts direct attention, thus resulting in sales.
How would you define your USP? How many sub-brands do you have under Rover?
We would define our USP by saying that Rover is a brand which connects instantly with the masses with our well-thought out positioning of catering to the different moods of a man. Hence, if he wants to be a Spartan, be a bond some day or even become a star, he can depict his personality by spraying Rover. We are targeting go-getters and people who want to prove themselves. Men these days live the western world culture and are playing six to seven different roles in a single day. We have come up with six variants for our range. The product attributes of the brand are a combination of six scents depicting various moods to match a man's inner personality; Rover has a subtle smell that's crisp and not overpowering. The variants are Cryptic, Brisk, Zeal, Greed, Fierce and Bond. Each deodorant can has a unique fragrance from woody aromatic, to sporty, to oriental spicy, aquatic warm.
Interestingly, men in India today—and especially those who fall in the age group of 18 to 25—spend more money on grooming and personal care products, thus what does it take to capture and then retain this segment of consumer? Could you just elaborate based on your experiences?
As of October 2013, the deodorant market in Indian was poised at Rs 2,000 crore. With the current growth rate of 30%, in the next nine years, 75% urban citizens and 10% rural citizens would be using deodorants. Deodorant is predominantly a male grooming product, but expansion into the women's segment is underway. Men's category contributes 71% whereas women's category contributes 29%. Men who generally tend to share personal care products with the female patterns, strongly exercise their choice with respect to deodorants.
The daily routine of average Indian men make them use the category very religiously - the percentage of men in the outdoor are higher compared to women. On an average 3-4 men out of 10 use deodorant in cities, 1 out of every 10 men in small town/villages use deodorants. Men's grooming is becoming important as now you cannot go to an interview ugly, being presentable is essential.
The market is slowly moving from being only urban-centric phenomenon to more urban plus semi-urban, with rural being a very small part of the entire category. For retaining of the consumer, it was different for us to take a differential positioning for the brand, hence we came up with the "men-within" proposition. The deodorant category is an impulse category and brand preference is very selective. More on what really works is placement of the product and visibility via strong brand communication in various media which makes them the market leader in the category.
What sort of new trends you are seeing in terms of consumer behaviour/buying pattern? What does this mean to you as a brand?
Urban Indian households, especially the male segment is spending a bigger share of their monthly budgets on personal grooming and commuting and less on food, reflecting a change that's in sync with the spending priorities of consumers in developed markets, suggests a report by market researcher IMRB International.
Consumer behaviour is directly linked to one's personality and grooming per say is becoming an important currency for success. You cannot look ugly or smell bad for an interview. Secondly, the'mating' market has become more liberal, you need the approval of the opposite sex even if it is'arranged'. Brand loyalty is shifting in the younger audience especially the 16-25 bracket and men like to experiment with brands while at that age. Also, now men are more particular about their looks and personal hygiene than ever before and this can be seen with the rising trend of splurging on more grooming products as'looking good' becomes more important to them.
For us as a brand, it gives us a reason to cater to this wide audience that has the purchasing power and the right mindset to indulge in buying products such as deodorants. With a paradigm shift in buying behaviour, people aspire more and want to do multiple things at one go. Hence, before entering a meeting or before going on a dinner date, the man sees himself in the mirror which is a reflection of his personality.

Looking ahead, what are your plans in terms of building your brand's reach across India?
VEMB Retail is a wholly-owned subsidiary of VEMB Lifestyle Pvt Ltd, which is already in the apparel space. The company has now forayed in the FMCG sector with the launch of Rover deodorants. Through Rover, VEMB Retail has a pan-India presence and is available across more than 23,000 outlets. So far we have already tied up with various channels like Modern Trade, (TESCO Star Bazaar, Health and Glow, Bharti Easy Day, Dabur New U, Food World, Auchan), General Trade (a pan-India distribution network through super stockists, chemists, general stores).
We plan to strengthen our current distribution network of 1,300 retailers to 94,700 by end of the first year of operations. This will be further expanded to 5 lakh traditional retail outlets in the next five years. A structured business model through CSAs /distributors will accelerate growth through consumer pull delivered with consumer insights, innovation and consumer communication driving demand. We will be available in 105 cities by end of next year from the current presence of 35 cities. In addition to metros, we are exploring other markets as we see a huge potential in tier II and III markets not only for deodorants, but also for other products like men's shaving gels, razors, shower gels, conditioners, roll-ons, etc. As its next step of expansion, the company also intends to get into women's deodorants and grooming category at a later stage.

According to a study by Nielsen, there is a rising aspiration among Indian men to look better groomed, which has led to the Indian men's grooming market's rapid growth of more than 34%. Where do you see this market in the next five years?
The male grooming market in India is expected to grow by a CAGR of 11% and reach Rs 5,300 crore by 2016, says a Euromonitor study. This segment will see a double digit growth with numerous brands wanting to make a mark.