Rural Marketing Revolution
By Nabamita Chatterjee | September 14, 2015
A new category of consumers called'ruurban' consumers have emerged - IMRB, Rural Consumer 2.0 Research Report says.
Corporates across industries and regions in India, are now looking for comprehensive marketing avenues in the interiors of the rural market. Rimple Sanchla, Founder, TekEra Solutions, in an interview with Nabamita Chatterjee from Point-of- Purchase mentions, "Today, what comes upfront is the more important question, that is'HOW RURAL?' unlike the age-old question of'WHY RURAL?'"
Edited excerpts on her views on Rural Marketing, Return on Investment (ROI) and simple strategies used by the Rural Masters of India. Read on.
What is your point of view on rural markets and rural consumers?
Well firstly, rural is definitely not urban with time lag, neither a market where smaller versions of the product sells. It has its own pace, own behaviors, own beliefs system, etc. About 70% of India's population consists of STAR (Small Towns And Rural) Population which is approximately 833 Million and the statistics from the renowned market researches shares that 71% of the rural customers purchase branded products. Since 2000, per capita GDP has grown faster in rural areas than in its counterpart urban centers i.e. 6.2 per cent CAGR versus 4.7 per cent. Today a rural consumer places 66% weightage on brand image, functionality and aesthetics and only 34 % on price. They are moving away from purely economic concepts of value driven by low prices towards a broader notion of value that combines price with the utility, aesthetics and features of products and services. Companies bank on rural purchasing power. A new category of consumers called 'ruurban' consumers have emerged - IMRB, Rural Consumer 2.0 Research Report says.
What are your thoughts on rural activations and marketing strategies after working with few RURAL MASTERS?
What I have seen so far is, companies bank a lot on rural demonstrations and activations at'haats' and'melas' (fair) but post that, they have nothing. Rural areas do not have infrastructure for posters or billboards as a part of sustenance / maintenance activity. Your activations are one time activity. There are 6 lacs + villages in India and even if you do an activation once in each village, its 6 lacs activations, so, the question is how many number of villages a company can cater to? Any company would love to do all 6 lacs villages or as many as they can (atleast everywhere they can manage logistics). But it's not feasible at present. Activations are not easy to do. And even if they do it, what is the longevity of these rural activations? Few days, a couple of weeks or maximum a month? This is totally dependent on what the customer has been able to grasp from the respective activation and his capacity to remember and recollect. They are good for launch programmes, but companies do need some kind of an offline brand image maintenance activity (or an activity for easy & quick brand recollection) which can work without any of the company representative 24 x 7. According to IMRB Rural Consumer 2.0 Research Report, about 50% of the rural population do not visit'haats' and'melas'.
Don't these billboards or outdoor activity at highways connecting village work as good as brand sustenance activity?
In urban areas, YES! In rural, No! Two years of experience with Rural Masters is worth an experience. They have the best understanding of the rural consumer. Your rural consumer may travel via highway very rarely - frequency could be 1 week or 1 quarter. The best place to do outdoor creativity is the village, encompassing the markets, schools, universities, mandis, railways and bus stands, residential areas, where entire rural population passes by. You need to utilize locations which can be observed by them while moving to and fro every day. Human psychology plays a pivotal role here. When I see the same creative again and again during my daily routine, my subconscious picks it up. That's the key to instant brand recollection, like there's no second option in my brain. It's so simple to execute a strategy when you understand this simple thing. Rural Masters play with this psychology only.
Coming to billboards, unfortunately rural infrastructure do not allow any outdoor advertising opportunity except for traditional wall paintings.
If not outdoors, then the only option available would be wall paintings in rural, is it really that effective?
Not really. Wall paintings have its own limitations in terms of having 4-colour artwork, having human figures or any images, brand ambassadors, etc. Another limitation is its totally dependent on your painters, chances of spelling errors, no uniformity, etc. It is used only because there is no other medium available to do an outdoor activity inside the village.
One 4-colour artwork with graphics, human figures, product image is highly effective because the images are captured faster by human brain than the text. Visuals are stuck in human brain while text will get wash out in few seconds. Effectiveness of one 4-colour artwork is equivalent to approx.70 traditional wall paintings falling in series with no breaks (which is like covering an entire stretch of 1.5 to 2 km of continuous wall paintings to capture attention). Currently 4-colour artworks are only used on billboards in flex or vinyl form.
Today, technology provides corporates with a new medium which gives you the longevity of wall paintings and effectiveness of a billboard. It is a patented technology that is 1000 to 1500 times cheaper than billboard and 1000 to 1500 times effective than traditional wall paintings. Beauty of this technology is that it is not dependent on infrastructure. Any surface in rural areas can be converted to your billboard - be it a kachaa wall, brick wall, patra wall, mountains, rocks, shutters, water tanks, old broken walls, cracked walls, wooden surfaces, etc. This technology is not any form of flex or vinyl. It's completely different. It cannot be torn or punctured. It's UV resistant, water resistant, chemical solvent and acid rain resistant. Flex and Vinyl can be punctured, and lacks longevity. I was talking to a CEO of an entertainment channel who shared, "Rimple, it pains to see the torn posters of our campaign in just 1 day". Now what is the company's ROI here? You pay for a period of 1 month to 3 months and it doesn't even last for a day. Is the company's investment justified here?
Tell us about your innovative technology and which are the sectors you are catering to? How glorious is the future of such innovation?
I have heard from so many CXO's that Rural India needs fresh thinking and needs innovation. Eight out of 10 marketing professionals would say this. And this is what we provide. Rural India Marketing is Revolutionalized by TekEra's innovative RURBAN Advertising which merges with any surface. Inside a village there is no infrastructure for billboards or any marketing activity that you would do in metros. So, considering these limitations, we say, whatever surface is available can be used for Rural Marketing - be it water tanks, broken or crack walls, kachaa wall, patra walls, shutters, cement textured walls, shutters, etc. We have even done it on mountains. And it's mindboggling for our customers. We have customers from wide variety of sectors such as banking, FMCGs, construction, agriculture, pumps, fashion and entertainment. Currently we have spread across India and few parts of South Africa. We will soon go global and spread out this technology. Corporates have grabbed the opportunity with both the hands. They have experienced increase in sales, brand recollection and good ROI. I know it's difficult to measure an ROI but we are glad our customers have seen value. We now have repeated customers. We proudly can say: "Once a customer, always a customer". And innovation is the future in any sector. This is not just innovation but a revolution in the history of Rural Marketing.
Related Viewpoints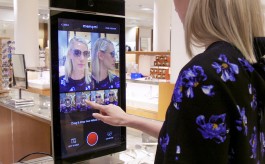 Vice President, Madison Retail Paradigm
Post Covid-19 : Retail spaces poised to go all-in on Digital : Arti Singh
CEO and Co-founder, Re-buzz Interactive Solutions
Is Retail Sector ready to brace the impact?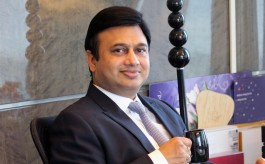 MD, Wonderchef
New Normal: Businesses going Omnichannel to have an edge