Simplifying the decision making process for shoppers
By Dipanjan Mukherjee | July 14, 2015
Is Purchase Decision Hierarchy (PDH) just another marketing jargon or an essential part of the planning process for shopper marketers?
In order to answer this question, we need to first understand what the Purchase Decision Hierarchy means. PDH is basically the sequence in which shoppers take certain factors into consideration while making a buying decision, within a category. However, you will never really find only one PDH for a category. Different shopper segments exist within a category and each segment will prioritise the decision making factors in its own way. While the PDH can differ across shoppers, there is usually a dominant PDH for our core TG (target group). And, the first two parameters within the PDH are the most important when developing a solution. Some shoppers are more interested in imagery and therefore, brand will feature at the top of the hierarchy. For price sensitive shoppers, this would be price, followed by pack size. For convenience seeking shoppers, it would be pack type. The task for brands in this scenario is to identify the shopper segment that will add maximum value within the category and design shelf solutions accordingly. If a brand is not interested in speaking to price sensitive shoppers and is instead known for quality, it will select the PDH of its focus TG i.e. brand or features will emerge as the top factor. As a result, shopper communication will focus on the product benefits rather than price or offers.
Let's take carbonated drinks as an example to explain this. While it has been found that the consumption occasion dictates the shopper need state for carbonated beverages i.e. party, home consumption, on-the-go, etc., what is the most important underlying PDH for this category? This emerged as pack size and flavour followed by brand. Pack size indicates the need, for e.g. immediate consumption vs stocking for a party. The shopper then focuses on the flavour and brand. How can this be applied to create an effective in-store marketing solution? At an individual brand level, this information is best used for planogramming i.e. shelf management and the development of brand and SKU stocking plans. For retailers and category captains, it enables the design of a better category management solution. A planogram based on the shopper need state and PDH will be intuitive and will enable better browsing and selection. Combining this with horizontal stacking of flavours will give us a very effective solution for this category.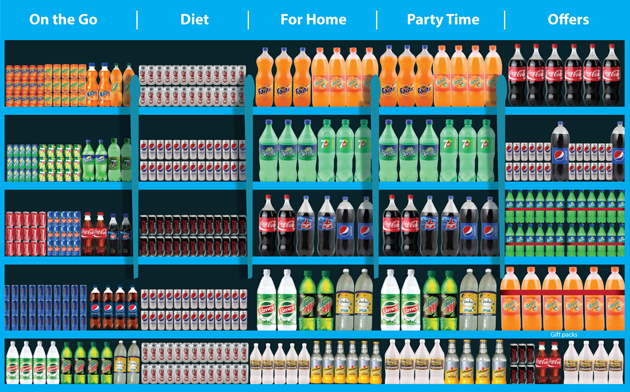 An example of a category management and planogram solution for carbonated drinks based on the PDH.
Similarly, the HFD (Health Food Drink) brands realised that variant (determined by the need state), followed by brand and flavour dominate the PDH and therefore, redesigned the category accordingly.
After all, it is the shoppers that make the buying decisions at the aisle. They are the ones that navigate the shelves to select a range of brands and products. Therefore, it becomes imperative for us to understand the PDH in order to simplify the decision making process for them.
Apart from defining planograms, understanding the PDH also helps brands in new product development and packaging, both in terms of design and pack-size. Over a period of time, carbonated beverage brands recognized the need to create a refrigerator friendly SKU, as pack size for home consumption was high on the PDH. HFD brands realised that one size didn't fit all and new products and variants were designed to meet different need states e.g. for toddlers, women, etc.
Identification of the dominant Purchase Decision Hierarchy is challenging. However, it is an extremely powerful tool to aid both brands and retailers to comprehend the needs of shoppers at the point of buying.
Related Viewpoints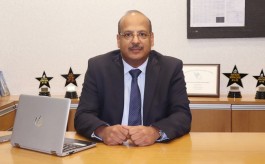 CEO, Viviana Mall
How are Malls and Retailers Prepping for the Post-lockdown World?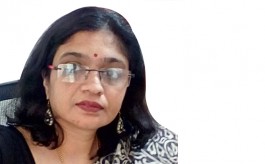 Senior Associate Editor, VJ Media Works
When retail rocked & hope emerged in a virtual ceremony