SPAR's recipe for success: A generous serving of technology
By Smita Sinha | March 07, 2019
SPAR India has rolled out a series of technology driven initiatives to enhance the shopping experience for its customers. Point-of-Purchase catches up with Sunil Nair, CTO - SPAR India, to understand the signifance of this tecnology led approach.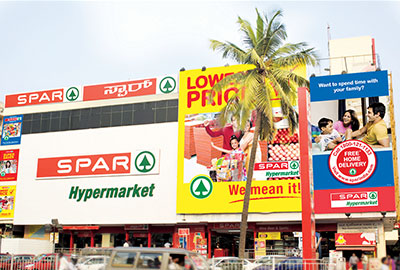 Today there is near consensus that retail is all about experience, what with technology playing a greater role as a disrupter and the new age shopper seeking more than mere offers and promotions, particularly in the brick and mortar space.
Thus even as the retail landscape grows complex, technologies like self check-out kiosks, chatbots and robots help in improving not only efficiency but also customer experience, giving retailers a fighting chance.
Stepping up to leverage the tech advantage is hypermarket chain SPAR Hypermarkets, which entered India through a license agreement between the Max Hypermarkets of Landmark Group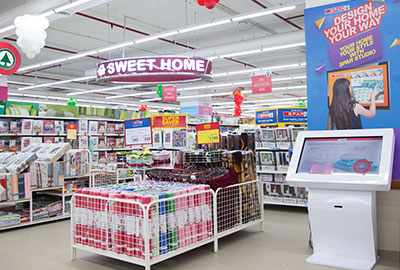 and SPAR International.
The retail company seems to have consistently focused on using technology across its whole eco system. In 2017, under the guidance of Rajeev Krishnan, Managing Director, Spar Hypermarkets India, the compana rolled out a new retail store concept called the SPAR S2 Format.
As part of the new concept, the stores not only initiated differentiated sections such as Wonder Years for Kids, Beauty, Grandma's Corner, Taste of India, Taste the world, Freshly, SPAR Natural and more, but also began leveraging technology in a much more engaging way.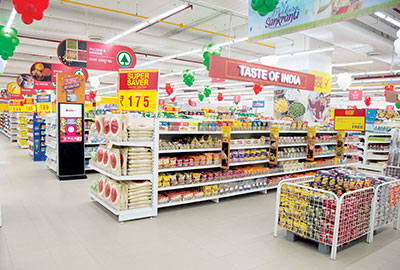 The retailer essentially launched technology-driven initiatives to establish a bigger virtual presence and make shopping more experiential for its customers. The idea, according to the company, is about, "Seamless customer experience with technology". This means improving the whole retail eco system. As Sunil Nair, CTO -- SPAR India says, while talking about the role of technology in taking forward hypermarket chain's vision, "SPAR India's vision is to be the most engaging and innovative hypermarket in India. Making a difference to the lives of teams, customers, communities and shareholders everyday." And one of the ways by which the retailer is moving towards this vision is through technology.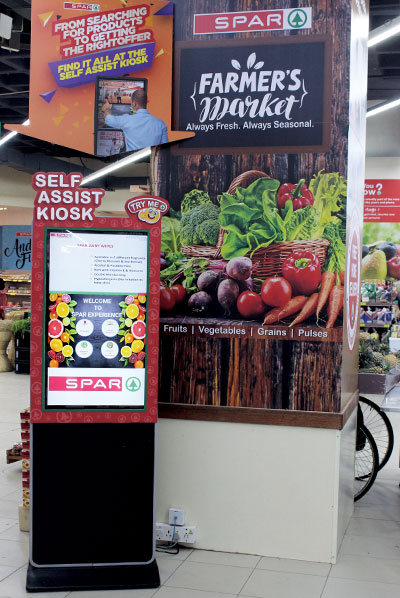 Powered by 'Omnichannel'
Sunil Nair explains further, talking about the role of technology, "Today, technology no longer just plays a supporting role; it is also essential to strategic decision making. Retail technologies are evolving rapidly, and teams have more at stake than ever before as they place bets on new initiatives. Some of these technologies can be extremely disruptive for retailers- for example, smart phones, which changed forever the way customers compared prices, and brought the online competition right into the store alongside a retailer's displayed goods. Adopting flexible, modular technologies will allow retailers to respond to opportunities. Modular technologies that allow integration with new technologies and pilot programs are two ways that retailers can be ready for full-scale rollout when they need to be."
For SPAR, one of the biggest uses of technology is in going the omnichannel way."We see omnichannel as being the way forward for most businesses. But we believe our omnichannel is about being everywhere, because that is where the customer is. We believe that India still has and needs both BRICK and CLICK to co-exist. With the brand connect and loyalty at our SPAR stores being our differentiator, we intend to use merchandising and technology as the strategic pillars to continuously offer omni retailing opportunities as never seen before through strong and innovative partnerships across the different retail verticals," emphsasies Nair.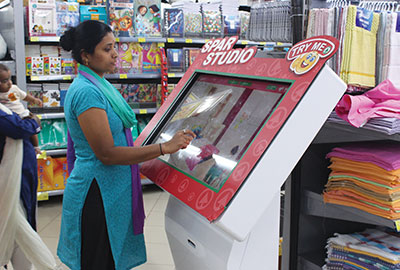 In-Store Technology engagements, creating that WOW experience
The company calls its whole tech-driven approach 'PHYGITS - The future of shopping online and in-store with innovations'. As part of this tech-centric approach, the company recently installed self-assist digital kiosks at select stores to help customers find the product location and their choice of products, thereby cutting down the idle store time.
The interactive digital kiosk was launched during early 2017 and expanded to several stores in 2018 based on the success of the model. The kiosk is in-built with a call facility which enables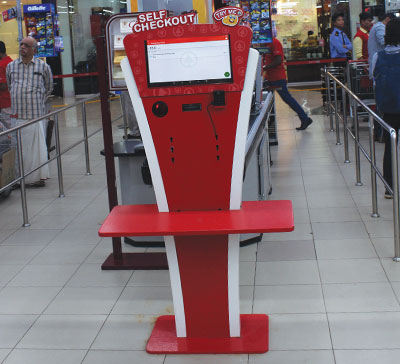 customer call support. The call facility sends an immediate alert to the store assistant to attend to the customers looking to buy a product. With the help of the interactive kiosks, customers can also navigate the hypermarket.
Sunil Nair says, talking about what drove the installation of these digital kiosks, "The kiosks (self-assist/product & location finder) were launched to improve the customer experience and engagement within the store. The objective is to provide immersive shopping experience, use technologies to improve shopping experience across the value chain and also improve customer loyalty and revenue."
The kiosk has three parts with the top section playing videos from multiple brands that are relevant to the store section's items, and the middle part showcasing the applications of self-assist. The bottom section is reserved as an image scroller for private labels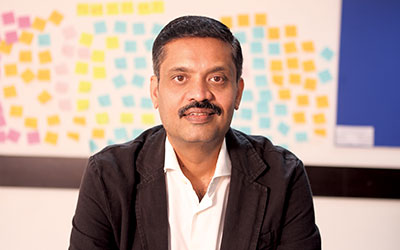 and new product introductions.
So, what sort of customer insights drove SPAR India to install digital kiosk at various outlets? Nair informs, "As per analytics, 6% to 7% of the customers leave the store without finding the product. This technology is helping solve customer problem and increase the revenue to the stores. As our store size ranges from 40,000 to 50,000 sqft, five kiosks are placed in strategic locations to help customers find the product and location."
Interestingly, the retail kiosk is changing the way customers engage in store. "With the help of the self-assist kiosks, customers are getting empowered without depending on the store staffs for finding the location, products and offers. And the availability of accurate product information instantly, whether pricing, promotion or availability, has led to exemplary customer service," says Nair.
SPAR India also believes that this technology enabled feature will help achieve ROI. "It has helped in generating additional sales to the stores as customers are now able to find all the products listed in the stores," informs Nair.
Further, the kiosk also seems to be helping the hypermarket chain generate revenue through advertisements. "The kiosks are placed in strategic locations within the store, which is helping brands to advertise their products for more brand visibility," Nair added.
However, like all major initiatives, implementing new technoligies was not without its challenges. "Any new technology open to public consumption needs some education in terms of how the system works. Initially, there were apprehension about the complexity of the interactive process. But with very easy to use interface and an intuitive touch flow, the concern has been well addressed," explained Nair.
As part of the efforts to scale up shopper convenience, SPAR India has also installed what it calls 'Self Assist Checkout' in its store whereby a customer can scan the items in their basket and pay for them without having to stand in long queues at the cash counter.
One of the other biggest advantages of technology for retailers is that it enables them to offer an immersive experience to their shoppers. SPAR India for example has implemented a Fun Station at the store to engage the kids while their parents shop. The Fun Station entertains kids with interesting games and art works occassionaly.
Another example is Spar's Design Your Home – 3D Studio, which allows customers to mix and match home décor products virtually and choose the best colour/fabric options for their home furnishings .
According to Nair, these technologies will continue to evolve and new features will be introduced for the digital age customers. Artificial intelligence and machine learning will also support personalised offers for the customers based on data, he says.
Connecting employees, increasing productivity
Technolgy at its core is about enabling a smooth interface right through the whole spectrum of a business. SPAR India has equipped its stores with smart technologies to not only improve customer experience, but also facilitate a smooth and efficient back end that benefits the staff and the whole SPAR India business ecosystem.
For example, for the store staff, SPAR India has created a Store Staff Assistance mobile application that provides easy and quick information on stock availability, promotions, sales, price changes etc in single click. It helps in faster replenishment, updated shelf edge information, sales information etc.
Next-Gen Technologies
According to a Gartner report, 30% of interactions with new smart technologies will be via conversations with smart machines. According to another report, engaged customers produce a 23% premium in wallet share, profitability, revenue and relationship growth compared to only 13% in the case of disengaged customers. SPAR India is also looking at integrating AI/ML driven voice recognition chatbots into the system to influence customer shopping experience. "There are immense benefits by chatbots. It can help in personalisation, offer suggestive selling, engage customers 24/7," Nair says.
The retail chain also plans to do proximity marketing in the future to enhance shopping experience, customer loyalty and improve basket value. "Personalised ads for targeted in-store customers will help in communicating to the customers about relevant offers during their walkthrough in store on their smartphones," elaborates Nair.
Well, technology is certainly a game changer in retail and SPAR India is making sure to be right on top of the game.
Related Viewpoints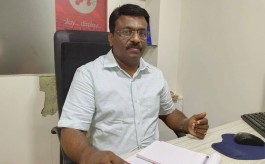 Managing Partner, Signtek
'We see a future in fabric printing & printing with paper boards'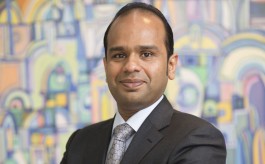 Managing Director, Tablez
'Human resource is one of the main challenges'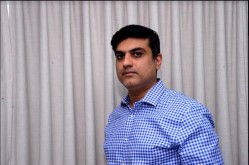 Co-Founder, Fit and Glow (WOW Skin Science)
'Extended reach is important to serve the customer better'