'Technology would play a pivotal role in shaping shopper marketing'
By Retail4Growth Team | August 09, 2019
In a chat with Retail4Growth, Mithun Appaiah, CEO, Innovative Foods Pvt Ltd - Brand Sumeru talks about how the company is using technology for gathering shopper insights and drive more business. Read on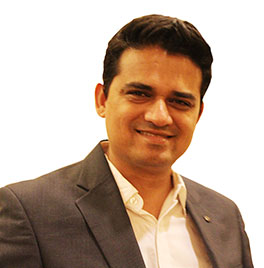 What role does technology play in your in-store activation, and promo plans? Can you cite an example?
Nowadays, technology is the end-to-end solution for everything. Sumeru has one of the most robust technology platforms where the sales and operation teams are managed and productivity and efficiencies are driven. We use a program which enables us to pin point every store in the map and ensure coverage and product availability. Based on these geotagged stores, we also plan promotions and offers.
We get real time sales data from these stores. The team decides to run specific promotions targeted towards specific stores based on this.
Do you also explore new technologies like AI and AR at the for-shelf displays, merchandising and packaging? Can you explain in detail?
We do keep exploring interesting concepts and options that could help us build our brand as well as ensure better off takes. We have explored concepts on chiller temperature monitors as well as monitors which help in tracking vehicle movement and any temperature abuse.
At the back end, how do you use new technologies to gather shopper insights and how are these used in your in-store marketing strategies?
We do regular research on consumer preference and choices. Most often we gather a lot of insights from the sales and operation teams to develop new and interesting products. Our innovation funnel is always ready with 50 odd product ideas which have been derived from research to even basic product idea-mapping to consumer needs. We also keep looking at solutions which make consumers life easier.
What are the key challenges you face in planning, finding and executing the right tech solution in store?
You face challenges every day. Be it planning or execution the right technology. Sumeru faces the challenge of a large number of SKU's. Managing them and ensuring their supply to all customers across the range brings out a number of logistic challenges. We are fine tuning our SKU range to focus and meet the consumer choices and varied taste profiles. The biggest challenge is the cost vs output. Most technology solutions usually have many gaps, else are very expensive.
Going forward how do you see the role of technology evolving in the whole in-store and shopper marketing space?
Technology would play a pivotal role in shaping shopper marketing as well as the complete marketing space. Today with digitally enabled consumers the demand for more content has emerged. Shoppers are getting redefined and marketing has already undergone a rapid evolution.
However, brands which adapt technology and execute it well on ground will create a key differentiation in the market place with better and quicker data decision turnaround.
For more updates, subscribe to retail4growth newsletter - Click here