The Complete Home Solution
November 17, 2015
HomeLane.com, an organized tech-based start-up that provides fixed customized furniture and home interior solutions, has recently upgraded its brand experience by upgrading it brand imagery and expanding its network of physical experience studios. The new experience studio opened in Bengaluru helps deliver an upgraded and professional experience to complete the online experience of shopping with the brand.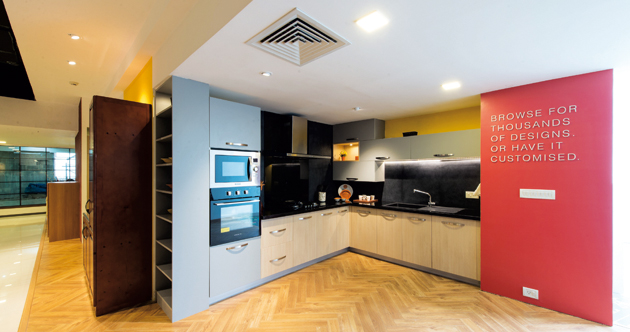 The pages in the story of Homelane.com tells us that the inception happened as a result of typical hassles faced while coordinating with multiple agencies like carpenters, flooring layers, ceiling installers, painters etc.
Rama Harinath, Founder, Homelane.com relates, "When we were furnishing our house a few years ago, the daily hassles of dealing with carpenters, suppliers and interior designers to get what we wanted ended up in giving us a very stressful experience. Dealing with this completely unorganized market was extremely upsetting and we saw a scope to organize a segment, which was completely chaotic."
The whole value delivery model works in an end-to-end service model. Rama explains," Following a hybrid model, we, at HomeLane offer home owners with furnishing solutions which rely on technology and lean manufacturing with customizable, home setup solutions including kitchens, wardrobes, entertainment and study units. A customer can choose the designs, fixtures and customized fittings online while HomeLane's operations team will manage the delivery". With no name or go-to brand which offered reliability on any of home furnishing requirements HomeLane filled that gap at the right time.
Srikanth Iyer, an IT professional, co-founded this venture and developed in-house cutting edge IT capability to deliver innovative online experience to customers. Being an online retailer, Homelane.com attributes a lots of its customer acquisition to its innovative online user experience. Their in-house advanced visualization tool called- Kaleido allows the customers to browse through its wide offerings in a virtual 3D experience from a simple device to get an almost real life feel of the solution.
Added to its promise of a total solution Homelane.com offers a bold guarantee! Adds Rama, "We also offer our customers an industry-first 45-day delivery guaranty, which is nowhere to be seen especially when people go with the traditional way of buying furniture". Their strength is in the investment they have made in getting equipped with 3D models, a state-of-the-art manufacturing unit with German machinery, a variety of material options and finishes and a team of qualified designers to consult for design services to help deliver the brand promise.
While the lead generation happens online, Homelane.com realized that'touch and feel' is an important aspect for buyers in India, especially when they are purchasing big high involvement investment items and this has necessitated the potential customer and the Homelane.com to meet and discuss design and material options to close the investment decision. To delivery this crucial piece in its brand experience Homelane.com has opened a new experience studio at Meenakshi Mall, Old Madras Road, Bengaluru. The new offline experience studio offers a great environment to discuss, design and decide with a panel of interior designers who offers their services to help put together exclusive solutions to suit personal tastes of customers post, many of whom have already experienced the brand online.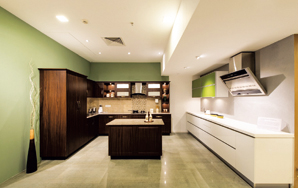 The in-store space has been designed keeping in mind customer experience. The experience studio was designed by Bangalore based retail experience design agency, 4Dimensions.
R Nagaraj, Founder & Director Design, 4Dimensions explains, "We have used all design principles applied in a lifestyle Home improvement concept incorporating design elements addressing very specific brand, service and operational needs of Homelane.com customers who largely visit the space on invitation. A signature store front was conceptualized to draw in the walk-in footfalls".
Aspects like Traffic flow, branding, product information, meeting rooms, model areas have also been painstakingly planned and incorporated is four clearly demarcated zones. The zones are led first by the smart home concept on a raised platform that features a complete set of apartment furniture fitted in a bedroom, a kitchen, a living area and a crockery section. The next zone features many individual options for solutions of living rooms, kitchens and bedrooms. The third zone is the material and finishes library which is followed strategically by the fourth, the service zone with a cluster of meeting rooms and a conference room. A thoughtful kid's play area is planned to keep kids engaged while their parents are engaged in discussion with the interior designers in the meeting rooms. A material library helps present the material and finishes offered by Homlane.com and the same is strategically located next to the meeting rooms.
As part of the critical exercise of upgrading the brand's overall experience, the brand identity and communication strategy was planned and conceptualized by Bangalore based agency Bates CHI & Partners.
Binoy Wilson, Head of Advertising says," it takes a lot to finish a home even after it's built. The role of the communication and design was to communicate this and to bring out the Homelane.com advantage. Be it customisation, dependability, on-time delivery, quality, after-sales service and the role of technology in heightening the whole experience."
With the Experience Centers being a very critical piece in the Omni-channel brand experience, Homelane.com is working in parallel on opening experience centres in the near future in 5 other cities where they have a market presence!
Related Viewpoints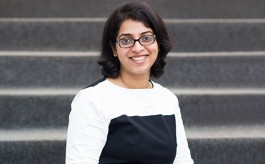 Founder and CEO, FableStreet
'Business model innovation is core to our USP'