The Redesign Flair
By Elke Moebius | September 22, 2014
VM&RD gets in conversation with Jo Pennycuick, MD, Redesign Group which is an international design firm focusing on design of F&B outlets and retail spaces. With offices spread across a few countries, Redesign Group has now set up a branch office in Gurgaon. VM&RD discovers their success mantra...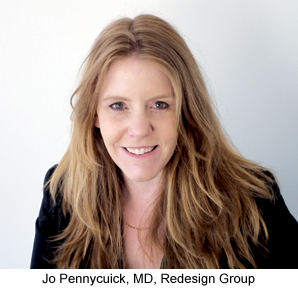 How are designs conceptualised to deliver customer experience?
We've been in this business for 16 years which has set up an experience base for us. For F&B and retail outlets we have developed an understanding of the consumer requirements. We realise and implement the impact of shop fronts on high streets and malls and how they require different approaches. Our F&B designs showcase the main focus which is the good food. Our designs work with showcasing the future of food-based retail in F&B outlets and for retail stores exploring the display designs as per client specifications works the charm.
What customer research do you do for your designs?
Usually adhering to client briefs works best for our designs. But our experience in this industry dates way back. When clients need guidance to cater to customer needs, our experience proves to be quite valuable. It matters what elements the client wants to bring to the fore in the design. We don't really follow any 'trend' research, but a strong understanding of the client's brief and needs is brought out in the designs.
How does your design approach vary between different categories?
For F&B we have a very strong knowledge base of how a restaurant or café should be approached for functionality of the space based on the capacity they want for the space. For retail we work specifically to understand the retailer's expectations as to what zones would be there and we plan space management which is quite a crucial aspect when it comes to retail. We also take a strategic approach towards the design of retail spaces where spaces are planned to maximise sales as well.
What challenges do you face with execution of designs in retail spaces?
We don't seem to have a lot of challenges. We have contractors who now understand our working style. For retail, we are very used to working under pressure as retail is a very time restricted segment and so we have a very tight schedule to work on retail projects. We usually have 5-12 weeks to complete the project from design to execution to completion.
How do you bring about a cultural context in your designs worldwide?
We consider a cultural infusion in design as a very integrated feature. The fact that we have offices situated in different parts is a great help. Also, whenever we enter a new market we do a lot of market research to bring in an apparent cultural context in the design of the store. An understanding of the people in the culture, market trends, and consumer requirements are all tools which navigate our design approach.
In India we have an entire team of locals working on projects and so it is quite easy to bring in the culture in our Indian projects. Also, the Indian team works closely with the New Zealand team and so an international approach fused with indigenous accents can be brought through. We travel a lot as well and do market research for various cultures. For new projects in remote countries, we intake a lot of cultural understanding from the clients. As the MD of Redesign group, I make sure that my involvement with all projects is realised.

What is your take on the Indian retail industry?
I think the Indian retail industry is moving forward day by day. There is a lot of grace in the designs and it is moving towards global standards with more and more international brands coming in. In my opinion, the retail industry in India is quite open to innovations and explorations in the design of retail spaces. They want to achieve a new level with new designs and brands seeping into the market. We have worked with the Mumbai international airport and we are working with Bangalore, Hyderabad and Delhi international airports as well. Through our experience with them we can sense an international design flair which is coming in.
Since you're present in the Indian market since 2007, what progress do you see in the retail sector over the years?
There is exponential progress in the retail industry. The size and number of malls have increased incredibly. Also, the elegance in designs is more refined. In Gurgaon, where our office is based, we see tremendous development in terms of coping up with international standards. India is a progressive market and that is one of the reasons we have our office in India. It takes time for any international design company to make its name in the market and we have and still are working really hard for it. With international brands, newer ideas and growing globalisation, we do get an edge in the Indian market.

What are the material preferences these days in the retail design industry?
Material finishes as what I see in Australasia is going back to basics. A rustic palette is quite a charm these days. Natural elements and artificial finishes which give a natural look are quite common preferences. For retail, easy-to-use materials which give quick results make a lot of sense considering the timeline we work with. Apart from the aesthetics, practical issues like time and labour also have to be looked into, and so materials which can be used quickly and are easily available work well. Polished concrete, finished cedar and timber, industrial lighting, high gloss lacquer, steel and pressed steel panelwork are few of our preferences.
How does design work as a business tool for retailers?
We are very aware that design can drive business for retailers. In this industry change is mandatory and a lot of brands make minor or major changes every once in a while. It is a tool to drive more customers into the store, compelling their curiosity. From the front signage to interior displays, all changes can take business to a new level.
We do a lot of refurbishment projects in retail which are based on the client's needs for change. The design process has to ensure a lasting value for that design. Futuristic planning is required and we have to be sure that the design would work even after 5-6 years. It also depends on the client's budget and their marketing plan. Eventually, what is important is that he should get value for what he's spending.

How do you balance the functionality aspects and the aesthetic appeal in your designs?
I think functionality and aesthetics go hand in hand. Based on the budget given by the client, we allocate certain amount to different aspects of design to strike a balance. It is only then that a design flair comes through and we can deliver a seamless experience for the customer. It is very important to get the equation right.


How do you ensure that the client gets the return on investment in the design of their retail space?
When a customer walks into the store, it is our job to complement the background and the fixtures and other supporting elements with the products on offer. A deep understanding of brand values, history and future goals helps us to refine the approach towards design and guides us to deliver successful designs.

Tell us about some of your projects in India
We are working with a chain of doughnut retail kiosks and stores and also a local catering company that services canteens of large corporation that cater to some 8,000 people a day.