There's more to spring than flowers
By Namrata Sachdev | May 28, 2018
Globally, spring literally brings a splash of colours after the barren and drab season of winter. In a tropical country like ours, where the seasonal change is not so drastic, can we improvise on the effervescent floral VM? Namrata Sachdev, Design Consultant at NVISAGE, finds an answer and gives alternatives.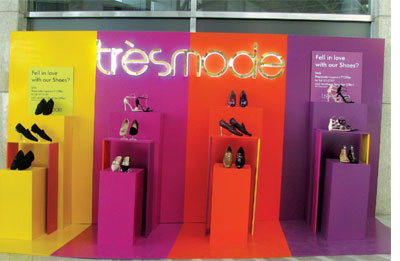 Spring, the season for rebirth, rejuvenation and regrowth, is often symbolized by the burst of blossoms, floral arcades and picket fences. Globally, the season brings lazy picnic afternoons and sun-kissed meadows to mind. Alike the West, flowers are one of the favourite forms, along with lush greenery, to represent spring in India as well. Spring windows and VM representations have been widely used since the last few years. Other popular expressions include ice-cream candy sticks, nautical escapes and paint palettes. The idea is keeping the mood fresh, young and peppy. Talking about spring VM, floral representations are common mostly because they speak about colours. Womenswear including intimate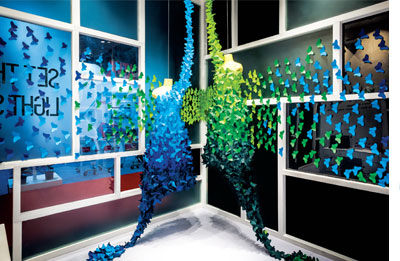 wear, kids wear and fashion segments follow the floral trend largely. On the other hand, in the Men's wear segment, promotional displays tend to have more weightage over seasonal ones.
Largely, flowers are chosen for their vivid colours. But we took a different view of representing the colours for a window executed recently for footwear brand Trèsmode. As windows have taken a turn towards minimalism these days, we chose to use the sheer power of pure colours sans shapes and forms while adding meanings to their merchandise. Solid, bright colour panels were juxtaposed against each other, adding to the vibrancy. Sets of tall podiums matching the colours of the panels were positioned for the merchandises. The monotony of each colour panel was broken by adding a touch of the other juxtaposed colours. The display turned out to be sleek and simple along with being powerful, effective and promotional. This presentation also spoke volumes about the brand without any use of symbolism.
Extending the theme of colour to another presentation, is the temporary art installation done for the booth of Cenzer Industries Ltd at In-store Asia 2018. Cenzer, a lighting solutions company was very clear that they would like to create an experiential booth sans merchandise. The conundrum was whether we do a window that people walk past or a powerful installation that immerses and engages people. We chose the latter and created an installation that showcased the co-relation between 'Light' and 'Colour'. Remember, one cannot exist in the absence of the other? An analogous colour palette was chosen for each subset. The allegory of 'Light' both in terms of illumination as well as weightlessness was further emphasized by using the form of the butterfly. This kaleidoscope of light, fluttery paper butterflies incited splendid reactions among the creative community present at the convention-cum-exhibition.
If you look at the history of VM, it has gone through its own cycles similar to fashion. Originally, display windows often provided a theatrical experience before becoming minimalistic, promotional and sales driven. Besides the science behind it, VM is an art form and we must keep it alive. If we take a look at global trends, art installations are an emerging trend. So for a country like India, which is rich in art forms and traditions, how about exploring art installations? In the recent past, the Lifestyle group has explored integrating technology and kinetics in their windows; other retailers can follow suit by adding multi-sensorial experience or interactive elements to them.
Lastly, being true to VM as an art form, aesthetics and inviting windows are a given. Installations wow you when you walk past but they also have the power to engage and invite you to stay longer.
Namrata Sachdev, a solopreneur and founder of NVISAGE, has over 16 years of experience designing and styling visual concepts for premium national and international brands. Recognizing the need of the industry for a specialized and creative service, she launched her signature consultancy 'NVISAGE' in 2016. The consultancy service offers strategic design solutions for enhancing business and profitability.
Related Viewpoints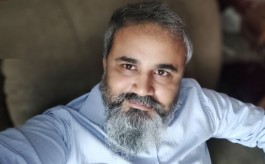 Independent consultant, Retail design and visual merchandising
Who is the right VM candidate?
Senior industry professional & design entrepreneur
Generating business through the right VM strategy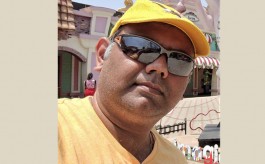 Senior retail design & VM industry professional
'Let's create our signature VM as Indians'