Today The Poster Needs To Work Hard: Aaradhee Mehta
By Nabamita Chatterjee | December 11, 2015
Aaradhee, who recently joined as VP- Shopper Marketing at Geometry Global India believes that with the life of a poster being less than four minutes, it needs to do the job of making a product look like the best amongst the other twenty-five available options.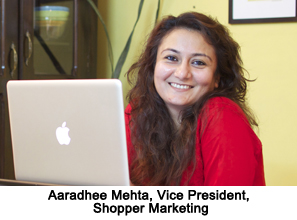 Geometry Global India recently appointed Aaradhee Mehta as Vice President - Shopper Marketing in the newly merged Geometry Global Encompass Network. She will be reporting to the agency's COO Rahul Saigal.
With over nine years of experience in Shopper Marketing, Mehta has been instrumental in setting up two Shopper Marketing practices in India (OmniSpace Retail and Saatchi & Saatchi X). Nabamita Chatterjee from Point-of-Purchase chats up with her regarding the various emerging aspects of this marketing tool.
What is your take on your new role?
I'm excited to lead the Shopper Marketing practice for the country's largest experiential marketing agency. I am looking forward to working with clients such as Mondelez and Hindustan Unilever and growing our shopper practice in India.
What is kind of investment is going towards the practice of shopper marketing as compared to other marketing spends?
Over the past few years social, digital, OOH, in-store and a few other relatively new marketing disciplines have been gunning for a share of the marketing budgets of any business.
Social has managed to gain a healthy share owing to:
A large number of external factors i.e. availability of smartphones at all price points, easy to use social sharing platforms, emergence of e-commerce and m-commerce etc.
Easy measurement with click ratios, share counts etc.
And also because by and large, the concept of digital social media itself has a certain novelty value. In the context of which, shopping is just a chore.
Shopping is not new. All that has changed about shopping is the introduction of modern format stores a decade back, with which came a large selection of products within existing categories and introduction of new categories e.g. kitchen rolls that have made way into middle class Indian kitchens.
Shopper-marketing is not new either. We have always invested in posters and shelf messages, and continue to do so without calling it shopper-marketing. The only difference being, back then a poster by one of the five brands of shampoos delivered results. Today however, besides the fact that the life itself of a poster is less than four minutes, it needs to do the job of making a product look like the best amongst the other twenty-five available options.
Today the poster needs to work hard.
In very simple terms, shopper-marketing helps you make the poster work hard. The knowledge of shopper behaviour and retail insights, aid in creating a piece of communication that works harder at delivering desired results in the three seconds that a shopper looks at it.
In the context of shopper-marketing while given that there is a need to improve the measurement process overall, let's be mindful of the fact that tactical initiatives are difficult to evaluate. But businesses that look at shopper-marketing as a strategic enabler of growth and success, have seen ROI and have subsequently increased investments.

How could we make the measurement of shopper marketing strategies more effective?
Measurement of shopper activities has always been a challenge. There are advanced tools in the market that could give us a view of how a plan is working for the specific strategy. The challenge is that most of these are either qualitative e.g. Observation or they are not scalable e.g. eye track studies or video mining.
One of the most cost effective quantitative way of measuring effectiveness is to do test and control store executions. Getting the right sample is the key here, but given we take care to avoid most loopholes, we can get a fairly representative measure of effectiveness of shopper-marketing activities.
Couple this with a cost effective qualitative measure like observation or interview and we can increase accuracy. When done as a pilot it also offers us scope to modify the work.
What are the new research methods to track shopper behaviour in India?
Generally shopper behaviour is tracked using either or a combination of the following methods: interviews, exit interviews, observation, video mining, heat mapping, eye track studies, RFID/WIFI signal tracking and now ibeacon technology.
Recently, Samsung along with Walkbase set up digital display signage's inside TopShop stores, enabling the retailer to analyse shopper behaviour through wi-fi signals from smartphones.
Geometry's shopper predictive model called STORE TREK is one of the most advanced behaviour tracking tools one has seen. So if you wanted to know how many male shoppers, age 21-30, at value hypermarkets, in Mumbai, shopping on a weekend, between 5pm and 7pm, as part of their weekly stock-up, with an assertive co-shopper are likely to "smell a soap", before buying it on impulse, STORE TREK has the answer.
Data analytics too has the potential of becoming a valuable source of real-time understanding of shopper behaviour.
Are brands and retailers considering these research insights as strategic inputs for their shopper marketing programs/initiatives?
Shopper-marketing has always used transaction data for insights to increase basket size and penetration. Now it is time to use it real time. It may not be as easy and instant as e-commerce but it holds potential. Besides back end process optimisation, if sales staff is provided with a window of real time transactional history, they can push on the spot deals, cross category sales etc. at the point of sale.
In a diverse country like India, do findings in one market have relevance in other markets? Are global shopper marketing strategies applicable in Indian markets?
Global knowledge is essential to discover potential, set the path and uncover basic human insights that are relevant to shoppers/shopping e.g. We know older shoppers struggle to read fine print and also to pick up the large packs placed on bottom shelves.
On the other hand regional shopper marketing strategies hold more relevance in all areas of marketing, whether is consumer or shopper understanding or strategy e.g. Large population of bargain hunters across Asia shop differently and must be lured using strategies that do not erode the brand.
But India yes is different. The most significant difference being, the enormous prevalence of traditional retail or kirana stores. Besides which, most parts of India behave differently from each other. Not only do we see a significant difference amongst shoppers across cities and we must also take into account how Tier II and rural parts of India behave differently. Considering the rising demand, these are parts where majority of the growth will come from.
Retailers customise their product mix. Shopper-marketing too must focus on targeted strategies. E.g. Use of regional language communication by brands and retailers in modern format stores is an absolute necessity today. e.g We have noticed shoppers in modern format stores struggle to decipher messages in English.
If we believe that the shopper is the same in these formats, why do we communicate to them in regional languages in traditional trade and move to English in modern format stores? This is a question we must ask ourselves

Can you throw some light on how effective POP solutions are in engaging shoppers in both modern retail and traditional outlets?
Any shopper solution in modern retail or traditional kirana stores is as good as the insight behind it e.g. beautiful looking cost intensive large displays do attract attention. And use of difficult to execute, unique shapes for material in window dressings is good for it to stand out amongst all the clutter.
If only we were to dig a little deeper and understand which shapes, what messaging, which planogram, what colours will get the'message' across more clearly we can make these efforts and investment work'x' times harder, to deliver desired results.
Related Viewpoints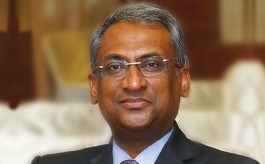 CEO, TRA Research
Tech-driven brand strategies will define this decade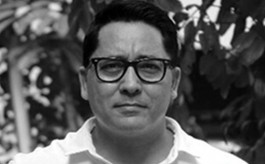 Chief Design Officer (group) & Concept Business Head, Future Group
Design & the culture of growth