'We have to stay updated on new technologies'
By Ria Banerjee | October 07, 2019
Manoj Daga, CEO, Casual Fashions tells Retail4Growth how some clients are willing to pay for quality, speed and green-friendliness.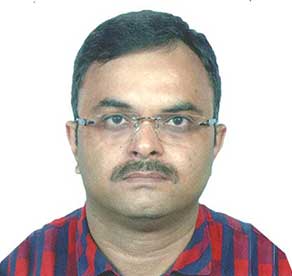 Can you take us through a brief history of the company?
We started this company in 2010 with 1 Mutoh Osprey solvent based ink printer. Since then with our quality and commitment of services to our clients, we have grown over the years. Now we have got 2 HP Latex (L310 & L1500) & 2 solvent printers. Our team has grown to a strength of more than 50. We have a complete setup for outdoor and indoor advertisements and events and are capable of giving full solutions to our clients.

Can you share your overview of the market – particularly the trends and specific growth opportunities in the signage/ display/ in-store graphics segment?
The market has grown a lot since it started. While earlier the capacity was 20 square feet per hour; it has now gone up to 3000 square feet per hour. Gradually the market has become well matured and a lot more changes have taken place.
We have to be alert and remain updated on new technologies. If one remains updated and committed, there is nothing that can hinder growth.
What are the current market challenges you face? How do you overcome them?
There are always challenges for meeting client's demand and the turnaround time is getting shorter and shorter. To the extent possible we try to fulfill them. As I said earlier, our team is always updated on the latest technologies and we have practically never said 'no' to our clients.
Can you explain how partnering with HP helps address some of the above challenges or meet client requirements and retain the competitive edge. Can you share an example?
Yes of course HP has been there with us for a long time, just after one year of our commencement, as we were committed to quality and service to our clients. We have never opted for low quality products and we have been maintaining the consistency of quality. This is the reason, when we thought of indoor branding solutions for our clients, we thought of HP Latex. Since 2011 we have had every series of HP Latex printers in our unit including: L25500, L26500, L310 and now L1500. This has given us an edge. A few years back, I was with one of my esteemed client when he ordered a good number of standees with consistent prints and durability. He had almost finalized the print from eco solvent printers. But when I presented him with our sample printed on HP Latex, explaining the durability of the prints, he was so convinced that he gave us a bulk order and at the very moment I had to arrange for the installation of an additional printer within 24 hours and got them completed on time.
Coming to Latex in particular, can you elaborate how Latex has helped in turning a brand's imagination into impact? Particularly in the context of consistent colors across versatile media, across locations on similar media, faster TAT, green solution etc? Can you explain with some examples?
Latex technology is a wonderful invention which we like to experiment with. We always tell our clients that no media is impossible to print with this technology, except if it is in a roll form. As there is no extra drying time, the speed is also an edge compared to other printing technologies. And, there is no doubt about the consistency of colours if it gets printed with selection of correct profiles.
It happened with one of our clients, who was about to open a departmental store and chose floor branding. At that time we had L310. This machine had come with Optimizer and the print quality was quite impressive. Back then, we had offered our client simple Vinyl prints without lamination. On learning about the footfall of more than 5k people for 2 consecutive days at our client's store, we were quite surprised to learn that the prints were intact. The client was so overwhelmed that he has never opted for any other option for indoor branding.
With regard to green technology, HP Latex is widely accepted across the world for its character of being completely green in nature and this has given us the opportunity to provide our services to hospitals, schools etc. who have become major users of Latex technology.
So would you say that Latex gives a complete solution as required by your clients?
Yes of course it does, if one knows how to use it and make the clients understand its effectiveness.
Regarding green printing, what would it take to make green solutions a sustainable business proposition?
As we all know, global warming and pollution are increasing; there is a cry for environment friendly products and then again we have to abide by the call of our Prime Minister to make India plastic free by 2022. As responsible citizens, we should promote and provide green solutions to our clients' needs with regard to the industry that we operate in so that in the long run, we can have a sustained business development that supports Mother Earth.
Coming to the bigger picture of the business, how do you think a client - vendor relationship can become more like a partnership?
It has always been a partnership between the client and the vendor. If you see your client as a partner and propose to them value added propositions, they will always be with you and vice versa. The relationship will be very short term if you think only for yourself. Also, this is so not only with our clients; I also feel that my vendors are my partners and are part of our family.

For more updates, subscribe to retail4growth newsletter - Click here