"We look for locations which are natural aggregation points for our intended customer base"
By Nabamita Chatterjee | August 18, 2014
Sandeep Singal, Head -- Branded Retail & Strategic Distribution, Tata Teleservices Ltd, talks about the brand's retail strategy and shares his observations on telecom shopper behaviour in an indepth interview with Point-of-Purchase. Edited excerpts: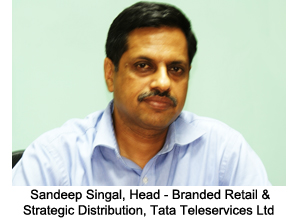 How do you explore retail touch point formats to connect with your customers, especially when it comes to high-street destinations and places that ensure high-footfalls?
Our stores are located close to our target audience. Most of the stores are present in high street locations and high footfall destinations. Some of them are also present in a few prominent malls. Primarily, we look for locations which are convenient for customer access and areas which are natural aggregation points for our intended customer base.
We have also experimented with the Shop-in-Shop (S-i-S) concept in a few places. However, we believe the model still has to be perfected, in terms of the right locations. Ideally, the S-i-S has to be present in a parent store which stocks product assortment harmoniously and complement the telecom category.
Do you have plans of exploring some new formats such as the "Go Local" marketing theme? How do you arrive at these conclusions? How does a specific theme help you in reaching out to your customers?
With the'Go Local' strategy, our aim is to make the store highly visible in the neighbourhood and ensure that it is in the consideration set of the customers in the locality. We come up with these themes on the basis of the observations we gather from consumer behaviour. These observations are a combination of the emerging trends and also what we register in our stores in terms of how customers interact with the various offerings of the store. Taking cues from that, we invest catchment initiatives such as RWA activities, local festivities, etc., to draw the relevant crowd to our stores. This is aided by interesting and exciting customer promotions. Every new store is launched with much fanfare and a mini-mela is organised around the store with drums, human banners, motorbikes, placards, etc.
We keep on introducing new concepts in our stores as the telecom market evolves and consumers look for the latest. As an example, currently the Indian telecom consumer is taking to consuming mobile data and apps in a big way. Over 150 million customers use the internet monthly, through their mobile devices. This is up from 10% to 17% of the total subscriber base, in the last 12 months leading to over 100% increase in data and growth in 3G is much more than that.
We believe that'strong use cases' play a key role in driving user adoption of mobile internet. We run a number of initiatives in our stores to bring this world to our consumers. This effort is a 360 degree effort where the stores and staff are completely equipped with the latest knowhow to help our consumers. We have sought to bring together the world of apps and the consumer in a user-friendly environment in our stores. We have also innovated in the visual merchandising tools to create a'Physical Apps Store'. This has been a first time ever cross- over from the virtual to the physical space, to drive internet consumption.
We are also constantly looking at telecom concepts across the world and introducing them in local markets. Recently we introduced'Family Plans' as we felt that the market in India is now ready for products like these that are very popular in evolved telecom markets like the US.
These themes help us streamline our efforts and cater to our target audience's needs and aspirations.

So far, how have the customer interactions at the retail touch points helped you carve out a niche and get an edge over such huge competition? Today a lot of customer interactions happen on the e/mobile platforms. How do you think a physical retail space actually helps?
Online and retail are complementary channels as consumers are evolving. Consumers have both the needs and we will leverage the multi channel behaviour going forward.
What is your approach towards maintaining uniform store format, design, layout and look and feel, across locations?
The average size of our stores is 300-400 sq. ft. While the size of a store might differ, the target customer group and the product assortment remain the same for every store.
Our store format, design, layout and look and feel, across all locations in the country, are the same. This gives the customer a level of comfort that irrespective of where s/he shops (city / location / area), they should have the expectation of the same high quality of ambience and experience. The stores are laid out in a scientific manner which has been derived by keen observation of telecom shopper behaviour and customer flow-lines, i.e., customer traffic movement.
The layout of our store is divided into 4 main zones:
1. Solution area -- dedicated to the demonstration of data products.
2. Retail wall -- For showcasing and displaying our products and services.
3. Advice desk -- Where the customers can have a dedicated one-on-one discussion with the sales advisors.
4. Payment area -- Which is the billing desk and is equipped to handle bill payments, as well.
We make sure that our employees at the stores undergo very rigorous training so as to satisfactorily serve the customers and understand what they are looking for. We leverage technology in a big way in our training effort.
How do you approach innovation within the available space as far as your new retail formats are concerned? For e.g., would you be looking at dynamic and interactive digital displays/interfaces at the stores?
We are constantly innovating how we interact with our customers at our retail stores. We have experimented with the S-i-S concept. We have also innovated in the visual merchandising tools to create a'Physical Apps Store' - a first time ever crossover from the virtual to the physical space, to drive internet consumption. We seek to take on any medium that better connects us with our target audience and help them in the best possible way.
How much of your effort towards capturing the customers happens at the stores/outlets? Could you tell us about some of your in-store initiatives such as displays, promos, etc.? How have you seen these influence the customers?
Interactions with customers always help; that is, the standard rule for any brand looking to serve its customers in the best possible way. We see a variety of customers at the stores -- some of them are well aware of the products and services through various modes and some of them are considerably clueless as to how they can benefit from the portfolio of services that Tata Docomo offers. It is our constant endeavour to provide all customers the most informed insights based on our understanding of their usage patterns and needs. To address this, our staff at the brand stores are highly trained, informed and always eager to help.
Displaying the current offers and their impact is always a value addition to the store and we employ it consistently at our stores. You will find pamphlets, displays, hangings, etc., to inform our customers of the ongoing offers, new products and various other services that they can make use of. We have been doing it since a long time and can say for sure, it helps. It widens the way a customer thinks and makes them privy of the optimal utilisation of the money he is spending.
Over the years as one of the leaders in the telecom services industry, what have been your observations on customers? How, for example, do they respond to in-store initiatives and offers? Any new trends that you are seeing in terms of consumer behaviour? Any study or findings that you can share?
Today, customer is more aware of their surroundings and knows how best they can avail the services. The advent of online mediums have made us explore more avenues to communicate about the brand and that has worked in our favour. Though there are several ways that we interact with the customers, the key takeaway remains the same. The customers, especially in a country like India, are price sensitive. They want products and services that best fit their pockets and provide them with the best experience -- be it voice, data or other value-added services. They also want efficient assistance at all stages of their purchase which make our job more comprehensive and challenging.
As far as new trends are concerned, with time, Indian consumers have become more experimental in nature and do not shy away from taking on novel ideas provided they are priced accordingly. They are moving beyond just voice services and moving considerably towards data services owing to the need of the world connected all around the clock. Data consumption has seen phenomenal growth in recent times with about 155 million customers accessing internet through their mobile devices, on a monthly basis. This is a growth of approximately 85% over last year. This is being further driven by increased availability of smartphones and 3G network.
As you said, there is a scientific way of designing store layouts derived from a keen observation of telecom shopper behavior and customer flow-lines. How does this pan out in the Indian environment?
We feel that keenly observing telecom shopper behaviour and taking it into account while designing the layout of a retail store is important. However, there is a consistent shift from the set patterns that we have to undertake owing to the different demographics that we operate in and the wide customer base that we cater to. We have to mould the stores based on what works in a particular area and on how people react to the store and its offerings. This becomes all the more significant to account for in the Indian environment.
Going further what are your plans in terms of expansion of retail outlets? Any other new format you would be exploring?
We have nearly 1,000 stores in over 100 towns with a combined retail space of approximately 500,000 sq. ft. Every month we cater to approx. 2 million customers, across our various brand stores. About 40% of our retail footprint comprise franchisee stores.
In retail we look for franchisees, which have stores in high footfall areas and excellent locations, i.e., destinations that enable customers to access the brand easily. In these locations we look for entrepreneurs who have the drive and ability to provide a high degree of customer experience.
How many stores are you planning to open in this FY?
We opened around 90 stores last year and we have plans to open another 50 stores this financial year, as well. Franchisees are an integral part of our strategy and we seek partners with right-sized stores at good locations.