Events
India's organized retail needs to gain momentum to achieve $5 trillion economy size
India Retail Forum presented by MAPIC India and organised by Reed Exhibitions India (A division of RELX India Pvt. Ltd).
Date:24th and 25th September 2019
Venue: Hotel Sahara Star, Mumbai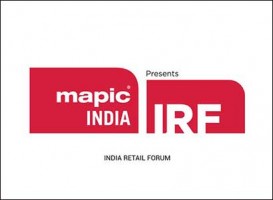 India's organized retail pie has to grow at a rapid pace if the country endeavours to reach its coveted target of 5 trillion US dollars, said Siddharth Yog (Founder and Chairman - Virtuous Retail, Founding Partner - The Xander Group Inc., Professor, Harvard Business School, Chairman - mapic INDIA IRF 2019 and its co-located event India Omni Channel Forum 2019).
Delivering his keynote address on Day 1 of the two-day mapic INDIA, formerly India Retail Forum, Yog said, "India's organized retail share is a mere 8% compared to 20% in China and 85% in USA. As of now, the country's organized retail constitutes $76 billion out of total retail of $950 billion."
Later in the panel discussion, Sumeet Narang, Founder and Managing Director, Samara Capital, pointed out that retail in India is evolving for the next 500 million consumers beyond the primary 100 million consumers.
Sharing an instance to the large audience of over 750 pan-India retailers who were attending the forum as delegates, Narang pointed out that a high end cosmetic LÓreal product was priced at Rs 1000 while the next best Lakme came at Rs 500. Blue Heaven disrupted and created a new niche by introducing a product in the range of Rs 150 and was a run-away success for a set of new consumers.
Underscoring his point from the example, Narang said the retail industry needs to innovate the space across the spectrum with quality products at affordable pricing to create value for the consumers.
Earlier, speaking at the forum, Anil Talreja, Consumer leader, Deloitte India, said, "Disruption is creating new opportunities. Within this disrupted landscape, leading retail & consumer product companies are harnessing digital to delight customers, reinvent their operations, and spark new business models."
As technologies are reshaping the evolution of consumer shopping journey, Talreja said, "Brands need to invest in technologies to cater to consumers in an omni-manner at both offline and online touch points."
Coming Soon
Coming Soon
Coming Soon