7-Eleven formula for Twenty Four Seven
By Bollam Sridhar Ganesh | Vjmedia Works | January 27, 2014
The K K Modi Group-backed convenience chain is trailing Bharat Petroleum\'s In & Out at petrol pumps, but it is increasing the count of its standalone stores.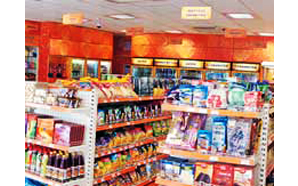 A year ago,
Samir Modi
, president of
Twenty Four Seven Convenience Stores
, poached a team of five Japanese advisors to the world's largest retail brand in all-day convenience stores, the Tokyo-based 7-Eleven. The Japanese chain consulted with them on processes, systems and operations to run its 50,000 outlets.

Armed with their insights, Modi now wants to have 5,000 stores within the next five years, up from the 40 he has in the National Capital Region (NCR). Twenty Four Seven added 36 of these in the past two years.

In a city where shops shut well before midnight in so-called late-night markets, Twenty Four Seven took nearly a decade to accelerate its pace of expansion. It had opened its first store at New Delhi's Lajpat Nagar in 2005.

Stepping up expansion over the last two years, Modi, scion of the K K Modi Group and now its executive director, is planning to fine-tune India's answer to global round-the-clock chains like 7-Eleven.

Round-the-clock shopping is not a habit common with India's consumers, which is why players like 7-Eleven have stayed away from the world's second-largest population. The other reason is, of course, the government regulations.

Twenty Four Seven itself had a rough ride figuring out the right strategy for round-the-clock retail. However, the Japanese experts have helped it bring in supply chain efficiencies and technology to scale up fast.

Modi who used to also head Modicare, the direct-selling FMCG company, earlier, says of Twenty Four Seven, "It's now time to increase the footprint fast. The concept is there, the brand is there and there is demand for round-the-clock-shopping, be it emergency shopping, a hop-in option or for impulse shopping."

The audience could include "double-income households, busy professionals with no time during the day or youths seeking instant gratification. But, it has taken time to get the system ready," says Modi.

By March this year, the number of stores is likely to double to 80, says Modi. Eventually, metros will have about 100 stores each, while the NCR will have around 500 outlets over the next five years. "In smaller towns, we will have around 20 stores in each," says Modi.

Twenty Four Seven would look at the franchisee model and would own just 10 per cent of the total store count. Stores range between 500 sq ft and 2,000 sq-ft and about eight to 14 people work in three different shifts at a store. As Modi says, the prime-time for all-day stores is around 2-3 am and the time band sees the maximum sales.

The chain which had been on high-streets so far, has identified areas in residential neighbourhoods and transit locations such as airports, railway stations and metro stations. Modi says the company has turned profitable about a year ago and is eyeing revenues of Rs 100 crore by 31 March, 2014, more than double of what it recorded the previous year.

However, a spot of bother could be the smaller stores at petrol pumps. Twenty-Four Seven had struck a franchisee agreement with India's largest fuel retailing chain Indian Oil Corporation to open smaller stores at its petrol filling stations. However, so far there are just 10 such outlets. Modi says, "We intend to tap at least 10 per cent of Indian Oil's 21,000 petrol filling stations across the country. But, nothing on the highways. That would not make logistical sense." These smaller stores clock sales of about one-third of that of larger stores which bring in on an average Rs 3 lakh daily, according to Modi.

But Indian Oil's rival Bharat Petroleum has fared better with its convenience store brand. Around 37 per cent of its chain of convenience stores, In & Out, record higher sales than Twenty Four Seven as per its annual report. While 43 stores achieved sales in excess of Rs 10 lakh per month, 22 of them recorded over Rs 20 lakh per month in sales, in a network of 174 In & Out stores and 38 alternate retail formats.

Twenty Four Seven is looking for Rs 1,000 crore of fresh investment to grow and would get franchisees to chip in as well.