A new shopping experience via technology
December 29, 2016
AI and chatbots have already been available and everyone is already piloting some aspect of bots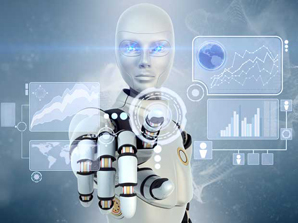 Global online etailer Amazon is just about to change the way people shop for groceries. Amazon recently announced the beta programme for Amazon Go, a store where there are no checkout lines. Amazon has made use of technologies like machine learning, sensors and deep learning to allow buyers this experience.

The 1,800 square feet store in Seattle is changing the way we do our grocery shopping, and will be open to public in early 2017.

There is no clarity about how Amazon intends to roll this out or if it will ever come to India, but use of technologies like artificial intelligence (AI), cognitive learning, chatbots and others is changing our shopping experience.

Closer home players like Myntra, MakeMyTrip and Amazon are either in the works of offering new services based on these technologies or have already rolled out specific offerings.

For instance, imagine next time you are shopping online and the moment you log on to your favorite app or website, the first thing you see on the page is the offerings from your favorite brand or the page reminds you of what you shopped last time.

Would it not be fun if before you go on a vacation, your shopping platform starts suggesting you apparels and accessories appropriate for that place, a week in advance.

All these instances and much more are in the offing from online fashion shopping player Myntra which has been using technology to empower its customers and brands. For customers it is leveraging Artificial Intelligence (AI) and machine learning for a personalised shopping experience, better product discovery and assisted buying.

"Personalisation is the next big step. We are already getting to a point where we are personalising shopping experience based on location. For instance we had a store during Durga Puja in Kolkatta. Based on your past cart and preferences we do make suggestions. If you like some brand, and if that brand has a new catalogue we will show you these first. This has already started to happen, we will roll these out slowly," said Ambarish Kenghe, chief product officer, Myntra.

Kenghe also shares that the initial tests have shown a better click-through-rates in case of a personalized cart than a non-personalised. The website has about 18 million monthly active users. The fashion brand is already internally prototyping on generating ensembles. They internal experiment will begin in a month's time and will be eventually offered to shoppers.

For Amazon India the technology roadmap has been similar to its global operations. Rather the company claims that it has been using ML for over two decades. "We came up with the algorithm for recommendation of products. Using ML we have been offering services like suggestion of pair of books that are frequently bought together. This has helped Amazon in increasing sales of products and also improving customer engagement. The other area where we are using ML is for forecasting demand of products. This is important as sometimes you have to order in advance, and if you order more then it's an inventory issue and if its less then it can lead to a poor customer experience," said Rajeev Rastogi, director, machine learning Amazon.

So far Amazon has leveraged its global ML platforms for India as well, but there are some technologies that are not yet brought to India. For instance, Alexa their voice-activated experience is one of the earliest products for homeware users.

This is not just restricted to ecommerce players. Spirits major Diageo is using chatbots to understand consumer buying patterns. The Bartender assistance created by Yellow Messenger for Diageo allows users to find drink recipes. This allows Diageo instant insight into what type of drinks or brands are being preferred at what location/area and latest preferred drinks. The app went live two months back and is adding 50,000 users on a monthly basis.

"Chatbots gives you a direct connect with your user base. Companies are looking at insights about consumer behavior and these platforms allow it. We have also noticed that customers acquired by chatbot platforms are much more loyal to you as eliminate the need to download apps," added Raghu Ravintula, co-founder Yellow Messenger. The company is providing chatbot platforms to players like Odeon Cinema that cover 12 per cent of the cinema market in the world, Tata Power, IOCL, Asian Paints among other.

Sanjay Mohan, CTO, MakeMyTrip said that the online travel portal has been using all of these technologies to offer differentiated offerings like price discounts, and promotions based on customer segregation. "We use predictive analysis for some interesting use-cases. For instance, we are trying to predict air-fares based on historical trends, looking at our past transactions. Using this, we can recommend to our customers when they should book flights that meets their budget and airline preference for any given flight segment. We are currently working on these use-cases and will be releasing it to our customers when our predictions are considerably reliable," he added.

Technologies like AI and chatbots have already been available but with the usage of smartphones increasing along with chat apps and then the advent of digital assistants have made this a reality. Apple's Siri, Google's Allo, Alexa by Amazon and Microsoft's Cortana available as open platforms for developers to develop much more intelligent applications.

Ravintula believes that from an enterprise point of view, chatbots gives them direct access to their target audience. Yellow Messenger was launched as a consumer facing chatbot platform but in the last 13-14 months have started to work with enterprises who have huge user base but are struggling to mine the.

Way ahead:

Chatbots are still early among Indian ecommerce players though everyone is already piloting some aspect of bots.

"You could like anything in the fashion across the globe and we want to get it for you in a few days. Why I am saying this is because we are not in that scenario. Personalisation tool will become extreme. As we decode fashion, we will be able to suggest fashion products and services. In future you may be able to carry on a conversation with us on a more real-time basis. Imagine having the best stylist in the world at your beck and call. Because the machine will have data that it can mine better," shares Kenghe.

Technologies like chatbots are in demand as the millennials have grown up on chat apps and want their digital experience to be simple, quick and intelligent.

Ajit Narayanan, CTO, Myntra believes that in the next two to three years they will be in a position to share trends which will then be passed onto the brands. "We are sitting on lots of data related to products, and consumers, we will be able to crunch this data and understand what kind of attire people are wearing and what are the general trends going on,…we are going in the direction," added Narayan.

For Nasdaq listed MakeMyTrip, chatbots is still at an early stage. "We have just stared using chatbots for some of our in-trip experiences and are seeing good traction in these offerings. For MakeMyTrip, these are early days of experimenting with chatbot technologies as we try to expand use-cases that employ similar technologies," added Mohan.