A zest for the funky and colourful
Vjmedia Works | June 16, 2014
While maintaining a hybrid distribution model, Chumbak now wants to increase focus on various technology platforms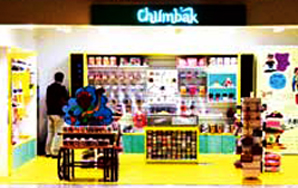 Name lifestyle products - bags, phone covers, key chains, wallets, etc. - that are colourful and attractive and chances are you will find these at Chumbak, the Bangalore-based lifestyle products start-up.
The start-up has strong visibility, both online and offline - at its exclusive stores and multi-brand outlets. Founder and Chief Executive Vivek Prabhakar and co-founder Shubhra Chadda have built a strong business around extraordinarily designed and crafted products, including apparel and footwear, bags and wallets, souvenirs, key chains and jewellery. Its range includes phone covers and a unique 'whistle charm', a funky bracelet.
Chumbak was started with an initial amount of Rs 45 lakh, which its founders raised by selling their house in 2010. Funded by Seedfund in 2012, the start-up was recently in the news after raising funds from Matrix Partners.
A total of 38 categories, with 400-500 products, make Chumbak an unparalleled venture. The venture operates out of a spacious studio that houses its office and warehouse.
The idea
Prabhakar and Chadda realised affordable, well-designed and crafted products that could be used as accessories and gift items were in demand. While a variety of such products were available abroad, in India, buying a memento was restricted to options such as Pashmina shawls, marble miniatures of the Taj Mahal or brass elephants.
"We've always wanted to do something different. Something that was fun, something we loved. Well, Hello Chumbak," is how one is introduced to Chumbak's philosophy on the company's website.
Between 2010 and 2013, Chumbak sold products online and through distribution. In July 2013, it set up its first store in Bangalore. Seeing the idea of having its own stores working, the company set up about 20 through the next seven months.
Business model
Spotting trends and developing products along those lines is a continuous process. As new products are introduced, old ones, for which demand dips, are removed. The entire planning, designing and production is in-house.
"When we started Chumbak, we wanted to grow distribution, both online and through multi-branded outlets. We did this in the first two years and grew the business. When we started speaking to venture capital funds, one of the things we spoke about was setting up our own kiosks and stores that would drive growth," says Prabhakar.
Expensive real estate can be a worry for start-ups. Chumbak has strategised here, too. It looks at smaller stores - 150-200 sq ft, instead of commercial spaces of 1,000 sq ft. The company has about 20 stores and kiosks across five cities, along with presence in about 60 multi-brand outlets. Currently, online sales account for about 15 per cent of total sales. Mumbai, New Delhi and Bangalore contribute 60 per cent to Chumbak's total sales.
Funding
As the brand was established, there was acknowledgement from various quarters. "We closed series-A funding with Seedfund in 2012. This year, we recorded series-B funding with Matrix Partners," says Prabhakar.
Rishi Navani, co-founder and managing director, Matrix India, says, "The entrepreneurs, Prabhakar and Chadda, have a unique mix of design sensibilities and strong business acumen. We believe there is an opportunity to create a design-led India-inspired brand."
What makes Chumbak successful? "It's a volume game. We have loads of items to choose from, in the range of Rs 95-1,495. We recorded breakeven within the first three years of business. In the lifestyle products segment, the most important thing is to know your customer. Once you get your customer segment right, you move," says Prabhakar.
Challenges
Chumbak says it is registering about 300 per cent year-on-year growth. The hybrid model - online, as well as offline presence - has aided the company. Now, it wants to increase the contribution of its online sales to its overall earnings to at least 30 per cent and is, therefore, focusing on various technological platforms.
What about competition from e-commerce sites? "I don't see a lot of people doing (what we do) at such a scale," says Prabhakar. "But there are challenges. Keeping abreast of customer tastes and choices, amid a lot of international brands in the 18-25-year segment, we need to evolve. Second, it's important to be aware of what kind of distribution will be the norm in the days to come - offline or more online," he adds.
Navani says, "Like all businesses, there are challenges - design, supply chain management, distribution, retail and online storefront building."
The road ahead
From a two-member team, Chumbak now has a 70-member staff. Its stores have 80 additional members. The company now also sells its products in Japan and West Asia.
"The brand has grown considerably in the past two-three years. We have been very active on social media; we did a lot to build our brand there. In fact, we were one of the first brands in India to get a global Facebook case study. Also, we were one of the three global companies featured as part of Google's global 'The web is what you make of it' campaign," says Prabhakar.
With gross margins varying across categories, Chumbak is eyeing annual revenue of Rs 400 crore in the next three to four years.
Co-founder Chadda says, "One of the most fun things at Chumbak is working on new designs. Though a lot of our designs are India-inspired, they do well in an international environment. At the end of the day, the thing that makes me most happy is seeing people using our products."
EXPERT TAKE
Chumbak has had a great run so far. I believe in a market such as India, it is a good strategy to pursue a hybrid model - selling both in the online and offline space. Chumbak has done that well. The gifting and souvenir sector is going to hot up, and we can expect a lot of action here in the next couple of years. The key challenge for the company will be to gain acceptability in emerging metros and smaller towns, as it expands. It also needs to be wary of competition. Companies such as IndiaCircus are already making inroads and have similar design aesthetics.
--Rajat Tuli
is co-founder, happilyunmarried.com