Accessories Retail is Here to Mainstay
By Satarupa Chakraborty | September 27, 2018
What started as complementing the mainline fashion business is no longer a supporting category. Accessories retail, including bags, belts, handbags, eyewear and artificial jewellery, is weaving a strong store network and is poised to deliver robust growth. VM&RD takes a sneak peek into this widespread category.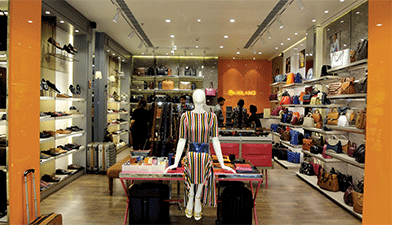 Carving a niche as mainstream retail category, accessories segment is catching rapidly as an omnipotent fashion category. The considerable growth in fashion spectrum fuelled both apparel and accessories market to project figures like $102 billion and $155 billion respectively by 2022 (Source: Facebook report). Starting off as a complement to the apparel market, accessories business, combining handbags, eyewear, watches and artificial jewellery, is poised for a bigger growth in next few years.
If we look closely at the growth trajectory, India's handbags retail seems to have welcomed many homegrown brands, most of which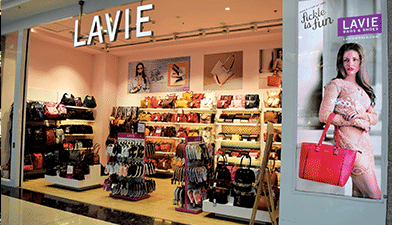 came from a strong leather export background, to surface as both online and brick-and-mortar brands. At the same time, the category was boosted by many international brands like Kate Spade, Louis Vuitton, Hermes, Longchamp etc, coming to India in past few years. LFS identities like Westside, Central, Pantaloons gave considerable attention to build their private label portfolio in bags and artificial jewellery, while most of the successful ethnic apparel brands in India like TCNS, Biba, Fabindia have debuted into accessories segment.
Market Penetration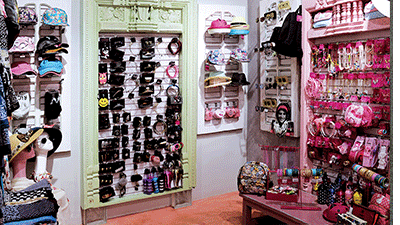 Touted as independent category, accessories retail has many sub-categories like watches, handbags, travel accessories, belts and artificial jewellery. Amongst these, bag is a category that is retailed through maximum number of EBOs, while artificial jewellery is retailed through maximum number of SISs. However the latter seems different with two brands – Indian brand Ayesha Accessories and UK brand Accessorize. Both these brands, having a topline gamut of artificial jewellery, are operating in the country with maximum number of EBOs.
Ayesha recently opened their the biggest flagship of the brand in Pondicherry spread across 3000 sq ft combining a café to the retail experience. While talking on network expansion and business growth Jacqueline Kapoor, Founder, Ayesha Accessories, said, "We have built a strong network in EBOs with 19 operational stores. Though we will keep on adding to that network, our brick-and-mortar expansion will focus majorly in SISs. Surprisingly, we grew 200% in our online channel last year. Therefore, a large amount of concentration will go into that channel."
Three major accessories brands in India, Accessorize from UK, Brazil's Havaianas and Lavie, (Mumbai-based Bagzone Lifestyles) has different expansion plan exclusive to each brand. Sandeep Goenka, COO, Bagzone Lifestyles Pvt Ltd, "Accessorize has anchored in Indian market well with its right product mix and lucrative price point. The brand is currently available through only EBOs and presently, 40 in India. We will add 20-30 next year and this time, including non-metros like Guwahati, Kanpur etc. Havaianas has just spent their first year in India and the idea is to add 40-50 stores each year. Lavie is our in-house bag brand and we will expand via a combination of CoCo and franchisee rollout. Lavie is present through 32 EBOs and 200 SISs right now."
Diversified & Surprised
With close to 500 EBOs for Metro, Mochi, Walkway and Crocs, Metro Shoes Limited dedicates 6% of their retail space to accessories, while expecting the category to grow 30-40% year on year in their overall business. Alisha Malik, Vice President Marketing and E-commerce and Creative face, Metro Shoes Ltd, said, "Though we have shelved it always for impulse buy, the category is growing rapidly, prompting us to put some serious thought in terms of display."
Footwear brands in India seem to be no longer shelving their accessories offerings tucked away. What started as complementing the mainline merchandises, is now making for a promising category. UN:ORTHODOX, a brand with decade-long experience in leather goods export owning 7 facilities, started as a footwear MBO in Goa, merely spanned across 400 sq ft. While only 20% of their entire merchandises amount to accessories like belts and bags, the brand was able to pull off 35% business out of the category in the end-of-season sale that just went by. Poised to open 20-25 stores by 2020, the brand is slated to give the segment its due space.
Larger footwear retail brands like Woodland and Bata also woke up to the rise of accessories business, by constantly increasing the store space as well as developing the product line constantly.
Store Sizes, Formats & Businesses
Overall retail is witnessing a phenomenon of shrinking space and it would be imperative to think, accessories retail, since it requires smaller shelf size, would garner better ROI from less square feet. However, India's growing omni-channel optical brand LensKart, with a strength of 450 stores, has a tad different story to tell. Peyush Bansal, Founder, Lenskart, throws the trivia, "Our regular store size always ranged between 400 sq ft to 1000 sq ft. Recently, we opened a store spanning across 2000+ sq ft and it's giving us even higher ROI than those smaller stores. We are planning to open 10 larger stores this year." Lenskart retains its omni-channel character inside the stores with virtual try-ons, technology-led pre-recommendations and trial kiosks etc at their key stores.
While large format retail spaces are considerably increasing their beauty and accessories shop-in-shop space, one of the leading bag and travel accessories brand, Da Milano is missing from the SIS scene. Holding a rather strong store strength of 68 exclusive stores, Sahil Malik, Director, Da Milano, said, "We fall in the category of bridge-to-luxury retail and I don't think India is ready to buy similar products from a MBO format."
Retail On The Go
It won't be an overstatement to say that "travel retail" is just another store format for maximum number of accessories retailers in India – be it jewellery, bags or watches. Add "eyewear" to that list as Lenskart will soon open their swanky new format at Mumbai Airport.
With a portfolio of 15 airport stores in India, one of the oldest leather accessories brand Hidesign claims to start the trend. Dilip Kapur, Founder, Hidesign, said, "We started the trend in 2009 in India with our first airport store at Delhi Airport and today, along with extending our retail presence to Bosnia, Indonesia, Kenya etc, growing airport network globally is a priority for us."
Similarly, for Da Milano, out of upcoming 15 stores, 10 will be located at airports and for a much younger bag brand, Covo entered in brick-and-mortar space only through airports and out of their 10 stores, 6 are located in all top airports.
Beyond Complementing The Mainline Growth
Mostly dominated by the unorganised sector, the organised bags and belt business in India amounts to 15 - 20%, while watches amount to a staggering 45-50%. However, the market is estimates to reach $10.6 billion by 2024 (Source: Technopak). Jewellery, an integral part of the category, is estimated to show promising curve since there has been a noticeable shift from expensive wear to fashion segment in this category. It was also interesting to know from one of the recent Facebook and KPMG reports, 7 out of 10 accessory purchases in 2022 will be influenced by digital marketing. No wonder that future-ready brands like Lenskart is betting big on geo-tagging and CRM to redirect traffic to their stores. It's wise to predict that as fashion consumption will evolve and grow, accessories retail will go beyond only as a complementing category to stand on its own.