Adidas Originals to bring high-end tech for in-store engagement
By Satarupa Chakraborty | December 09, 2017
Adidas Originals, slated to add one more store at Delhi's Promenade Mall, will bring Hyper Reality Experience as part of the brand's constant trials with technology for activations and shopper engagements.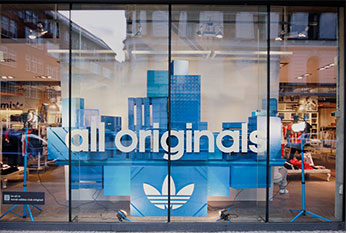 Adidas Originals, the latest store format from fitness brand Adidas, plans to bring in high-end technology to engage shoppers inside their stores. The brand, about to add another store at Delhi's DLF Promenade mall this weekend, will bring hyper reality experience to launch Profio, one of their latest collection of shoes. Delhi-based Few Steps Ahead is executing the tech-enabled shopper connect program with technological support from Delhi-based Trimension.
Advancing further from AR and VR technology, the Hyper Reality Experience will allow customers to experience real world with some amount of animation. Adidas, as a brand, has already shown its interest in technology by using augmented reality and virtual reality for their brand activations at malls and corporate parks. These activations have gone beyond showcasing the merchandise but promoted the brand's belief as a future-ready and youth-oriented brand.