AGL opens 50th exclusive showroom in Aurangabad
By VJ Media Works Team | Vjmedia Works | April 21, 2014
The company plans to double the number of its exclusive outlets pan India by December'14.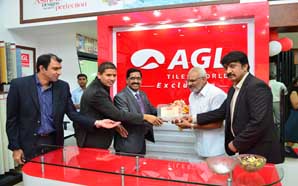 Asian Granito India Ltd (AGL), one of India's top five ceramic tile manufacturers, has opened its 50th AGL Tiles World Exclusive Showroom in Aurangabad, Maharashtra. The company's sixth exclusive showroom in the State of Maharashtra, the Aurangabad showroom will feature never-seen-before collections of a wide range of wall and floor tiles of superior quality and unparalleled variety under a single roof.
With an aim of giving shape to company's dream project of having a strong retail presence pan-India, Asian Granito India Ltd. has successfully opened 49 exclusive showrooms in cities like Mumbai, Delhi, Jaipur, Bangalore, Chennai, Ahmedabad, Nagpur, Amravati, Gonda (Uttar Pradesh), Udaipur, Trichy, Nasik and Jalandhar till now. With the opening of this showroom in Aurangabad, the number of AGL tiles world exclusives has gone up to 50 outlets. Company is confident about doubling the existing number of'AGL Tiles World Exclusive' stores all over India by December 2014.
The company has launched its AGL Tiles World Exclusive' showroom in partnership with M/s Swastik Tiles, opposite Akashwani, Nr. Bagga International Hotel, Jalna Road, Aurangabad, Maharashtra.
Explaining the strategic plans of the company, Mr. Kamlesh Patel, Director of Asian Granito India Ltd. said, "The Aurangabad showroom is special also because it is our 50th store and the sixth in Maharashtra. The state is a very important market for us with a large portion of our revenues coming from the western and southern part of India. At Asian Granito India Ltd, we believe in providing more to our customers, not only in terms of quantity, but also quality, which is precisely what AGL Tiles World Exclusives, is set to achieve. We felt the need for an exclusive tiles showroom for people with discerning taste, who are always on the look-out for something different and exclusive, a place where one can choose from a wide range of tiles available in varied sizes and types for home & office spaces."
In the last decade, the tiles industry has evolved into a more organized market with new users emerging in various industries. Competition and affordability have transformed the industry and tiles have become a fashion product and its application areas have undergone a tremendous change.
"Earlier tiles were mainly found in bathrooms and kitchens but now due to the wide range of designs and beautiful characteristics, interior decorators, architects and individuals as well are willing to use tiles for flooring, drawing rooms, bedrooms, exteriors and balcony as decorative products. Printing technology too has transformed dramatically as digital printing has opened up new avenues for the tiles industry," said Patel.