Ahmedabad, Chandigarh and Surat head smaller cities' retail beacon list
By Surya Prakash Gowda | Vjmedia Works | February 28, 2014
Surat moves ahead of Amritsar in attaining high retail attractiveness in 2013 as against 2011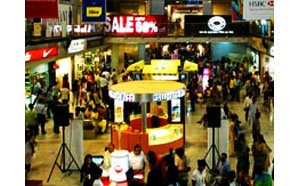 Thanks to increased immigration and improving infrastructure, tier-II and tier-III cities, led by Ahmedabad, Chandigarh and Surat, are set to witness a high level of retail attractiveness in the near future.
According to the latest report on the retail potential of Indian cities, from the real estate consulting firm of Jones Lang LaSalle (JLL) India, these three are the best after the seven major metro cities in terms of market potential in the retail sector. Excellent infrastructure, increasing per capita income and propensity to consume are key drivers for the high market potential in these three.
Developers and sector experts also say the growing office market is another important factor for retail development in Chandigarh and Ahmedabad, the report stated.
The seven major metro cities are Mumbai, Delhi and the National Capital Region, Bangalore, Pune, Chennai, Kolkata and Hyderabad. The next 13 emerging tier-II and III cities seeing growth in retail market potential and maturity are Ahmedabad, Chandigarh, Surat, Amritsar, Nagpur, Vadodara, Coimbatore, Ludhiana, Lucknow, Jaipur, Indore, Kanpur and Raipur. The report compared retail attractiveness of the top 20 cities for the years 2011 and 2013.
Apart from Ahmedabad and Chandigarh attaining high retail attractiveness in 2013 as against 2011, Surat moved ahead of Amritsar in terms of retail market potential.
Buoyed by excellent infrastructure, fast growing per capita expenditure and consumption, and the increasing number of migrants from many parts of the country because of its tremendous job opportunities, Ahmedabad has seen a significant shift across all real estate sectors in recent years, especially in the retail sector.
Chandigarh is another fast moving city, with a good number of quality malls. it is ninth largest in the country in the Market Potential Index. Chandigarh is ahead of Ahmedabad in terms of mall stock and so, has a higher position in retail maturity (rank eighth). With the growing preference from domestic and multinational office occupiers, as well as established infrastructure, the city will see significant growth in retail real estate.
Surat has emerged as the 10th best city, with high market potential and increasing retail mall supply. Its fast growing industrial sector is giving a boost to retail space development.
Jaipur and Ludhiana attained significant growth in retail maturity in 2013, compared to 2011. In retail mall development, Jaipur is ahead of Ahmedabad and close to Chandigarh.
Meanwhile, Kanpur and Raipur are slowly moving up in market potential and the retail maturity index.