AO Smith doubles its water purifiers business
By VJ Media Bureau | July 06, 2018
AO Smith, the manufacturer of water heaters, doubled its water purifiers business in 2017 and is now planning a pan India roll out with presence in 46 cities.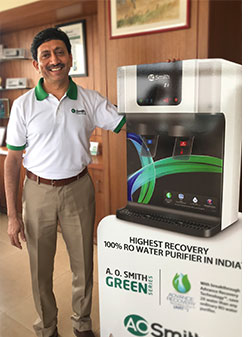 AO Smith Corporation, which became the first water heater company from the US to enter India in 2008, has invested USD 75 million in India so far and have a full-fledged R&D team. AO Smith is one of the few companies in the world that enjoys a rich legacy of 144 years. With sales of USD 3 billion in 2017, it is a global leader applying innovative technology and energy-efficient solutions to products manufactured and marketed worldwide. The company is the world's largest manufacturer of residential and commercial water heating equipment and boilers, as well as a manufacturer of water treatment products.
''We grew our India business by over 40% in 2017 of which our water purifiers business more than doubled. Encouraged by the consumer response, we are now taking our distribution to 46 cities which will provide us access to 75% of the purifier market'' said Parag Kulkarni, Managing Director, AO Smith India.
"In three years the contribution of water purifiers to our total business has gone to 20%, which we expect would be at 30% in 2018", commented Kulkarni. ''Focused on health and environmental benefits, our differentiated offerings such as hot water, Green Series of products which recover two times more water than an ordinary RO Water Purifier, Baby Safe - 8 Stage purification and professional service have been very well received by consumers'', Kulkarni added.
The penetration of RO water purifiers is still very low. Growth of RO purifiers is higher than the other segments like UV and gravity in the category. As access to safe drinking water is still a big challenge for many in the country, the RO purifier market has tremendous potential to grow. Increasing response from tier II towns for better value proposition offers tremendous potential that can be leveraged.