Bombay Dyeing to furnish an edgy look
Vjmedia Works | June 09, 2014
Silent for years now, Bombay Dyeing is laying out an elaborate plan to revamp its staid image, starting with a bold ad campaign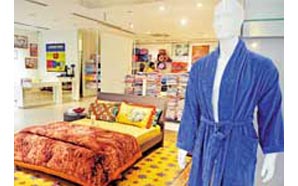 No brand wants to lose touch with the customer. And, a strong legacy is not always a guarantee against that. Bombay Dyeing, the flagship brand of the textile-to-realty Wadia group, led by Nusli Wadia, knows it too well. It is now shaking off its stupor.
From a new ad campaign, fluorescent colours to revamping the store experience, it has laid out an elaborate plan. It has set its sights on the new-age homemaker.
Its home furnishing products such as bed sheets, pillow covers that were earlier characterised by pastels and flower prints are now sporting pops of bright colours. Ashok Kaul, chief executive, retail, at Bombay Dyeing, says, "Though we have a long legacy, we lost touch with the evolving customer. Now we will reinvent and rejuvenate our brand, innovate our products for them."
The 135-year-old Bombay Dyeing's bid to connect with the young customer is backed by a customer survey that says the young shopper does not perceive it as modern or progressive. Bombay Dyeing has launched Neon Pops as its latest collection in soft furnishing, to talk to a much younger crowd than its previous catchment.
Suraja Kishore, planning head, McCann Mumbai, who has spearheaded Bombay Dyeing's new campaign, says, "Bombay Dyeing was a torch-bearer in its category. But we have been silent for far too long, even as the shopping environment changes around us. People do not walk to a store to buy home furnishing anymore. They shop along with their other shopping needs in malls and at departmental stores. Even though we are present at these places, our silence has ensured that we are out of the mind of the new-age homemaker." Bombay Dyeing has doubled its advertising spends this year.
It had launched seven collections last year to target men, young couples and so on. This is not the first time it has tried to infuse some youthfulness into the brand. Over the last six-seven years, it has been tying up with designers like Anita Dongre, Wendell Rodricks, Sabyasachi Mukherjee to launch collections but they have always been priced at a huge premium.
But this time, it is also overhauling the stores. Though it has the largest network of home furnishing stores, many in the industry believe most of these lacked the look and feel of a modern store, good customer service and the right merchandising mix. Though retail contributes 7 per cent to the company's overall sales, after opening new stores in the next 12 months, its share could reach 14-15 per cent, Kaul says.
"The new approach will be solution-based selling. Earlier, people would pick up whatever they felt like. Now, when somebody buys a bed-sheet, we can help him with co-ordinated towels, rugs and so on," Kaul says. The new stores would be demarcated according to price-points, too, besides categories.
The company has 350 stores, mostly franchised, but is now looking to add about 40 company-owned stores and revamp its existing ones by next year, starting with Mumbai, Kolkata and Bangalore. "We believe we can do a better job than a franchisee in customer service and brand experience," Kaul says.
While Bombay Dyeing is betting big on retail, other textile majors have not had a great run. Welspun Retail, part of the Welspun group, has shut most of its home furnishing stores named Welhome, and Alok Industries shut its home furnishing chain, H&A, to exit non-core businesses. Prashant Agarwal, joint-MD, Wazir Advisors, says the export-focus of others was to blame: "If you do retailing as an extension of exports, it will not work," Agarwal says.
Bombay Dyeing is also aware of the new-age shopping destination - the e-commerce portals. Apart from selling on Amazon, Fabfurnish and Flipkart, its own site retails 1,500 designs. Online sales have grown, month on month, at 15-20 per cent in the first two months of 2014-15, says Kaul. Bombay Dyeing has posted net profit of Rs 24.34 crore on sales of Rs 2,607 crore in FY-2014. Textiles have had a profit of Rs 15.15 crore on sales of Rs 535.15 crore.
Creative twist
McCann Mumbai Planning Head Suraja Kishore says, "The brand has to become relevant again after years of silence. So, we questioned the classical idea of the homemaker being a married woman, setting up home. The new-age homemaker could be a married man, sharing chores, could be a single woman staying by herself." The ad shows a daughter
buying sheets for her just-divorced father. Kishore says, "Brands should talk more about how children explore new boundaries and parents come to terms with it."