CAIT launches e-lala.biz to support local traders
Vjmedia Works | November 25, 2015
In a bid to provide e-commerce support to offline trade in India, the Confederation of All India Traders (CAIT) has launched e-lala.biz in New Delhi. It will be the first portal which will provide both goods and services at online platform from local traders of India.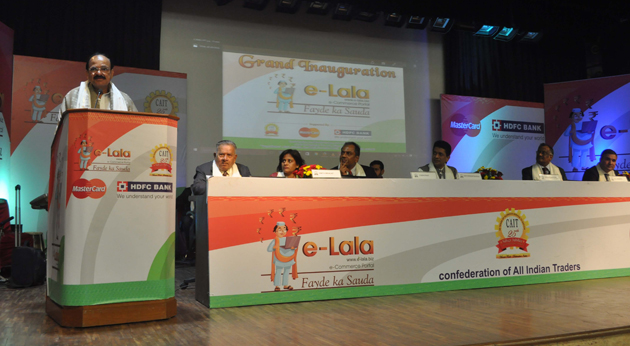 Amidst the online retail boom posing threat to local retailers, CAIT brings local retailers under the canopy of online retail by launching e-lala.biz to offer a technology platform to local retailers providing direct interface between consumers and sellers. M. Venkiah Naidu, Union Urban Development Minister of India, has launched e-lala, which has set a target for on boarding of 50 thousand sellers in 100 cities of India by March 2016. Global major in digital payments MasterCard and lead bankers HDFC Bank are supporting e-Lala for providing seamless digital payment solutions at the portal.
E-lala.biz is different from other portals since only a person already having a physical store can become a seller and departing from the practices being adopted by other e-commerce players, e-lala.biz will enable direct payment by the consumer to seller for every purchase made at the portal without having any interference or holding of payment by portal. It will be a showcase of Indian retail trade.
Following the mandate of the Prime Minister's Digital India program, e-Lala will prefer payment through Credit/Debit card or via net banking and not cash on delivery as prevalent among other e-commerce companies. "Even delivery man will also carry card swipe machine or mobile wallet with him. However, for the time being taking cash against delivery will be last resort. This is our effort to address the disadvantage of local traders due to the tremendous diversion of customers from offline to online buying. In our site, consumers will have option to either buy online or purchase from respective physical store," informed Praveen Khadelwal, General Secretary, CAIT.
B.C. Bhartia, National President, CAIT, mentioned, "It is for first time in India that payment technology global company, a lead Bank and a Trade Organisation have come forward to promote an e-commerce technology platform which will have direct interface between seller and consumers. E-lala will provide all opportunities to offline small retailers to sell their merchandise online as well."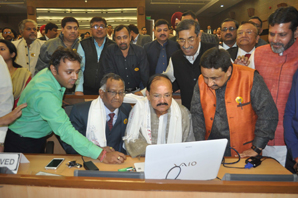 Praveen Khandelwal, Secretary General of CAIT said that there is an unprecedented growth in internet users and online shoppers in India in past years. In the year 2009 there were 3.8 billion internet users and by 2013 this figure rose to 12.6 billion and at the end of June 2015 nearly 35.4 billion people in India were using internet. Similarly, in the year 2014 about 35 million people were engaged in online shopping which is expected to cross 100 million by the end of current year. In terms of value, in the year 2011 good worth Rs.3600 crores were sold online and in a span of just 4 years i,e in current year goods worth Rs.53000 crore were already sold through online market.
Ari Sarker, Co-President, Asia Pacific, MasterCard said, "E-Lala will empower over 5.77 crore traders by integrating them with the worldwide digital commerce transformation and providing benefit to many cardholders. We at MasterCard, aim to effectively deploy our innovative technology solutions that include introduction of our Simplify Commerce platform, that makes it possible for small businesses, traders and retailers to quickly reach new customers, with easy-to-use, secure e-commerce and m-commerce payments acceptance. MasterCard understands the immense positive impact of unlocking and enabling widespread access to e-commerce and mobile payments and this partnership is an important step towards realizing the government's Digital India vision"
Smita Bhagat, Branch Banking Head & Co-Head e commerce, HDFC Bank said, "HDFC Bank's digital banking philosophy is to leverage technology and digital platforms to provide access and convenience and is in line with the Government's Digital India plan. We are pleased to partner with CAIT in their objective to create the largest e-commerce platform by bringing millions of traders across India online. HDFC Bank's endeavour is to reach out to the deepest corners of the country and connect with the smallest of traders to offer them not just digital payment solutions but complete end-to-end banking products and services. We believe that to fuel India's economic growth, the small traders who form the backbone need the digital leverage. It's therefore imperative that they are brought into the mainstream; for them to compete and thrive. CAIT's initiative will thus open new windows of opportunities for traders and also help them become part of the digital economy."